The grand opening of Taiwan Hardware Show will be held on Oct. 21, 2014. 350 exhibitors will showcase their innovative premium products on a 12571 m2 exhibition space at Greater Taichung Int'l Expo Center. With visitors from more than 90 countries already registered, THS 2014 will start strong!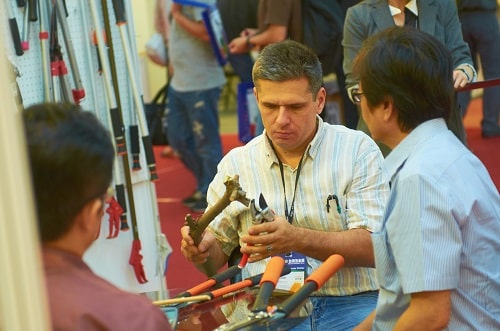 Presenting Taiwan's Hardware Industry
Taiwan's hand tool industry has been affected by the 2013 global recession though the strengthening of the US economy brought a noticeable rise of hand tools orders.
According to the Metal Industries Research & Development Centre, the totaled export number for the Q2 of 2014 increased by 11.5%, an improvement after a weak Q1, and an increase of 12.1% compared to the same period of last year. Industry clusters play a key role in the process of securing the success of Taiwan's hardware and DIY sector.
With the launch of Taiwan Hardware Show in the year 2000, exhibition organizer KAIGO Co., Ltd. has created the countries' most important B2B and trade platforms for professionals of the hardware and DIY sector. The event is set in Taiwan's largest hardware cluster region and thus the perfect place for THS 2014 to demonstrate the high processing flexibility and smart product solutions of Taiwan's hardware industry to the world.
KAIGO Co., Ltd. has signed media collaborations with 12 international media outlets. Germany, France, Italy and Russia will be present at the show and will give full coverage of the event. Moreover, Mr. Philippe Méchin of BM2C Media and Mr. Alexander Ostashov of "Fasteners, Adhesives, Tools and …"-Magazine will share their knowledge of the French and Russian hardware markets to give interesting insights and valuable input during the industry forum.
For more information on Taiwan Hardware Show, visit www.hardwareshow.com.tw or give us a call at +886-2-2595-4242 ext.713 (Stephan Ungewiss) / ext. 917 (Sherry Chen).