There was a time, 60 million years ago, when prehistoric life roamed the Aristaria limestone quarry in Valencia on the east coast of Spain. The enormous pit that has been there since the Jurassic period resembles a giant meteor crater hammered into the earth.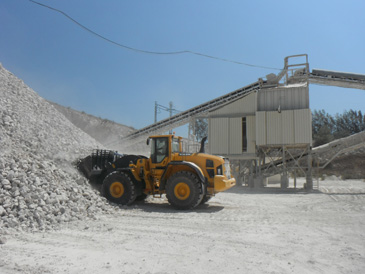 The new addition to the fleet L250G wheel loader shows even better fuel consumption
The sun beating down on white crystalized rock creates quite a surreal experience. The only sound comes from busy machines darting around the quarry, crushing rocks under their heavy tyres as they go. The quarry in Ribarroja del Turia in Valencia, Spain, holds 30 million tons of limestone, spreading over approximately 10 miles. Access roads circle around each layer of the quarry until you reach the top and can peer down into the abyss.
Limestone is the ultimate in recycling, made up as it is of the shells and remains of ancient sea creatures crushed and fossilized over millions of years. And there is rather a lot of this useful and versatile rock to be found in the Aristaria quarry in Valencia. The blocks of limestone weigh between four to five tons, make up 15-20% of production and smaller crushed rock accounts for the remaining 80%, most of which is for concrete production.
Aristaria S.L took over the quarry in 1991 and is one of the 25 companies owned by the aggregates giant, Cyes, who in total employs 1,400 workers across its quarrying network. So far this year, half a million tons of limestone has been extracted but its production peak is a whopping two million tons every year.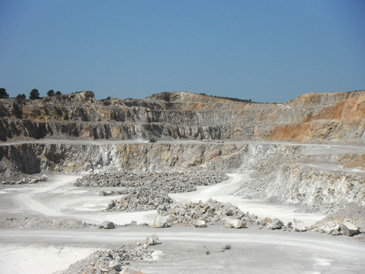 The vast lime stone quarry still has 60 years of production left in it

Natural and sustainable
The stone is used for supporting huge infrastructures including coastline ports and airports. Aristaria has won contracts to supply resources for Morocco's Tangier Port build, which is one of the largest infrastructure projects ever undertaken in North Africa. It is set to become one of the biggest harbors in the region and the future deep-water port and associated free-trade zone will lend enthusiasm to the economy.
The company will also be supplying stone to Valencia's northern port extension, Tenerife's airport extension, and has also been used to build the channeling of the El Carraixet ravine in Bétera, Valencia.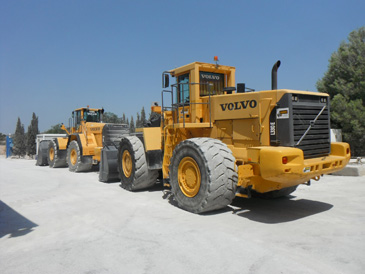 The Volvo wheel loaders stand to attention
Development is 'astonishing'
Aristaria uses three different series of Volvo wheel loaders to transport and move its stone, eight hours a day, six days a week – an L250G, L330E and two L350Fs. Since the L250G was delivered in December, it has clocked 687 hours and its operator couldn't be happier.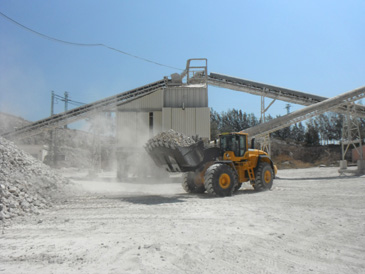 The wheel loaders can cope with the hot dusty conditions
"After going from the L330E to the L350F I saw a revolutionary step at Volvo CE," says Rafa Pardo, operator at the site. "It's amazing how a more powerful machine can save us fuel – our L350F, bought in 2009, has 8,100 hours on the clock and still looks new. The development between these two machines is astonishing – and then the L250G comes along and is even better."
The company previously owned a Volvo BM L180, which was 16 years old and had 36,000 hours on the clock, amazingly, with the original Volvo bucket still intact. This machine was traded in for a newer Volvo, but even at the end it was still able to lift 7,000 tons in 10 working hours.
Rafa has been operating Volvo machines since 1989 and worked at the quarry for 13 years. With temperatures reaching up to 40-45oC in the height of summer, he is thankful for the cool cab conditions.
The company has worked with Volvo CE for more than 50 years and this is a relationship that "will continue well into the future", says Arturo O'Neill De Tyrone, general manager of the company who has an impressive 32 years of experience on the job site. "I have known Volvo for many years now and I like the machines, I like our dealer and I like the service. I just like the whole network – it makes my life easier. The machines are made extremely well and have been saving me fuel."
It's a blast
Aristaria uses a drill and blast approach, after which it's up to the Volvo fleet to transport the pieces and stockpile and load them as needed. "Our operators like to use Volvo machines because they feel safe in them, and safety comes first," adds Arturo.
Aristaria's Volvo dealer for this region, Maquinaria y Recambios de Levante S. L, covers a large area in Spain and strives to have branches and support teams close to its customers. Manager of the dealership, Alejandro Garcia, who has worked with Volvo for more than 20 years, says: "Sustaining a long-term relationship with our customers is very important so that we can better understand their needs and provide them with the best solution. For Aristaria's S.L., quality, safety and fuel efficiency were key factors, so the new G-Series wheel loader was a perfect fit."

Source: Volvo News Room