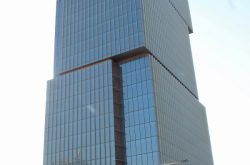 Abu Dhabi, United Arab Emirates; 20 April 2017 – Al Hilal Bank Tower was named one of the UAE's national winners at the 2017 MEED Quality Awards for Projects.
Nominated by Goettsch Partners, Al Hilal Bank won in the Commercial Project of the Year category and was praised as an architectural accomplishment with its skilful articulation of the curtain wall's fritted glass panels thus providing relief on the corners, giving it a stone-like appearance. This was achieved with minimal impact on the very efficient typical office floor plate. Taken together, the design combines elegance and utility into a highly appealing commercial tower.
"The building's design offers an original scheme shaped by a combination of the building's function, site, and contextual influences. The tower's composition features stacked boxes that are slightly offset from each other vertically so that it shifts in massing as it rises. Designed to set the building apart from other towers on Al Maryah Island while also providing efficient, column-free interior floor plates within, these forms derive their interest from a "push-and-pull" effect at the corners. In addition, the building's façade changes composition at the created voids to accentuate this kinetic, shifted aesthetic. We are honoured that the tower was recognised for project excellence. With this distinction, we are inspired to continue creating iconic developments and contribute to Abu Dhabi's progressively changing cityscape," said Raj Achan, Director, Goettsch Partners.
Now in its seventh year, MEED Quality Awards for Projects programme has become the leading stamp of quality and achievement for top teams operating in the GCC projects sector. The awards not only recognise the construction element of project delivery but also consider the value and quality of a project throughout its entire life cycle, from the design concept through to engineering and construction and its wider contribution to society and to the environment.
"The GCC projects market continues to be a key driver for regional growth, and part of its success in contributing to economic development in the region has been its continuing focus on developing high quality projects that generate jobs, contribute to the efficient delivery of infrastructure and utility services as well as ensuring sustainability by incorporating safety and environment-friendly measures in project development and execution. We commend the national winners for their commitment to project excellence and hope that their unwavering commitment to quality will inspire others to follow their lead as more projects are developed and completed in the future," said Richard Thompson, Editorial Director, MEED.
MEED would like to thank Besix, Gold Sponsor and our partners, Society of Engineers UAE, Kuwait Society of Engineers, Oman Society of Engineers, Bahrain Society of Engineers and Qatar Society of Engineers for their long-standing support.

Al Hilal Bank Tower will now compete with other projects in its category from across the GCC to determine this year's regional winners at the 2017 MEED Quality Awards for Projects to be announced on 3 May 2017 at The Westin Dubai Mina Seyahi Beach Resort & Marina, United Arab Emirates.