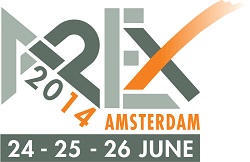 Exhibitor: Airo
Stand no: 610
Airo confirms its presence at APEX 2014
The Italian company confirms its presence on the European territory presenting in Amsterdam a range of products that summarises the commitment and work of these recent years.
AIRO will be present at the next Apex exhibition in Amsterdam, from 24th to 26th June 2014. In the large indoor area – booth nr. 610, prepared for the occasion, some of the most popular platforms of the Italian company will be present, including:
– A 12 J E the main characteristic of this model is the electric traction, assured by an efficient AC motor that works both in traction and lifting movements. Compact and handy, the A 12 JE reaches an height of 12 meters, with an outreach of 7,5 meters and a width of only 1,2 meters.
– A 15 RTD a diesel model with all-wheel drive, ideal for access works in all those places with a reduced space of moving, it is able to reach 15,10 meters, with an outreach of 8,80 meters and a overall width of only 1,8 meters.
– V9 a small and handy platform, very loved especially in the large organized distribution for its compactness: less than 1 meter of width for 9 meters of height and 265 kilograms of capacity (200 kilograms if it is used outside).
– XS 9E Restyling a vertical electric platform, just renewed in its functionalities and from the technical point of view, it is equipped with a manual extension of the platform of 1 meter, an element that allows the operator to have an overhang outside the fixed base of the platform itself, significantly improving users operativeness. XS 9E Restyling the 9,38 meters of height and 200 kilograms of capacity with a overall width of 0.765 meters.
– X 12 EN a compact vertical electric platform that reaches 12 meters of height with a overall capacity of 300 kilograms and 3 operators. Adaptable and handy, the X 12 EN is especially appreciated for its compactness, only 0.89 meters, which makes it perfect for maintenance access work.
The platforms presented during the Apex 2014 summarize the commitment perpetrated over the years by Airo in technological innovation and low environmental impact, without renouncing to a design, captivating and modern; in addition the proposed models are ideal for all types of access works, especially on those situations which envisage a place with a reduced space of moving.
Exhibitor: Altrex
Stand no: 230
During the Apex show in Amsterdam at the end of June Altrex showcases a number of products.
Two of the products Altrex will be showcasing are the 4400 POWER folding/ rolling tower and Safe-Quick® Guardrail Rolling Tower. The products are summarized below.
4400-POWER
Within the 4000 series Altrex offers the 4400-POWER folding/rolling tower for both interior and exterior work. This compact folding/rolling tower has basic dimensions of 0.75 x 1.85 m.

The platforms can be adjusted to a variety of working levels, allowing work to be carried out at various heights with ease
The hinge system makes the folding scaffold easy to fold and unfold
The 4400-POWER can be moved simply through standard door openings
The storing the 4400-POWER is easy and compact
Wooden platforms with anti-slip profile and windlock security system provide extra security
Comfortable access, because the rungs are equipped with an anti-slip profile and a rung distance of 28 cm
Extendable with 4000 series components to a working height of 7.80 m.
Optional: separately supplied set of collar tubes enables extension.
The 4400-POWER is also available with Safe-Quick®.
Safe-Quick® Guardrail Rolling Tower
With the safe-Quick GuardRail Rolling Tower, Altrex offers a world-class innovation which is even safer and quicker to assemble and can even be applied façade-free. Safe-Quick® meets the increasingly tighter European and national regulations regarding the safe assembly of Rolling Towers. Safe-Quick is available for all Altrex scaffolds from the 4000 series and 5000 series.
Even safer: always protected and correctly assembled
• Permanent railing in Rolling Tower (no temporary support railing)
• Before accessing platform, there is always protection all around (also during assembly)
With Safe-Quick® GuardRail Rolling Tower, automatic correct assembly
• Risk of faulty assembly is minimised
• To be placed in the middle of the frame, which means a single platform can also be created for wide scaffolds
• Rolling Tower provided with strength and stability calculation in accordance with EN 1004
• Mobile Safety® QR-code for user instructions is included With Safe-Quick®, scaffolds are even quicker and more easy to assemble with fewer parts
• Quicker assembly and disassembly
• Safe-Quick® GuardRail easy to assemble by 1 person
• Uniquely balanced design: 1 part replaces many braces
• At assembly it is easy to raise in transport setting
• Light-weight
• Compact to transport
Also available façade-free
• No braces on façade side (if no more than 15 cm from the façade)
• Ideal for everyone who has to work on façades
• Free working without obstructive braces
Exhibitor: Amer SPA
Stand no: 180
MOTORWHEEL MTR11 & MTR12
The most advanced evolution for single wheel traction.
Designed for heavy duty conditions, it is particularly indicated for traction on aerial platforms, scissors lifts and stock pickers. Reduced maintenance, extremely robust and noiseless.
PLUS: High performances, Reduced maintenance, Extremely robust, Noiseless
FEATURES: Available with different electric motor technologies, DC Permanent magnet, DC shunt wound sepex, Brushless motor, AC motor
Gearbox: parallel axis
Power: from 300W up to 2000W
Voltage: 12V to 96V DC / AC
Upon request: Electromagnetic brake, Encoder, Wheel material, Electronic driver
Company profile: Amer Spa
As an international player for the electric motors, Amer has been contributing to the Industry with sustainability, adequacy and concreteness, since early 70ies. In order to improve its leadership in Technology and Marketing Strategies, Amer has founded and is currently leading "The Amer Energy Network": 6 teams made of talented and passionate professionals, facing the industrial competition in un unparalleled historical moment.
Amer offers its business partners added value in the form of a comprehensive range of hi-tech, top quality products and a dynamic approach to finding cutting edge solutions, both standard and custom designed, with a flexibility that is typical of the industries of North Eastern Italy.
Exhibitor: ATN Platforms
Stand no: 210
ATN launches a new machine at the APEX Show
"PIAF COMPACT" joins the current range
ATN, French manufacturer of aerial work platforms will show at the APEX Show the following machines:
• ATN currently aims to extend its range of vertical mast boom lifts, and will therefore present the PIAF COMPACT at the APEX fair in Amsterdam next June (stand 210). This electro hydraulic platform stands out for its compact dimensions (1.46m Longer x 0.78 large), it fits on an elevator, and its low weight, less than 970 kg.
• With the PIAF COMPACT, ATN will also exhibit the PIAF 1100R on wheels and PIAF 810 on tracks. o The first one, PIAF 1100R stand out for its working higher (10, 98 mts), horizontal reach (3.74 mts) and a low ground clearance (10.4 Kg/cm²). It has a low center of gravity, which allows to loading/unloading the machine without oscillating movements. Another feature is the cover, makes in fiberglass. This composition is much more resistant than the ABS covers and easier to repair, if it needed.
o The second one, PIAF 810 on tracks, stand out because is the only one platform in the world, using tracks without spiders. This machine is remarkable for its low center of gravity, weight (2.200kg) and a low ground pressure (0.5Kg/cm²), which allows to use it in all kind of fragile floors. With the tracks, this PIAF can be used for finishing works, in rough terrains.
• The mast boom lifts, have been manufactured with long-lasting materials, which assure a long-life for the platforms, thanks to their steel frames, fiber glass and low center of gravity. One of the particularities of these mast boom lifts is that they are full hydraulic that means, they can be operated with extreme sub-zero temperatures or on humid or wet sites. They exclude any type of electronic component or card.
• Besides the mast boom range, ATN will present the Zebra 12 and the Zebra 16.
o ZEBRA 12 a 4×4 RT articulating boom with 39 cm of ground clearance and 8.50 meters of horizontal outreach, usually found in 16 meters articulated boom lifts.
o ZEBRA 16 a 4×4 RT articulating boom, which stands out thanks its 9.30 meters of horizontal outreach and its ground clearance (45 cm).
• Both machines include on board a LCD colour diagnostic screen system, which scans all the electronic components and detects any eventual breakdown, covers in fiber glass an engine Kubota mounted on a sliding platform.
• The scissors range will be represented by the CX 15. The only scissors lift on the market combining a 16-m² platform with a maximum lift capacity of 700 kg. Its raising and lowering times are also remarkable. Indeed, the platform can move from their stowed position to their up position in only 40 seconds.
• As the articulated boom lifts, this platform includes an integrated and protected diagnostic system with a screen located under the covers, able to scan, detect and communicate any problem, using a message in the language of the user. This same screen can be used to configure the platform without need to connect an auxiliary laptop.
ATN Company designs and manufactures in France a range of AWP machines especially made for the AWP Rental Industry.
With the new models, ATN expands its current range and gives a new choice for the rental companies in the aerial work platform market.
Exhibitor: Comet
Stand no: 430 
Exhibitor: CMC
Stand no: 1250 (outside area) 
CMC has always focused a lot on international trade fairs, to introduce new models and results. Apex 2011 was the best opportunity to show the TB260, the highest articulated platform on 3,5 tons in the international market, while the public of Bauma 2013 could appreciate and test the capabilities of PLA 250, an instant best seller in Europe. Both equipped with SCS, the exclusive patent of the Italian company that allows different automatic operations thus making the work of operators easier, TB260 and PLA250 will also be present in this edition of the show, updated and modified with further improvements and with new functions implemented.
CMC is now concentrating the efforts in the market of self-propelled crawlers, with amazing results. Thanks to a product which is the result of the best engineering, and to an extensive and widespread international network of dealers, crawlers' sales significantly increased over the previous year, making CMC one of the most important leaders of the sector.
At the next Apex, in addition to S32, the 32 -meter with articulated boom and ultra-compact jib, CMC will disclose two first previews. After more than one year of design and tests, CMC is now ready to present two new self-propelled crawlers that will certainly arouse the interest of many professionals and operators. A new 19 meter articulated model weighing less than 2 t, designed for an easy transport, and a new incredibly light 25-meter machine with reduced size and small stabilization areas. CMC will unveil the two models, the names and all technical details during the Dutch show, sure to attract a lot of attention.
Exhibitor: Dynaset
Stand no: 860 
Use your platform lift as power source for electric tools and lights
DYNASET HG Hydraulic Generator is the complete power station for a work site. The compact size generator transforms hydraulic power of a platform lift into high quality electricity. The electricity is suitable for all electric equipment from small devices to heavy work tools. The Dynaset HG is less than half the size of traditional generator which allows it to be installed on every platform lift model.
"The hydraulic power guarantees availability of electricity anywhere, anytime when a machine is equipped with Dynaset HG. It allows versatile usage of the machine in various projects." says Anni Karppinen, Sales Manager from Dynaset.
Dynaset HG's maintenance and emission free technology makes it cost-effective and ecological choice. Because the generator is powered by hydraulics of a machine, it runs without additional engine or fuel. It generates high quality electricity in power range of 3,5 – 200kVA for all AC-powered tools, lights, heating, cooling, welding, 1 or 3 phase motors etc. Automatic frequency control regulates frequency exactly to 50Hz or 60Hz. Automatic voltage control maintains steady voltage of 115V, 230V and 400V etc. according to electric load. Dynaset HG includes overload protection, safety earth leakage and international standard 3 to 5 pole sockets or alternatively a fuse and a socket box.
The new Dynaset Blue Hydraulics model is smaller than ever
Dynaset launched a new product line. It covers 17 new products and a lot of technical developments of Dynaset equipment that are already on the market. Also Dynaset HG6,5kVA hydraulic generator improved.
The world's best power-to-size ratio developed further by reducing the size of already compact Dynaset HG 6,5kVA. The renewed hydraulic generator's height shrunk 5 per cent from the previous model. The more compact size brings advantages for customers when the hydraulic generator is easier to install. The sockets are located in the front panel which improves usability of the new Blue Hydraulics model.
DYNASET – Without extra engines, zero emission
Dynaset is the global leading manufacturer of hydraulic generators, power washers and compressors. The company has created a whole new industry of equipment powered by hydraulics that transforms hydraulic power of a machine into electricity, high pressure water, compressed air, magnet, vibration etc. for hundreds of different applications. Dynaset equipment increases productivity of customer's mobile machinery by diversifying its features. Zero emission Dynaset equipment runs without extra engines or additional fuel. Dynaset equipment is integrated in a machine and they are always ready to use.
Exhibitor: Easy Lift
Stand no: 340 
At Apex 2014 Easy lift will exhibit 1 spider R360, 1 spider R180 with optional accessories like radio control and lithium battery and 1 van-mounted platform EV150 (on Renault Master or Iveco Daily, still to be decided).
The R360 on tracks is new; until last year this model was available in the wheeled version only. The new model has been made lighter and more compact and has a jib with a telescopic element more. The R180 is not a new model but radio control is a new optional (until last year radio control was available as optional only for the model R210 and as standard on R260, R300 and R360).
With 11 m outreach with 80 kg on the basket, our R180 is the best performing spider with this working height!
The EV150 that will be exhibited at the show is a "restyling" of an already existing model.
Platform has been made lighter so to be also installed on 3,5 ton vans (before only on 5 ton vans).
It has been equipped with basket rotation and a jib with a working angle of 170° and can work on a ground with an inclination of 5°.
Work without stabilizers (in a limited area on the back), stabilization from basket and home function (automatic return of the boom to closed position) have been added to the list of options already available.
New model launched this year is the R410 (spider on wheels with a working height of 41.1 m, equipped with battery and electric motor).
Another news in our spider range is represented by hybrid versions (battery + diesel + electric motor), available for R260, R300, R360 and R410.
Exhibitor: France Elevateur
Stand no: 1110 (outside area)
France Elevateur will present:
– Catenary maintenance platform 105 PTO/2 type 3B mounted on Mercedes Econic
– 14,5 m van mounted platform with rear cutting (142 TPF)
– R&B and UNIC Mini-crane
– 11 m aerial platform mounted on compact truck and working without outriggers (Topy 11)
– 19 m working height boom mounted on truck with workshop (192 CPM)
Exhibitor: Genie
Stand no: 350 & 450| 
Genie is Taking You Higher at APEX 2014
Genie will be "taking you higher" at this year's APEX exhibition by showing you how to expand your business by responding to new, larger application needs.
Genie will introduce several new, highly innovative products demonstrating the brand's ongoing initiative of continuous improvement. In addition, Genie will exhibit long-time best-sellers and feature a special "At Your Service" corner highlighting how Genie Service Solutions add value to customers by providing comprehensive support during and after the sale.
Visitors to the booth will experience some distinctive Genie hospitality. There will be a relaxing meet and greet area, an ideal setting for business networking, but also interactive digital tools for visitors to experience Genie® equipment capabilities in surprising applications.
Come discover our innovation from the 24th to 26th June, on stand 350 and 450 at the APEX Show in Amsterdam.
New Genie® Hybrid Scissor Lift Series
Unveiling for the first time in Europe is the new Genie® 69-series, a bi-energy (BE) hybrid rough terrain, electric scissor lift series. The next evolution of the current Genie RT and DC scissor lift 69-series inch the new Genie BE69 scissor lift models offer exceptional jobsite versatility. They are the first rough terrain, high performance electric scissor lifts with an onboard integrated generator to charge the batteries and supply power to the platform and chassis. The Genie BE scissor lift series features two selectable operating modes, meeting the needs of both outdoor jobsites with no onsite power, and indoor jobsites with sensitive noise and emission environments.
Highly-innovative self-propelled articulated booms
Breaking through all industry records at the Bauma 2013 tradeshow in Munich, Germany by introducing the SX-180, the world's tallest self-propelled boom lift, Genie continues to set the trend of highly innovative products, developed around our customers' feedback. Genie will launch for the first time on the APEX booth some new, ground-breaking articulated boom lifts, offering customers solutions to meet various up-and-over application challenges. Further details will be disclosed at APEX.
Stage IIIB Genie® telehandlers with big lifting performance in a small package
Complying with upcoming exhaust emission regulations and listening to customer feedback, Genie will launch two new telehandlers with a big lifting performance on tyres, yet in a small package. These new models will allow our customers to work productively in congested construction applications and in the waste industry, while reducing exhaust emission thanks to Stage IIIB-compliant engines. These new models also reinforce the Genie commitment to reduce the complexity and cost of telehandler ownership. With energy efficiency, simple operation and innovative serviceability features for straight-forward maintenance, this new telehandler range will offer you high performance in a complete new chassis-shape and a cabin with excellent visibility, ideal for tough work in virtually any environment. Further details will be disclosed at APEX.
More solutions for working at height
Following the Genie® Operator's Protective Structure launched at Intermat 2012 in Paris, Genie continues to conceive similar solutions to allow operators to focus on the job, while offering mechanical or electronic devices for extra protection. Based on Lavendon's SkySiren® technology, the new Genie Operator Protective Alarm (OPA) system will be showcased at APEX as yet a new option that Genie offers to enhance productivity and provide peace of mind on the workplace.
Celebrating a tradition of reliability
While always looking for new ways to take its customers higher, Genie does not forget its origins. Selected Genie® portable aerial work platforms and material lifts will also be showcased on the APEX booth.
Easy to use, light weight and cost effective, they have decades-long reputations for being some of the most advanced, highest-valued lift equipment in the industry. Genie portable aerial work platforms and material lifts are the first choice for a wide range of applications in confined spaces that require high access, such as schools, churches, warehouses and more. They are designed to enhance productivity in the workplace, with a wide range of lifting attachments and base options for exceptional versatility. Join us for a special 40th birthday of one of our most reliable, best-selling portable material lifts.
New after sales solutions
At APEX this year, at a special "At Your Service" corner, we will officially launch our Genie Service Solutions package throughout Europe This package aims at helping our customers to keep their machines safely maintained, certified and working, so that they can focus on what matters most to their business: increasing equipment utilization and providing end-customer satisfaction.
We often hear our customers' concerns about the correct maintenance of their fleet, and we take them very seriously – that is why we developed Genie Service Solutions.
Exhibitor: Hinowa
Stand no: 830 & 1010 (outside area)|
LIGHTLIFT 20.10 PERFORMANCE IIIS LITHIUM
The Hinowa tracked aerial platform Lightlift 20.10 Performance IIIS is now available also as lithium version.
Some details emerged during the field study of the machine:
• Battery pack autonomy: Machine can be used almost 6 hours continuously with the aerial part and about 2,5 hours continuously with the tracks. It means generally speaking surely 1 day of standard operator work.
• Pack charging time: A complete charge cycle takes about 5 hours, but in about 2,5 hours already 80% of the pack can be charged.
•Operative speed: machine performance are impressive, movements speed maximized.
Furthermore, the Lightlift 20.10 Performance IIIS is also available with the following motorizations: ‐Honda petrol engine IGX440 with automatic rpm control for max efficiency, reduced dimensions and consumptions.
‐Hatz diesel engine with "HD Autorev" technology with automatic accelerator for max working comfort.
‐AC110‐230V motor for use in internals and places where quiet is required
One of the main advantages is the new jib Performance that allows to work in all the conditions with two operators with 230 kg weight (max. working height 20 m, max. horizontal outreach 9,7 m), which increases the productivity permitting the operator to carry the necessary tools in cage. The RAHMino system permits a constant remote monitoring of the machine, permitting remote diagnosis. In addition to the triple‐speed drive system (up to 3.0 km/h) the machine is equipped with a control on the inclination and decelerates automatically in extreme conditions, to enhance operator's safety.
Exhibitor: Mantall
Stand no: 320 
IMP Series
Self-propelled Aerial Work Platform
IMP series self-propelled aerial work platform is compact, light, and flexible and convenient to move. It has 3 models, the working height is from 5.5m to 8m.
Its platform operation system and silent design are suited for goods collection like in shopping malls, warehouses, etc.
XEM Series
Mobile electric MINI Scissor Lift
Mantall's XEM mobile electric scissor lift are the smart alternative to ladders and scaffolds. Their design and manufacture deliver uncompromised safety, benchmark performance, easy operation, outstanding reliability and lifetime economy. This series are ideal for workers requiring safe, vertical access at heights not more than 5 meters. They pass through standard doorways and are easily operated by one person. This series has two models: XEM45MINI, XEM50MINI with each working height is 4.5m, 5m.
XE Series
Hydraulic drive Self-propelled Scissor Lift
XE-series special stability, extendable work platform, security, smooth, quickness and flexibility win customers' attraction.
XE series electric self-propelled scissor lift can be applied to versatile industries. This machine is widely used in rental companies and construction for the painting, installation, doing the clean work and so on…
Exhibitor: Moba
Stand no:  120
At APEX for the first time:
New MOBA controllers for the flexible automation of mobile machines
High-performing and flexible, and yet still very secure components are in demand for the automation of mobile machines. At booth 120 at the APEX trade fair in Amsterdam (June 24-26), for the first time, MOBA will be unveiling their new MPC-113 and MSC-113 redundant controllers which precisely meet these requirements. As a multifunctional master controller, the MPC-113 offers a reliable, high-performance option for inexpensively automating mobile machinery whilst still maintaining flexibility. The controller is programmable both in C and CoDeSys and as such can be exactly adapted to meet the customer's desired requirements. Additionally, both the inputs and outputs are also individually configurable. Thanks to its redundant design and two channels which are completely independent of one another, the MPC-113 meets the security requirements for PL d Category 3 and complies with EN 13849. The controller has two CAN buses which can consequently be integrated in the machine architecture without any issues. Whether for smaller or larger quantities, the compact ECU is the optimum solution for safety-related applications, such as, for example, controlling telescopic-boom cranes. As an I/O module, the MSC-113 serves the purpose of increasing the inputs and outputs. The slave controller can also be integrated in the machine architecture via the CAN bus.
With the master-slave combination of MPC-113 (master) and MSC-113 (slave), the amount of cabling can also be significantly reduced. The controllers are extremely flexible; from a low-cost solution to a high-availability application, the ECU can be utilised in all areas of mobile automation as well as for a diverse range of tasks. Both controllers comply with protection class IP 67. All electronic components are encapsulated, and thus protected against environmental influences such as heat, moisture, vibration or dust. The compact design enables simple installation.
Exhibitor: Power Towers
Stand no: 620 
Power Towers will be exhibiting their latest product "Pecolift" together with the Nano SP.
Exhibitor: Rb Components
Stand no: 400
Rb Components expose again at APEX the International Fair in Amsterdam, a team of three will be responsible for showing our offer to all clients we can contact for the duration of the exhibition days .
The offer will be varied, the main novelty will be to present our new family by Hall effect joysticks, these joysticks through a robust and reliable design attached to a eletronic development wit components and detectors of the latest generation for a final product of high performance.
The controls by Hall effect group of accuracy in the values ( removing the, potencion metros as main component ) while expanding their life cycles as there is no mechanical wear and work through this family of joysticks RB Components jumps into an important technological catching up of the leading producers and handlers joysticks worldwide.
Moreover Rb Components will also present its new range of fiberglass hoods, improved and strengthened models that increase their duration of life as well as the capacity to shock and friction. Designs such as those of origin with modifications and reinforcements in the parts of the hoods we understand weaker are the main differences of our hoods with respect to others.
Likewise manufacturing materials are completely unflameable and repel the flames, this quality attached to a fine finish make of our range hoods and covers with look great, of course accompanied by the best market price.
Exhibitor: Sinoboom
Stand no: 560
Since April 2013, Sinoboom 200,000 M2 new plant put into operation, production capacity has been improved rapidly, and the product structure was further optimized and adjusted. In 2013 both the output and turnover have exceeded US$25 million; more than 60% products are sold to overseas markets. On the basis of original models upgrading, Sinoboom launched new models of 4m, 6m compact electric scissors, with dimensions of 1.77X0.76X1.87m and weight of 1260kg, it is light to moving, simple to control, delicate and free smart, especially suitable for indoor working conditions, such as warehouse, supermarket, workshop and so on; it can easily enter into the elevator and smoothly through the doorway; furthermore, the details of the products are exquisite and elegant, combining the artistry of industrial design, mechanical performance and simplicity of control, which can work efficiently and in harmony with work environment perfectly, GTJZ0408S and GTJZ0608S will be appearance on the APEX2014, you can see and drive the machine on Standing 560#, your suggestions will be valuable for our improvement!
In 2014, Sinoboom will take quality promotion as a core strategy, to create leading brand in field of Chinese aerial working platform by solid quality with continuing growth of output. Sinoboom has entered into the period of great-leap-forward development since 2013, both internal management and external expansion are building a new era. New Year brings enormous chances, Sinoboom expected to growth together with all our customers worldwide, to create better, more safety future for mankind.
Exhibitor: Time International/Versalift
Stand no: 1230 (outside area) 
New lift revolutionizes the rental industry
A new 24 meter aerial access platform by TIME International will allow users with a standard driver's license access to worksites previously reached exclusively by larger and heavier lift vehicles.
The latest aerial access platform from TIME International redefines the 3.5 t GVW class of lift vehicles targeted the rental industry. A new special boom design grants operators access to a large work area from a lightweight vehicle that does not obstruct traffic making it the obvious solution for work in crowded inner city environments.
Free for all
The vehicle, a Versalift VTX-240 mounted on a Mercedes Benz Sprinter or a Nissan Cabstar, can be operated by users with a regular driver's license because the combined weight is less than 3.5 tonne. A new world of opportunities arise for those users who will now be able to reach working heights of up to 24 meters – as well as an up and over reach of 11 meters vertically up and 12.5 meters horizontally out due to the new boom design. Two 3-stage telescopic booms with a revolutionary patent-pending moveable knuckle in between gives the lift the best outreach in the class.
"The two telescopic booms will allow users access directly up and over buildings which makes the lift perfect for compact city centres where larger lifts will have a difficult time setting up without shutting down traffic," says Axel Rask, Sales Manager at TIME International.
The two telescopic booms combined with the moveable knuckle will furthermore provide access to work sites below ground level making the vehicle suitable for light inspections of bridges and quay edges along harbour fronts.
High quality alternative
No corners have been cut even though both the lift and vehicle is compact, flexible and mobile. The booms are fabricated out of high strength steel which, combined with two sets of extendable H-shaped outriggers, ensure safe and stable work environments for operators.
"Lift operators will experience a more stable and safe work experience in the cage as it will not sway to the same extent as it would in a cheaper product," says Axel Rask.
Advanced technology
The technological innovations are not limited to the boom design. The electrohydraulic controls are the most advanced controls in the 24 meter 3.5 t GVW segment. Numerous smart functions assist operators setting up and extracting the booms from and to the drive position making both functions possible by the touch of a button.
"The smart functions allow operators to spend their time and energy doing the work they are intended to perform in the cage," says Axel Rask.
Exhibitor: TVH
Stand no: 420 
NEW IN THE TVH RANGE: AERIAL TOOL BIN AND DAKOTA SHINE
TVH recently extended its wide range of industrial accessories with the Aerial Tool Bin and Dakota Shine.
The Aerial Tool Bin is a useful box specially designed to hold parts and tools while working on aerial work platforms. Made of reinforced PE plastic, the bin hooks onto basket railing and is equipped with an optional safety lock. The storage space in the bin can be split up through removable partitions and the triangular shape grants the operator sufficient space to move. This ergonomic and clear arrangement causes less stress on the back and increases efficiency and safety.
The Dakota Shine kit restores the shine and lustre of machines in two easy steps. Dakota prep removes wax, oxidation, grease and dirt from the surface while Dakota Shine restores the original gloss and colour.
NEW IN THE TVH RANGE: PROTECTIVE COVERS AND DELTA-Q BUILT-IN CHARGER
TVH continues to expand its range of parts and accessories for aerial work platforms. Recently the Delta-Q built-in charger and protective covers for the control units of aerial work platforms were added to the product range.
Delta-Q is a built-in charger specially designed for smaller machines such as small scissor lifts, aerial work platforms, golf carts … Unique features of this charger are the integrated memory and the fact that it is a universal charger that is compatible with all power grids. The rugged, sealed die-cast aluminium enclosure protects the battery charger against excessive vibrations, extreme temperatures and water, chemical and dust ingress. The two-way communication through the charger USB host port provides info for battery maintenance systems or troubleshooting. The small dimensions and the low weight (less than 3 kg) ensure that this is the perfect charger for small machines. The Delta-Q charger is available in 3 versions (24 V/36 V/48 V).
Water-resistant protective covers
Aerial work platforms are often stored outside, that is why it is important to protect the control units adequately. The new protective covers in TVH's product range consist of a PCV-coated cloth with polyester tissue. They are water-resistant and are available in two dimensions.
NEW WEBSITE FOR TVH
On 24 February TVH launched its new website, with the same well-known address www.tvh.com. With the slogan 'Fly high with our new website' the one-stop shop for material handling and industrial vehicles introduces its new site to its customers. As a result of the rapid growth in the last couple of years, during which TVH also tapped new markets, a new website became essential.
Visitors of the site first arrive on a landing page where they can select their country on a map of the world. Based on the selected country, they get the correct information and contact details. The new site currently exists in the following languages: Dutch, French, English, German, Spanish, Portuguese, Italian, Polish, Russian. The websites of the TVH branches will also receive an update during the next couple of months, so that all TVH websites will use the same layout in time.
More info, more images
On the new site TVH displays much more of its product range, with lots of visual material. The pages of the Parts & Accessories division clearly show what machines the company sells parts and accessories for, and what catalogues and brochures are available on these products. People who are interested in purchasing a machine now have a perfect overview of what machines are for sale on the pages of the Equipment division, with a direct link to the technical details.
Training Centre and Service & repair
As from now the overview of the technical and driver training courses can also be found on the site, and customers have the possibility to immediately enrol online. The pages about Service & repair explain what the Workshop service and Electronics departments do and for what repairs customers can contact TVH.
Movies, brochures, catalogues and webshops
The navigation on the site is very clear, but people who don't immediately find what they are looking for can use the search function to search through the entire site. And for those who have a question, they can use the 'Can we help you'-button on each web page in addition to the contact form. All catalogues, brochures and movies have been grouped under 'Downloads'.
As from now customers can also log on to the webshops MyTotalSource (ordering, requesting offers, looking up parts) and MyEquipmentFinder (looking up second-hand machines by stock level) via the site.
Working at TVH
In addition to the overview of the vacancies, anyone looking for a job at TVH can now find elaborate info about working at TVH, the company values and info about job fairs. The pages about the company also clearly show how the company has grown, where the international branches are and what the mission of the company is.
Exhibitor: Vertimac
Stand no: 250
Vertimac is specialized in selling secondhand aerial platforms to rental companies and traders worldwide. In our premises in Waregem, Belgium we keep a permanent stock of over 500 machines from different manufacturers like JLG, Genie, Haulotte, Skyjack, …
After the successful participation in 2011 we didn't hesitate to confirm our booth for APEX 2014. Between the 2 editions Vertimac has grown from a small company to a well-established player on the market of secondhand aerial platforms.
Last year we have started a new division which focuses on spare parts. We offer a wide range of parts such as tires, batteries, joysticks, …
Further Information
For details of the APEX exhibition, see www.apexshow.com
Source: APEX SHOW