Due to consistently strong demand for exhibition space at the upcoming bauma China, the International Trade Fair for Construction Machinery, Building Material Machines, Construction Vehicles and Equipment, additional space is being made available at the outdoor exhibition site that can be used on a temporary basis.
This will allow organizers to increase the amount of space that the Shanghai New International Expo Center (SNIEC) has available for bauma China 2010 by 10,000 square meters from 220,000 square meters to 230,000 square meters.
Construction work on the new halls at the north end of the SNIEC is also moving ahead at full speed. Two of those halls are supposed to be used for the first time ever during bauma China 2010 in November.
Based on the current level of registrations received for bauma China 2010, approximately 1,700 exhibitors from 37 countries will occupy all of the available exhibition space. Amongst others, they include well-known companies such as Beijing Shougang Heavy Duty Track Manufactory Co., Ltd., CSR Times Locomative & Rolling Stock Machinery Co., Ltd., Kaeser, Keestrack and Quingdao Ketai Heavy Industry Machinery Co., Ltd., which are participating in bauma China for the first time ever. "Thanks to close cooperation with the Association of Equipment Manufacturers (AEM) in the United States, Caterpillar OEM Solutions and Terex will be participating in bauma China again in 2010. As a result, all of the product-group categories at bauma China will have international key players, which underlines yet again bauma China's character as a leading exhibition in Asia," Exhibition Group Director Collin Davis remarked.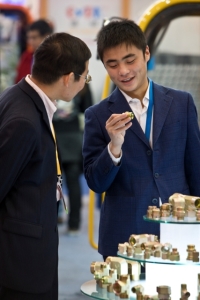 The level of registrations for bauma China 2010 reflects positive economic developments in the construction sector in China and Asia. Market researchers are currently forecasting a new record in the volume of imported mining, building-construction and civil-engineering machines in China between now and the end of 2010, with total volume expected to reach some five billion euros. In addition to new records in the amount of exhibition space and the number of exhibitors, the number of visitors expected to attend bauma China 2010 is also expected to increase. 112,674 visitors from 124 countries attended the fair in 2008.
bauma China 2010 is being held at the SNIEC in Shanghai from 23 – 26 November.
Economic and construction-industry developments in China
Extremely strong growth over the past 15 years has allowed China to develop into the third-largest economic power in the world. During this year, China is expected to surpass Japan and move into second place behind the United States. China remained nearly unaffected by the global financial and economic crisis. Last year, real economic growth was 8.7 percent, and according the International Monetary Fund's estimates, that figure is expected to reach an average of 9 to 10 percent from 2010 to 2015.
The Chinese government reacted swiftly to the global financial and economic crisis. In November 2008, it passed an economic package for 2009 and 2010 worth some 440 billion euros, more than half of which is earmarked for infrastructure expansion. The largest projects include expansion and modernization of the railway (75 billion euros), expansion of the subways in several major cities, and the construction of 50 new airports and modernization of 90 existing ones (some 50 billion euros) by 2010. In response to the increasing population drift to the cities, the government is also planning to invest 50 billion euros in subsidized housing in congested urban areas.
According to preliminary statistics, real investments in construction in China saw a double-digit increase in 2009. In 2008, overall construction investments were some 570 billion euros. After the USA, the Chinese market was the second largest in the world in this area, as well. The share of gross domestic product used to invest in construction is an impressive 18 percent, a typical value for a new industrial nation (by comparison: USA 8 percent, Japan 9 percent, EU 11 percent). However, its relatively low per-capita percentage of investment in construction, which is just 430 euros (some 15 to 20 percent of that in the EU, USA and Japan), demonstrates the growth potential that the Chinese market still has to offer.
Market researchers expect the current growth trend to continue for the next five years, and construction investments are expected to grow at an annual rate of between 8 and 10 percent. Government investment activity predominantly focuses on China's transportation infrastructure and the generation and distribution of
Source: Federation of the German Construction Industry