The German Engineering Federation (VDMA), the head associations of the German construction industry and Messe München International take the opportunity of bauma, International Trade Fair for Construction Machinery, Building Material Machines, Mining Machines, Construction Vehicles and Construction Equipment, to honor forward-looking technology with the bauma Innovation Award. Applications can be submitted from April 2 to August 31, 2012. bauma is held in Munich from April 15 to 21, 2013.
The bauma innovation award is offered in five categories. These are
machinery
machinery component
construction process/construction work
research
design
All applicants have to be exhibitor of bauma 2013. Applications for the category "construction process/construction work" are limited to member companies of the German associations of the construction and building material industry. Applications for the category "research" are no longer restricted to research institutes or universities; companies doing research and development are also invited to hand in innovations.
In each category, three innovations will be nominated for the award. The panel of judges consists of important international representatives of the construction industry as well as leading professors in these fields and editors of specialized trade magazines.
The jury assesses the sustainability and the practical use of the innovations. Selection criteria include cost efficiency, performance improvement, energy and resource efficiency, as well as contribution towards environmental protection, humanization of the workplace and image enhancement of the industry.
In all categories, the innovations must be related to the construction equipment and building material machinery industry, the mining equipment industry or to the construction or building material industry.
Nominations will be officially announced at the bauma media dialogue held on January 29 to 30, 2013 in Munich The winners will be honored at the awards ceremony on April 14, 2013 at the Munich Residenz.
In 2010, the prize will be awarded for the tenth time. The competition is a common project driven by head associations of the German construction industry such as the German Engineering Federation, HDB (Hauptverband der Deutschen Bauindustrie e.V.), ZDB (Zentralverband des deutschen Baugewerbes e.V.) and BBS (Bundesverband Baustoffe – Steine und Erden e.V.) and bauma.
Conditions of participation as well as the online application form for the bauma Innovation Award are available at www.bauma-innovation-award.com.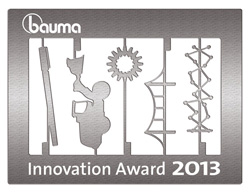 Further information: www.bauma.de


Source: Bauma News Room