Boosted by the 12th Five-Year-Plan, the industry is exploring new growth areas.
BICES/IVEX is embracing a booth-booking boom.
BICES/IVEX 2011 press conference was held in Shanghai New International Exhibition Center. About 60 attendants from about 30 industry associations home and abroad, international press media and construction-related institutions in China presented the event.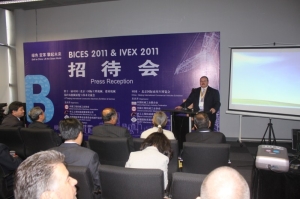 BICES/IVEX Organizers gave a brief introduction on the progress of exhibition preparation. So far there are a great number of companies home and abroad which have expressed their intentions to book booth at BICES 2011 and among them many former exhibitors intend to expand the show area they are going to book. It is estimated that SANY will not be the only company to book over 5,000 sqm space. The outdoor booths are near the end to be booked out. As of the end of October, the total space booked out already exceeded 100, 000 sqm.
Besides, it is decided that the Global Construction Machinery Summit will be held at BICES /IVEX 2011, which will make the first gathering in China for industry leaders all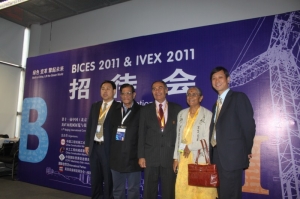 around the world. A substantial expansion of exhibitor and visitor numbers and show space is without any doubt. The organizers will work to invite visiting groups from public facilities and utilities, wind power and nuclear power, quarry and crushing, warehousing and transporting, building material, special vehicles, heavy mining machines and other new areas. These will make BICES an industry grandeur of the whole Asia in the year of 2011.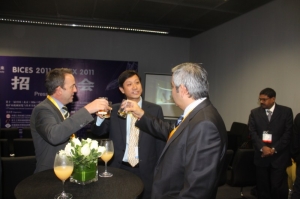 Mr. Su Zi-Meng, the Secretary General of CCMA delivered important information about the industry's 12th Five-Year-Plan (2011-1015). During this period, the construction machinery industry in China will experience a rocketing process. Market demand will rise by 17% annually and in 2015 the sales revenue is estimated to exceed 900 billion CNY. Standing at the start line of the 12th Five-Year-Plan, BICES under the theme of "Green, Reform, Lifting the Future" will be an even more excellent event.
Mr. Al Cervero, Senior Vice President of AEM introduces the construction machinery market in North America and AEM's work on organizing exhibitors.
Besides, Mr. Bhagwan J Deokar, the President of BAI also gave a brief speech on the history and role of BAI and expressed good expectations on BAI's cooperation with BICES.
The attendees have hot discussions on market outlook, visiting group organizing, summit and other topics of common concern. Though it is one year from the BICES/IVEX 2011, the booth booking is approaching a climax which appears much earlier compared to the last BICES. There are also many new names on the booth booking list, which may indicate a bright future for the industry. 2011 will be a year filled with great expectations.
About BICES
BICES- China (Beijing International Construction Machinery, Building Material Machinery and Mining Machinery Exhibition and Seminars, the former Beijing International Construction Exhibition and Seminars) is an exhibition under the leadership of industry authorities. Every step that BICES has taken is closely related with the growth of the industry. BICES 2011 will be held from Oct 18 to 21, 2011, at Beijing Jiuhua International Exhibition Center with expected 180,000 sqm show space and 1,200 exhibitors.
About IVEX
IVEX – China·Beijing International Commercial Vehicles Exposition will be co-located with BICES in 2011. This is a exhibition particularly for trucks and special vehicles launched by BICES Organizers and CMIF (China Machinery Industry Federation). The exhibition will share the visiting resources with BICES and promote the applications and technology innovations of commercial vehicles in China.
Source: BICES China Press Room