The fourth edition of the country's main road and highway infrastructure event will gather companies, associations and other entities dedicated to the sector of geotechnics, foundations, and soil mechanics.
Once again, Brazil Road Expo – whose fourth edition takes place on April 9 and 11, 2014, at Transamérica Expo Center, in São Paulo – will highlight the importance of solutions in Geotechnics and Foundations and the road and highway infrastructure works. This role ranges from ground reinforcing operations, with the use of geosynthetics, to slope containment and monitoring works, either with the use of shotcrete, retaining structures such as networks as gabions, or ground cover suitable for this purpose – not to mention the application of these engineering techniques in the construction of special artworks such as tunnels, bridges, and viaducts.
"We cannot think of road and highway infrastructure works without thinking of Geotechnical and Foundation Engineering. These are areas that rely on technology and are fundamental not only to the quality of roads and highways, but also for the safety of these projects", explained engineer Guilherme Ramos, director of the Brazil Road Expo.
The event will be featuring several exhibitors who will present products and technologies in this segment. Among these companies are a few veterans of Brazil Road Expo, such as the Brazilian subsidiary of Switzerland's Geobrugg, which, among other solutions, provides embankment stabilization systems; CPB – Concreto Projetado do Brasil, which will present line of rods and jet anchors for restraint in tunnels, embankments, mining and civil construction; Massi and Vertical Green, both with solutions in ground cover for slopes; and Bolsacreto, which offers a constructive system for embankment containment systems, coast and margin protection, stream channeling, and erosion control.
Brazil Road Expo 2014 also has new exhibitors in this segment, such as DSI Revestimento Vegetal, from Campo Grande (MS). "Being the largest trade show in the sector, DSI saw a great opportunity for promotion. We will exhibit our portfolio of services and our project execution technique for recovery of degraded areas", said the company's director, Osmar Paulino Toccolini Neto.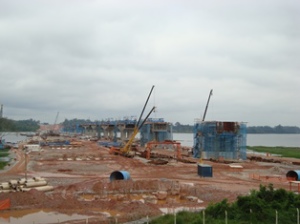 Another new exhibitor is Deflor Bioengenharia, from Minas Gerais, which, among other solutions, provides biodegradable anti-erosion blankets for embankment protection. Brazil Road Expo will also feature the participation of Geotec Consultoria Ambiental, which offers, among its wide range of services, embankment stability analysis and drainage projects and sizing. "The strong performance of GEOTEC to enable the construction of roads and highways through its broad portfolio of specialized services reinforces the great synergy between our company and Brazil Road Expo. Therefore, we have decided to attend the event to promote further our expertise in this segment", said electrical engineer Gustavo Thomsen, technical director of the company.
As in the last two editions, Brazil Road Summit, a conference program held in parallel with the exhibition, will be featuring an exclusive workshop on Geotechnics with lectures on topics such as slope retention, embankment reinforcement, use of geosynthetics in infrastructure works, and solutions for the improvement of soft soils, among other topics.

Service
Brazil Road Expo 2014 – 4th edition
Date: April 9-11, 2014
Exhibition time: 11 am– 8 pm
Conference time: 9 am – 6 pm
Venue: Transamérica Expo Center
Address: Av. Dr. Mário Villas Boas Rodrigues, 387 – Santo Amaro – São Paulo
More information: www.brazilroadexpo.com.br