Salvo Property Group has appointed multinational contractor Brookfield Multiplex to construct Melbourne's Platinum Tower. The tower will stand 52 stories high and contain a total of 438 apartments alongside a very wide range of facilities and amenities.
The project is worth AU$280 million (£155 million) in total and will occupy a prime area in the city. The project is being headed by the Salvo Property Group, a leading development firm specialising in the luxury residential market. True to Salvo's form, the Platinum Tower apartments will be targeting the luxury end of the market, with an extensive range of facilities on offer. Other touches aimed at pleasing high-value residents include floor-to-ceiling windows and private balconies. The tower's location also works in its favour in this regard, as it is close to Melbourne's nightlife as well as to a wide range of entertainment facilities.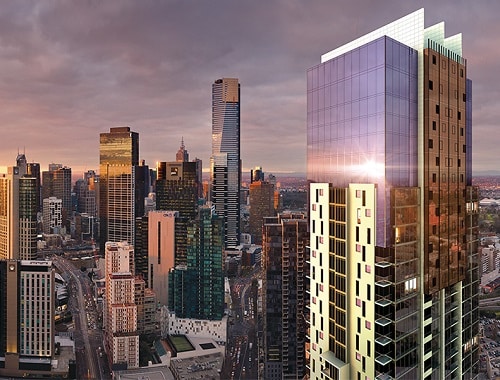 It is the 52nd floor, however, that is really aimed at establishing the Platinum Tower's status as a place for high net worth individuals to reside. The highest level will feature a spa, gym, sauna and swimming pool for use by residents as well as private dining facilities and winter gardens. Stretching from the second floor up to the eighth, meanwhile, will be one of the biggest vertical gardens in the world. The building will include rainwater recycling to irrigate the gardens, which join plans for the use of water-efficient appliances and fixtures within the garden to become part of the building's environmental credentials.
The building will also feature further dining facilities in the podium, comprising a restaurant and a café. The podium will also house nine levels of car parking and concierge facilities. As well as car parking, there will be facilities for 170 bicycles, both to provide convenience and security for residents who cycle and to encourage environmentally friendly modes of transport.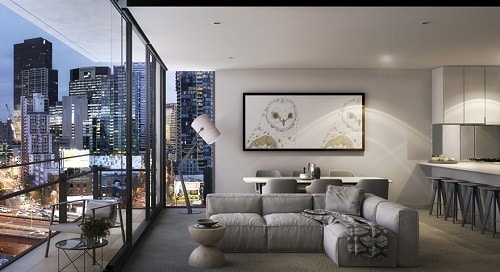 The plan is for Brookfield Multiplex to construct the Platinum Tower as a largely precast concrete structure, covered by a glass façade which will be double glazed. A single concrete core and superstructure will be used to construct the building, along with post tensioned slabs and concrete CFA piles. There will also be precast metallic painted features. Between floors 42 and 52, meanwhile, there will be a curtain wall featuring brass coloured bronze and indigo.
The building's design is being handled by Squillace and structural engineering duties fall to Rincovich. Wood & Grieve will provide civil engineering services for the project and, along with Hydraytech and WSP, will also supply service engineering.
Construction of the Platinum Tower is due to begin in July of this year. If all goes to schedule, it is intended that the tower will be completed sometime in July 2016.
Images: Courtesy of SALVO PROPERTY GROUP
Matthew Scott