Volvo Construction Equipment is helping to construct the Larvik and Matineå tunnels in Norway, linking the towns of Bommestad and Sky.


Famous for its fjords, vast supply of oil and being a great place to watch the Aurora Borealis – more commonly known as the Northern lights – Norway also has an impressive network of tunnels. Close to Larvik in the Vestfold County, around 80 km south of Drammen, two tunnels are currently under construction as part of a state funded infrastructure development program. The project, which began earlier this year, comprises 7km of four lane highway – part of the E18 major route – linking the towns of Bommestad and Sky. This includes the new Larvik and Matineå tunnels, which will span 2.8 and 1.3 km respectively.
Worth 1.56 billion Norwegian crowns (€ 187 million), this project was awarded to Skanska Norway, the second largest construction company in the country. Running along the edge of Larvik town, the road will cross the new 570 meter long Ferris suspension bridge, which will span the southern end of Ferris Lake.
Two Volvo Construction Equipment (Volvo CE) EW230C-Series wheeled excavators, modified for this specific project, are working in the Larvik tunnel section. The local dealer, Volvo Maskin AS is working with CeDe Group AB in Malmö, Sweden – an official partner to Volvo to supply special application underground solutions – ensuring the machines were ready for tunneling operation.
These units are equipped with a hydraulic elevating and tilting cab, raising the cab 2.4 meters with a maximum tilt angle of 30 degrees – a feature allowing operators to get close to where they are working with no natural daylight. Efficient Xenon and customized LED lights aid visibility in the tunnel.
An air compressor unit, activated by the hydraulic breaker is fitted to blow clean air around the breaker, preventing ingress of dust and an upper structure-mounted 50-meter hose reel feeds through constant water to reduce dust and improve visibility. With full consideration to the environment, the water used during operations every day is pumped into large holding tanks situated close to the tunnel exit, where the water is then treated for re-use.
Bolt-on, heavy duty rubber guards protect the boom and dipper cylinders against damage from falling stones. The front screen features 6.8 mm thick safety glass with additional certified front screen protection, and the engine compartment is equipped with a fire suppression system and central lubrication for increased safety.
Volvos clean up down under
Once a section of tunnel has been blasted, Volvo wheel loaders form part of a load handling team before a EW230C wheeled excavator equipped with a bucket cleans up. The second machine, equipped with a breaker, will be handling stripping operations at the other end of the tunnel. To ensure operator and equipment safety, rock bolts are inserted at multiple points to secure the roof structure.
A specially equipped Volvo EC250DL is also working in Larvik, drilling the rock face alongside the existing road to prepare for blasting. This is where the road will be lowered to the tunnel exit – a short distance from where the new bridge will be constructed.
Volvo Maskin and CeDe Group modified the EC250DL to feature safety glass for both the front screen and the roof, with an additional roof wiper blade, boom suspension, a swing dampening system, plus additional LED lights. The drilling rig was then mounted by Norwegian company AMV, including the hydraulics and electrics for the motion control.
Minimal traffic disruption
Traffic flow continues and is only disturbed two to three times a day when the rock is blasted. Though small blasts, handling 50-70 cubic meters each time, heavy rubber protective mats are positioned over the rock to safeguard against flying debris.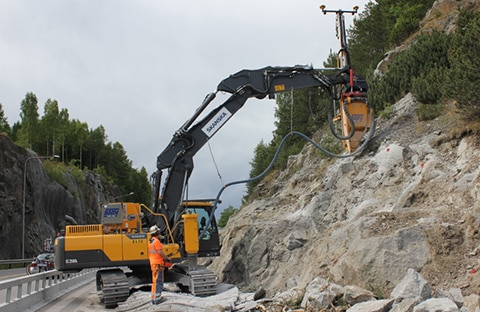 "The average drill hole is 1.5- 2 meters deep," says Mads Bakken, equipment manager on site. "This rig can handle around 300 meters a day. The attachment can drill to a depth of 10 meters in automatic mode or even deeper in manual mode. The machine is perfect for the job, offering both high and long reach and we can use it on other projects too."
The attachment can be rotated through 180 degrees, but versatility is increased with a second coupler bracket mounted to the side of the attachment, enabling both drilling horizontally and vertically when installing rock bolts to stabilize the rock face.
"I like the Volvo," says Ger Egil, machine operator. "I appreciate the space in the cab and low noise, but I especially like the elevating cab as I can get really close to where I am drilling." He also explained how the entire operation can be handled via remote control depending on the working conditions.
There are about 20 Volvo units on the site, including EC250, EC380D and E-series excavators, a L110F and L250F, G-series wheel loaders and A35FFS and A40FFS full suspension articulated haulers. The project is scheduled for completion in 2017.