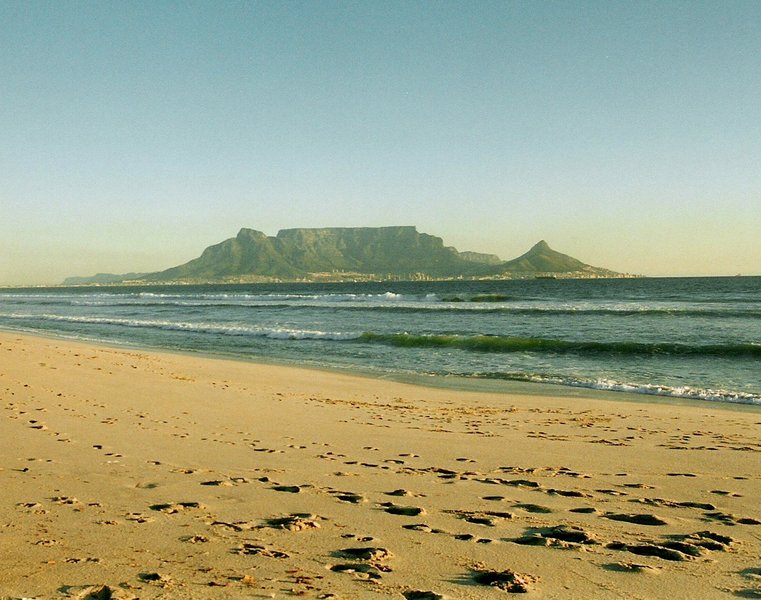 View of Table Mountain from Bloubergstrand  [Image Source]
"…An appreciation of the magnificent sea and mountain views of the "fairest cape" can be enriched by knowledge of its geological foundations…"
~ University Cape Town (UCT) Department of Geological Sciences

Table Mountain above the University of Cape Town  [Image Source]
Table Mountain
…about 800 million years ago…
Table Mountain is one of the oldest mountains on earth (geologically part of the late-Precambrian age Malmesbury Group) that appeared when sandstone began to form underwater. The sandstone was given strength by magma rising from the earth's core which rather than forming a volcano, stopped underground, cooled and formed hard granite. Later when the continents split apart, stresses built up in the earth's crust and the granite gave it strength, deflecting forces down. Slowly this process forced layers of rock to rise, allowing it to become the 1000m high mountain of today.
As discerned by University Cape Town Department of Geological Sciences in their work 'Geology of the Cape Peninsula,'
"…Many tall buildings in the Cape Town Central Business District are founded on these granite rocks which were…scoured by wave action during past periods of higher sea level…."

Table Mountain above Cape Town Waterfront [Image Source]
…about 630 million years ago…
The Peninsula granite is a huge batholith that was intruded into the Malmesbury Group as magma and crystallized deep in the earth. It was then exposed by erosion. Close up it is a coarse-grained rock. In some places, intense weathering has altered it to become kaolin clay soils that cause slope stability problems in road cuttings.
The contact zone, where the Malmesbury Group was intruded by the molten Peninsula granite, reveals dark coloured Malmesbury rocks altered by intense heat intermingled and folded with the pale coloured intrusive granite, forming a complex mixed rock (migmatite).
…about 450 million years ago…
Though initially intruded at great depth, prolonged erosion eventually exposed the granite at surface and it now forms a basement upon which younger sedimentary rocks of the Table Mountain Group were deposited in the stream channels and tidal flats of a coastal plain and delta environment that extended across the region.
As UCT Department of Geological Sciences in their work 'Geology of the Cape Peninsula,' further describe
"..The spectacular Chapman's Peak roadway has been constructed along the contact unconformity between granite and the overlying Table Mountain (sandstone) sequence…"
Around 300 million years ago during the ice age the mountain was still at sea level and ice sheets flattened layers of sandstone creating the 'Table Top.'
Almost 50% of the Cape Peninsula and Cape Flats area is blanketed by weakly cemented marine sands. Sea-levels fluctuated between -120 to +200 m from present mean sea level during the Pliocene and subsequent Pleistocene ice-age.
Beyond consideration of its geology, the mountain also creates a rain shadow, providing rain and streams that flow in its valleys and shelter. Forested ravines are etched out by erosion along fractures and faults and soil has developed on its mountain slopes, in contrast with the sandy plains beyond. Without these vital elements the area would not have attracted human settlement in the first place. Its forests have provided timber for ships and houses since.



Table Mountain [Image Source]
The original name given to the mountain by the first Khoi inhabitants was Hoeri kwaggo (sea mountain). Its current name derives from Antonio da Saldanha, a Portuguese explorer, who in 1503 called it taboa da caba (table of the cape).


Table Bay by A Smit 1683 [Image Source]
Table Mountain aerial cable way
A Norwegian engineer, Trygve Stromsoe, first presented plans for a cableway in 1926, and construction began soon after with the formation of the Table Mountain Aerial Cableway Company (TMACC). Construction of was completed in 1929 at a cost of GB£60,000 (equivalent to £11,400,000 in 2011 pounds) and the cableway was opened on October 4, 1929. The cableway has been upgraded three times since then. Sir David Graaff, former mayor of Cape Town and government minister, also invested heavily in the project.


Vintage Photograph of Table Mountain Aerial Cable-Way 1929 [Image Source]
In 1993, the son of one of the founders sold the TMACC and the new owners took charge of upgrading the cableway. In 1997 the cableway was reopened after extensive renovations and new cars were introduced.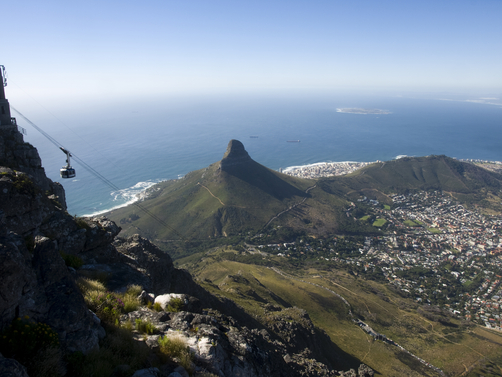 Table Mountain aerial cable way  [Image Source]

Today's cable way to the summit has 'Rotair' cars and allows 65 passengers (increased from 25 on the old cars) to reach its top in 4-5 minutes, run on a double cable, making them much more stable in high wind. The floors of the cars rotate through 360 degrees during the ascent or descent, allowing a panoramic view.

Author: Mary Bon
Mary is a RIBA accredited architectural researcher, with previous international experience in architectural practice. She has proven research and writing experience for both established clients and innovative start-ups in the construction industry worldwide. She is now based in France and orientated towards bridging the gap between landscape and architecture whilst supporting the causes of local, national and international built and natural heritage.