Full report to be launched at PLANTWORX…
At PLANTWORX 2019 (11-13 June, East of England Arena & Events Centre, Peterborough) the construction machinery manufacturers will demonstrate to visitors why the UK construction sector is ranked number one in Europe with a 24% market share.
The prospect of Brexit has not had a direct impact on sales of construction machinery in the UK. These positive findings were revealed in the Construction Equipment Association's (CEA) latest Sector Report, on the UK construction equipment industry. Researched by consultants, Knibb Gormezano & Partners (KGP), and co-sponsored by the Department for Business, Energy & Industrial Strategy, extracts from the interim report showed record revenue for the industry in 2018, with sales of £13bn, up by 18% on the benchmark set for 2013.
The UK was the largest producer of construction equipment in Europe in 2018, and the 5th largest in the world – producing in excess of 60,000 units – earning manufacturers around £13bn in revenue. The confidence of the sector is due in part to massive infrastructure projects like High Speed 2 (HS2), Hinkley Point C and Highways England's current £15bn five-year roads programme (RP1).
The Government has committed to further significant infrastructure investment and aims to expand the current housebuilding programme by another 30 per cent to 300,000 new homes a year. 2017 was a record year for new infrastructure and housing projects, with a value of around £106.5 billion. PLANTWORX exhibitors are keen to display the very latest innovations in machinery and onsite solutions to sustain the forecast sector growth.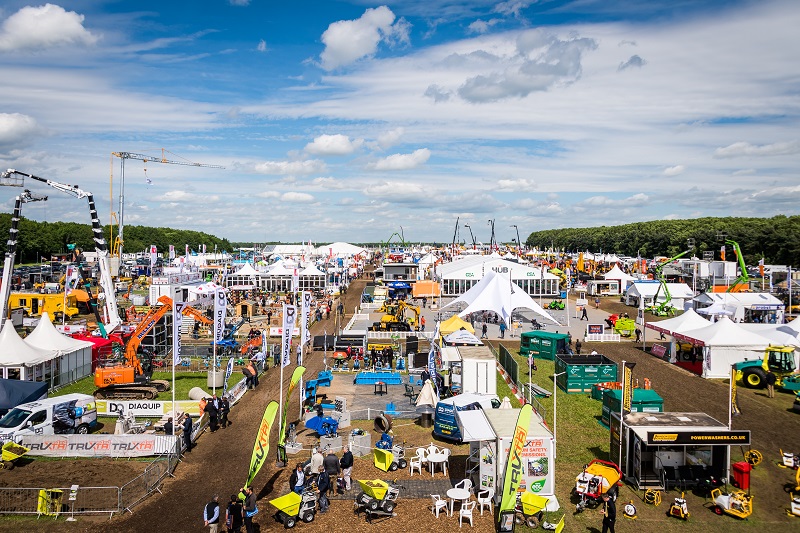 Investment in R&D increased a further 10% in 2018 to £220m and at PLANTWORX visitors will see first-hand the fruits of the manufacturers' labour, with more entrants into the electric powered arena and a significant rise in manufacturers' use of digitalisation and automation.
The use of Drones in construction has also grown dramatically in a short space of time – PLANTWORX has embraced this aerial revolution and will for the first time will host a dedicated Drone Fly Area – where suppliers will demonstrate the very latest in UAV technology.
There are 1,500 companies in the construction equipment supply chain, with a total direct workforce of 42,000. Yet the final Sector Report will reveal that one of the biggest challenges facing the industry remains that of skills. The skills gap for UK construction equipment operators and manufacturers is widening. The technological advancements expected in the CE sector in the next 10 – 15 years are going to broaden this gap even further – particularly with emerging technologies. Automation and autonomy can fill that gap, but it is still a big challenge for the industry.
The final day at PLANTWORX (Thursday, 13 June) is dedicated to encouraging new blood into the industry and is welcoming primary and secondary schools and colleges to the event to explore the construction sector and the diverse opportunities it can offer.
The PLANTWORX indoor arena will also host the Get SET (Skills, Employment, Education and Training) zone which is designed to help visitors and exhibitors explore job openings, training courses and apprenticeships. There will also be support and advice about education, including upskilling, employment and training opportunities across the both the rail and construction sectors.
A Simulation Zone, hosted by Plantforce Rentals, will also be offering simulation-based training tasters. Simulation is used by many of the tier one contractors to train and upskill their staff.
GDP in the UK is expected to grow 1.5% in 2019 according to the IMF – and continue growing between 1.5% – 1.6% through to 2023. With GVA up to £2.3bn and exporting over 60% of output globally – it's an exciting time to be involved in the construction equipment sector which represents significant opportunities.

The full 3rd UK Construction Equipment Sector Report will be launched at PLANTWORX 2019. Rob Oliver, Chief Executive, Construction Equipment Association, said "The Sector Report comes five years since the last one in 2014. At that time our industry and the world economy were still recovering from the financial crisis triggered in 2008.
We can proudly report that the latest figures show record revenue for the sector and that the UK remains a good place to both manufacture and supply construction equipment. We are very much looking forward to the official launch of the report at PLANTWORX/RAILWORX – which will be a record-breaking show and is on target for 450 exhibitors – the biggest show yet!"
PLANTWORX, 11-13 June 2019, East of England Arena & Events Centre, Peterborough. For more details on the event, a full exhibitor list and details of the new zones and initiatives visit www.plantworx.co.uk Registration for free fast track entry badges to the show is now open – visit the website to secure your place at the UK's largest working construction event in 2019.
Source: Plantworx Press