In the fourth quarter of 2017, retail sales of construction and earthmoving equipment in the UK market grew by 7.4% compared with the same period in 2016. This took total growth for the year to 7.6% compared with 2016, reaching approximately 30,000 units for the year, according to the UK equipment statistics exchange *. Equipment sales in the UK market continued to show a distinctive seasonal pattern in 2017, reaching a peak in the second quarter, and then "bottoming" in the last quarter. The graph below illustrates sales on an index basis, using Q1 2016 as 100.
Growth in equipment sales in 2017 was driven by mini and midi excavators (up to 10 tonnes), which are the most popular machine types, and showed nearly 16% growth on 2016 levels. A strong house building market was a key reason for higher demand for smaller machines last year. Another factor boosting demand was fleet replenishment within the rental industry, which also helped demand for other types of equipment. In the UK market, the rental industry is estimated to account for over 60% of equipment supply, and is more significant than in other European markets. Overall confidence within the equipment supply chain remained positive in 2017, and seemed to be influenced by the progress made on major infrastructure projects such as HS2, which will provide additional demand for equipment in the coming years.
Sales of the other major types of construction equipment showed a range of growth rates, as shown in the graph below. Compaction rollers recorded the weakest sales in 2017, showing a decline of more than 18%. A significant factor for heavy tandem rollers was the emphasis by Highways England to spend on smart motorways, which involved less work on carriageways, in favour of safety barriers, drainage and other structures.
UK exports of construction and earthmoving equipment also showed very strong growth last year. Official customs data from HMRC shows that exports reached £2,917 million, an increase of 22% on 2016 levels. This reflects improving demand in many of the major overseas markets, as well as the benefit of the weaker sterling exchange rate. Exports of equipment are estimated to account for approximately 60% of UK machine production, and are very significant for the industry. Imports of equipment also increased in 2017 to £1,488 million, which was 16% higher than 2016, and reflects improved domestic demand for equipment, as highlighted above. As a result of the above, the overall trade surplus for equipment showed a 30% increase in 2017, reaching £1,429 million.
*In 2017, the construction equipment statistics exchange was taken over by Systematics International Ltd., a specialist data processing company. This scheme is run in partnership with the Construction Equipment Association (CEA), the UK trade association.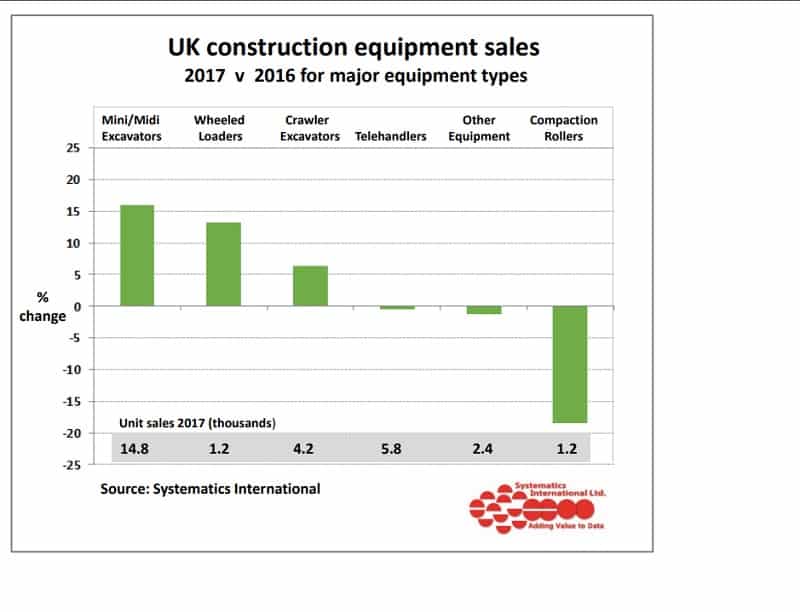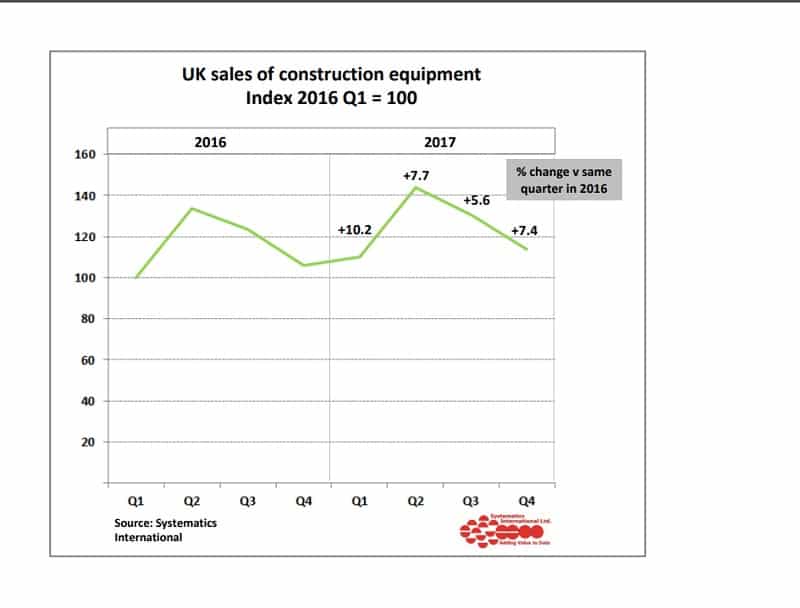 Source: CEA (Construction Equipment Association) News