Paris played host to one of the construction industry's biggest trade shows when the week-long Intermat exhibition was held in the French capital last week. Companies came from across the globe to show off their products at the international triennial trade show in the equipment, supplies and technical sector. Intermat, held from April 16 to 21 is the only trade show of its kind to be held this year.
It is considered the world's second biggest trade fair for construction materials and has become the biggest in France since it was founded in 1988. Held in Villepinte's Parc des Expositions to the north of Paris, Intermat covered a total of 375,000m2 of floor space including an area of 30,000m2 dedicated specifically to outdoor demonstrations – making it the only trade fair boasting such a zone.
Numerous new products were on display for the first time and Intermat also played host to several world previews including new advanced drivetrain systems introduced by Dana.
Organisers, headed by exhibition director Maryvonne Lanoë, were expecting to welcome around 200,000 visitors through the doors, around 35 percent of which were to come from abroad.
"All the companies who displayed at Intermat invested a lot to design and prepare their shows. It was a huge show and we are confident it was a success," Ms Lanoë told Construction Shows.
"The atmosphere and the feeling among all the companies that were present was very positive," she added. "I learnt that one company Ausa, which manufactures equipment for concrete sold all the products they were exhibiting. Bobcat, too has done a lot of business as well, we heard."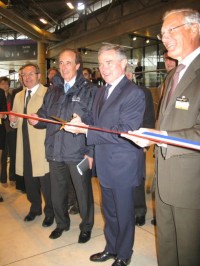 Bernard Accoyer, the president of France's National Assembly, cut the tricolour ribbon to official open the 2012 Intermat, before being given a tour around one of the exhibitions main halls.
The construction industry may have slumped in many European countries but the market for supplies and equipment continues to grow, reaching sales of $107billion in 2011.
The figures may be positive but the impact of the global recession on the heavy equipment industry in Europe cannot be ignored.
Sovereign debt issues, especially in Europe's Mediterranean nations have taken its toll on sales figures. Since 2008 there has been a 50 percent drop in demand from Italy effectively reducing the traditional big markets in Europe to just France, Germany and the UK.
But reflecting the changing world order the markets have been healthy elsewhere.
According to Off-Highway Research Europe is only predicted to represent 11 percent of the equipment market in 2015, the US, 15 percent and China 49 percent. The eastern powerhouse is enjoying a rapid expansion of its domestic construction market, meaning there is a strong demand for speciality equipment.
In 2011 alone China brought nearly €1.9billion worth of products produced by the French machinery industry, which had a heavy presence at Intermat.
In all 1,350 exhibitors were present at Intermat from across 32 different countries including rental companies, equipment manufacturers, distributors and companies serving the construction and material industries.
Exhibition Director Ms Lanoë told Construction Shows Intermat can be seen as a barometer for the whole of the industry.
"Big companies like Case and Volvo made a lot of effort for their exhibits because they have confidence in the market and with the forecasts for 2012," said Ms Lanoë.
"Despite the troubles it's still a very important market worth over $7,000 trillion. The construction materials sector continues to grow. It was worth around $107billion in 2011 and will do over the next year."
Ms Lanoë believes Intermat's ability to attract business from across Asia has enabled to show to go from strength to strength and helped it to grow by 20 percent since 2009.
All the usual names were present from Hitachi and Doosan to Volvo and Renault. Chinese companies also had a healthy representation at Intermat.
One of the biggest exhibitors of industrial equipment was Caterpillar, which displayed their products, including a range of new ones, over 6,500 square metres.
"This is a big international show," Caterpillar's Francine Shore told Construction Shows. "We see people here from all over France, the Middle East, Russia and Africa."
"We have always had a strong presence at Intermat. It's a great opportunity for us to meet our customers and also to get some feedback from them about our products," Shore added.
"We have over 60 products here, half of which are new. This year we are going to introduce around 90 new products in total so we need to be at shows like Intermat to present and promote this new equipment."
Yves Girard, Sales representative from Geith, which specialises in manufacturing buckets told Construction Shows: "It's important for us to be at a show like Intermat in order to build contacts and make our products more visible. We might not get the investment back immediately but we expect to see the return in the future."
About 40 percent of the floor space at Intermat was taken up by engineering and services companies but over a third of the companies displaying products were from the components, supplies and accessories sector.
Intermat will soon turn its attention to the ever-growing Middle East markets. Intermat Middle East will take place in Abu Dhabi from October 8 to 10.
Author: Ben McPartland