Hot on the heels of Bauma Munich, the Plantworx Construction Machinery Exhibition hosted by the CEA (Construction Equipment Association) is almost upon us! It's just 70-days until the show opens its doors to visitors from the construction sector.
The 4th biennial working construction event is taking place at its brand-new home at the East of England Arena in Peterborough from 11-13 June.
The show will benefit from 20% more exhibition space than at its previous location in Leicestershire and spans more than 140,000 square metres – that's an area bigger than 20-premier league football pitches.
Rob Oliver, Chief Executive of the CEA (Construction Equipment Association) said, "After Bauma, Plantworx will be the first opportunity to see new products from many of the major OEMs. With the advent of Stage V engine requirements – and more entrants into the electric-powered arena, Plantworx 2019 promises to be the best yet to see new machines".
Rob added, "Ground conditions at the East of England venue are first rate for Plantworx which should reduce the need for wellington boots at the show. A lot of the car parking will be on hard standing and we have the option to rotate the grass parking areas to protect both the turf and visitors' cars."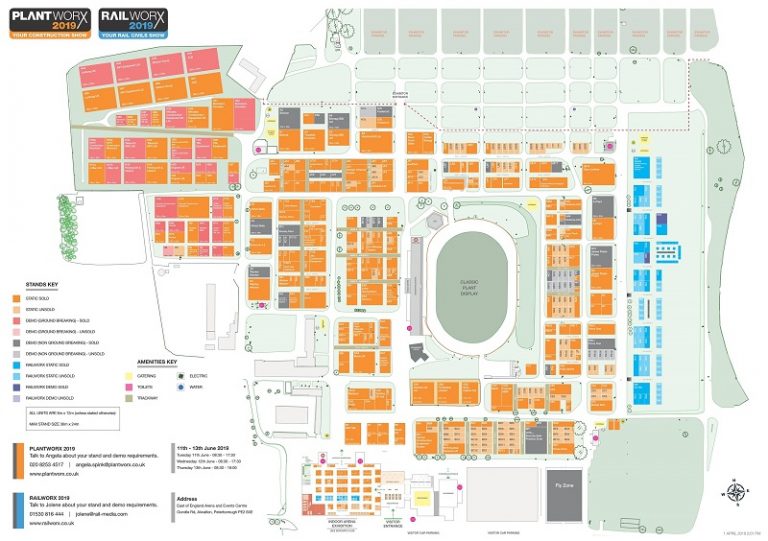 "We are not sure what will come first – either Brexit or Plantworx – but we can honestly say that Brexit has not impacted on companies wanting to exhibit at the event and trade! We are expecting 20,000 visitors to attend the event and we are already ahead of ourselves from previous shows in terms of pre-registration."
Here are the latest companies that have signed on the dotted line to exhibit at Plantworx. The sales team have had 15 exhibitor bookings in last week – with more flooding in daily. The show now has 356 exhibitors in total and an impressive 121 (34%) are brand new to the event. A full exhibitor list can be found on the Plantworx website.
EmiControls – New
IPAF
Lumag Distribution Ltd – New
Tex Engineering Limited – New
Vehicle Vision International – New
WHOTZHOT Ltd – New
Cyberhawk (Drone Zone) – New
Fire and Safety Solutions & Rotarex Partnership – New
Geith International Ltd
ITH Bolting Technology – New
Linco – New
MachineMax – New
MPA Group – New
Tracked Carriers – New
Registration for free fast track entry tickets is now open – follow the link to reserve your pass to the biggest working construction event in 2019 https://www.plantworx.co.uk/event/2019/tickets
Put the 11th, 12th, 13th June 2019 in your diary the Plantworx team look forward to welcoming you all to East of England Arena and Events Centre, Peterborough for Plantworx and Railworx.
Contact Angela Spink for more details on Plantworx stands at angela.spink@plantworx.co.uk  and for Railworx contact Jolene Price railworx@rail-media.com.  www.plantworx.co.uk
Source: Plantworx/ Railworx Press