Fourth edition of Big 5 PMV to draw top manufacturers and suppliers looking to capitalise on Middle East construction growth
Demand for construction machinery in the Middle East is set to soar as the construction industry recovers from the economic downturn and the region forges ahead with major development.
According to industry experts, there are positive signs of recovery in the GCC construction industry and there are a number of factors which will drive ongoing demand for machinery.
Humaid Salem, General Manager of the UAE Contractor's Association said: "As major developers start to repay contractors, they will be able to repay their sub-contractors and suppliers, giving a major boost to the industry as a whole. This will lead to more growth in the sector, and create a renewed demand for construction machinery as new projects get underway."
Dr Nasser Hamad Al Hajeri, Chairman of Gulf Automobile Industry Corp said the scale and number of development projects, particularly in Saudi Arabia, will increase demand for construction machinery. "We are witnessing high demand in Saudi Arabia and Qatar due to the large number of major construction projects there, and demand is also growing in the UAE.  To meet market demand, we are launching a light duty truck with capacity from 1 to 10 tonnes and a wheel loader towards the end of the year."
With more than US$1.3 trillion projects on the horizon in the GCC, according to the latest data from MEED Projects, manufacturers and suppliers of plant, machinery and construction vehicles will have an excellent opportunity to capitalise on Middle East construction growth when the Big 5 PMV (www.big5pmv.com) returns to Dubai in November.
Big 5 PMV 2
Now in its fourth year, the event will take place from 22-25 November in The Arena, Sheikh Saeed Halls at the Dubai International Convention and Exhibition Centre as part of the Big 5, the Middle East's largest and most influential construction industry event, organised by dmg World Media.
Nick Webb, Director of Streamline Marketing Group, organisers of the Big 5 PMV said despite a tough year for the global construction industry in 2009, the outlook for the region's construction industry is positive. "Many major projects have been announced in 2010 to date and manufacturers and suppliers of plant, machinery, construction vehicles and equipment are actively pursuing opportunities worth millions of dollars.
"Now in its fourth year, the Big 5 PMV brings together construction industry professionals, plant and mechanical engineers, consultants, architects and contractors from the Middle East, Europe, Asia and Africa.  It offers unparalleled opportunities for manufacturers and dealers of construction machinery to access the construction and building community," he said.
According to Ventures Middle East, more than US$14 billion worth of construction contracts were awarded in the GCC during April and May, with around US$8.7 billion awarded in the UAE. The firm has also forecast 10 to 15 per cent growth in contracts awarded in 2010.
Proleads Global, a UAE-based market research company has reported that nearly 1,300 projects valued at more than US$418 billion are under construction in the UAE, with an additional 303 projects worth US$143 billion in the design, planning or bidding stage.
In April 2010, projects worth millions of dollars commenced including the Water Garden City in Bahrain (US$6.6billion), Musheireb in Doha, Qatar (US$430million), the Al Ain Convention Center District (US$953million), Saadiyat Island Development Cultural District – New York University (US$865million) and Business Bay Development, The Opus Tower (US$469million), in the UAE.
Big 5 PMV 3
Government spending on infrastructure projects is also giving the sector a considerable boost. The UAE federal government earmarked almost US$12 billion from the 2010 budget for infrastructure projects, according to Business Monitor International. Saudi Arabia allocated US$3.17 billion in its 2010 budget for construction of 6400 kilometres of roads.
The largest and most important construction machinery event in the region, the Big 5 PMV features a new live demonstration area and allows key buyers from across the region and oversees to meet face-to-face with leading manufacturers and suppliers and to experience the latest innovations and technology first-hand.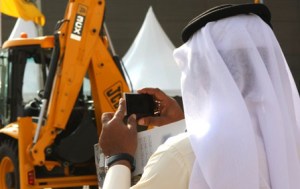 Highlighting the strong international interest in the Middle East construction market, the event has already attracted exhibitors from Asia, Europe and the Middle East. The Korean Construction Equipment Manufacturers Association (KOCEMA) has most recently confirmed their support for the event.
Running alongside the exhibition, the organisers are also planning a free industry conference, providing trade professionals with a platform to share best practice, learn about the latest industry developments, and discuss challenges facing the region's construction industry.
For the first time, visitors will be able to travel to the Big 5 PMV via the Dubai Metro, with the Dubai World Trade Centre metro station conveniently located adjacent to the Big 5 PMV venue.