Molson Group is the UK's biggest independent construction equipment dealer representing a long list of major international brands including Hyundai Heavy Industries. A number of Molson's Hyundai machines are busy taking care of track maintenance at all rounds of the 2014 Arenacross Motorcross tour.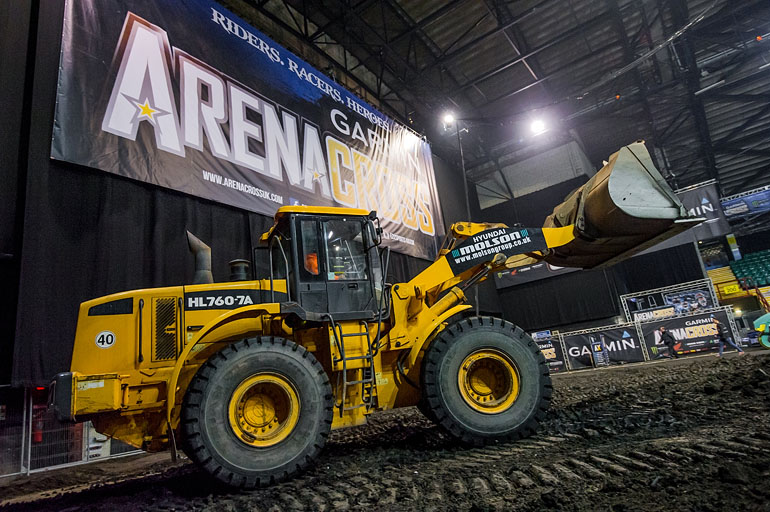 The biggest single job when it comes to putting on a round of the Garmin Arenacross Tour is constructing the track.
The team can have as little as 24 hours to sculpt upwards of 10,000 tons of dirt into a whoop-filled, jump-infested monster of a circuit and to do that they need some hardcore machinery.
For the last 2-years Garmin Arenacross have relied on machinery equipment from series partner and sponsor Molson Group/Hyundai Heavy Industries Europe.
e22 Sports (organisers of Arenacross) oversee the track building, Steve Price Production Director said. "Building a Garmin Arenacross Tour track from 10,000 tons of dirt from scratch – sometimes in as little as 24 hours – is a massive undertaking and we're very lucky to have the Hyundai plant including HL760-7a Wheel loader, R140CL-9 excavator and R27Z-9 excavator at our disposal. The equipment is as good as it gets and allows us get in, build the tracks and then tear them back down again when racing is finished with the minimum of hassle."
The Molson Group team is passionate about motorsports – on two and four wheels – and underlines its commitment by backing the SR75-Molson team, the reigning Garmin Arenacross Team Champions.
Have Hyundai will travel! – This year there are seven rounds of Arenacross events across the UK and the Hyundai machines will be preparing and then deconstructing the lot! The first two rounds took place in January in Belfast, and then Birmingham, Liverpool, Newcastle, Sheffield and the final round will be on 1st March in London!

Source:  Hyundai Heavy Industries Europe nv (HHIE)