Described by the organisers as the "largest outdoor rail event in the UK", AJC Trailers enjoyed a highly successful two days displaying their mobile welfare units and portable sanitation products built for the rail markets.
Working alongside one of their clients, A1 Loo Hire, AJC displayed their EasyCabin eco3+4 which boasts a line of environmentally biased features and benefits; including LED lighting, low emissions and reduced fuel consumption. The eco3+4 can be towed trackside, providing site workers with localised, self-contained welfare facilities. The unit features three toilet cubicles, four waterless urinals, two sinks and PIR activated lighting. Power is delivered via an advanced battery system, backed-up by an in-built diesel generator.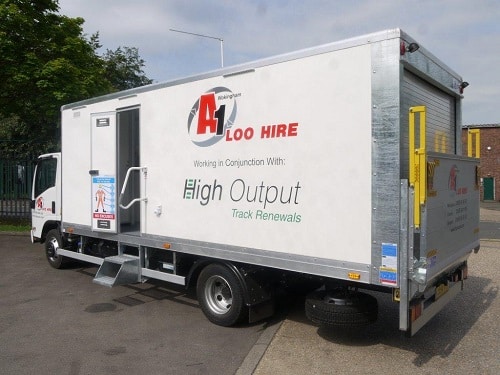 AJC also took the opportunity to display a relatively new product which has already been deployed on rail centred operations. Essentially, AJC engineers have split a lorry chassis into two components; with one section set up for welfare services and the other for the safe storage of tools and equipment. The welfare element includes a toilet cubicle, a washing area and a place to rest; tools and equipment are safely loaded via a rear tail lift.
Completing the Rail Live line up, AJC exhibited their popular EasyCabin eco12 mobile welfare unit – popular product within the UK construction and hire markets. The eco12 delivers complete welfare facilities for up to six persons, with separate canteen, toilet and drying areas.
Rail Live 2014 provided AJC, alongside other rail suppliers, the opportunity to demonstrate and exhibit their capabilities to a variety of trackside organisations. The exhibition was held near the Long Marston Airfield, Stratford-upon-Avon, with all exhibitors and visitors kitted out in full rail safety wear.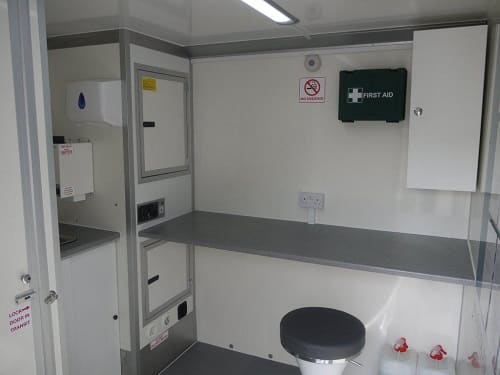 AJC have been manufacturing mobile units since 1964, and have plans to celebrate their fifty years trading in June. Over this time they have outgrown several production facilities, until finally settling their headquarters in a modern 32,000 sq ft plant. The company remains a family concern, keeping a hands-on approach to all management routines, with innovation as the key word in all procedures.
Source:  AJC Trailers Ltd