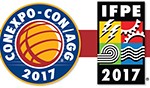 Improve Trade Show ROI; Receive 25-percent Discount to EXHIBITORLIVE
MILWAUKEE (January 14, 2016) CONEXPO-CON/AGG and IFPE 2017 have set pre-show Exhibitor Education meetings to help companies prepare for a successful show experience and achieve improved trade show results.
The sessions are set for March 2 in Las Vegas (Las Vegas Convention Center) and August 23 in Chicago (Loews Chicago O'Hare).
A special feature for Las Vegas: Exhibitors receive an exclusive 25-percent discount to the EXHIBITORLIVE conference February 28 – March 3 at the Mandalay Bay Convention Center. The Association of Equipment Manufacturers (AEM) partnered with Exhibitor Media Group (publishers of Exhibitor magazine) to offer this value-added opportunity to exhibitors of all AEM shows.
The CONEXPO-CON/AGG and IFPE 2017 exhibitor education meetings are free of charge for all show exhibitors but registration is required. Registration for the March meeting is now open, and use this link to receive the EXHIBITORLIVE discount: http://www.exhibitorlive.com/CONX25.
A robust webinar series, live and on demand, will also be offered free of charge in the run-up to the shows on exhibiting best practices as well as show-specific education modules. A variety of exhibitor-engagement marketing tools will help companies promote their show presence.
"AEM is a longtime proponent of exhibitor engagement outreach and education to maximize ROI and ROO, and these complimentary exhibitor meetings and webinars are an integral part of that commitment," said Rich Goldsbury, CONEXPO-CON/AGG 2017 chair and president of Bobcat Company and Doosan.
"We know trade shows are a significant investment, and these educational offerings will assist companies in gaining the most value from their exhibiting dollars," said Bob Mortensen, IFPE 2017 chair and chief operating officer of Husco International.
The co-located CONEXPO-CON/AGG and IFPE exhibitions will be held March 7- 11, 2017 at the Las Vegas Convention Center in Las Vegas, Nevada, USA.
Take Advantage of Education to Achieve Trade Show Success
March 2 in Las Vegas: For the convenience of exhibitors, AEM combined a half-day show-specific meeting (followed by a networking reception) with the unparalleled access to EXHIBITORLIVE, which focuses on exhibiting and marketing strategies and tactics to improve performance and enhance trade show ROI.
Now in its 28th year, EXHIBITORLIVE typically attracts more than 6,000 attendees. The event will feature more than 180 education sessions and workshops, plus networking events and an exhibit hall with more than 300 show-related suppliers and strategic partners.
During the CONEXPO-CON/AGG and IFPE exhibitor meeting, attendees will learn about new show features and planning tips to simplify their show participation and better connect with customers. They can also meet with show management and official show vendors to ask specific questions and discuss their planning needs.
August 23 in Chicago: While this meeting is open to all CONEXPO-CON/AGG and IFPE 2017 exhibitors, the session will focus on information of particular use for new-to-show and smaller exhibitors. Details will be available in the spring.
For more information on exhibitor education, contact AEM's Mary Bukovic (mbukovic@aem.org, tel: 414-298-4173).
CONEXPO-CON/AGG and IFPE serve as the international gathering place in North America every three years for the construction and construction materials and fluid power/power transmission/motion control industries, showcasing the latest equipment and product innovations and attracting exhibitors and attendees from all industry segments around the world.
For the latest show information on attending and exhibiting, visit www.conexpoconagg.com and www.ifpe.com. Follow CONEXPO-CON/AGG @conexpoconagg and facebook.com/conexpoconagg and follow IFPE @IFPEshow.
Here is a short informational video about the CONEXPO-CON/AGG and IFPE exhibitor meetings: .


.