The first EC380E Hybrid excavator from Volvo Construction Equipment (Volvo CE) to be put to work on a customer site in Europe is already proving it can deliver big savings.
The large hybrid crawler excavator is being used by Eichstetter GmbH at its gravel works in Fürth, Germany to extract 'mountain gravel for use in the production of high-quality building material and aggregates.
Thanks to its unique hydraulic hybrid technology, the excavator can capture and store the energy generated in the boom down motion to drive the assist motor and power the engine.
Eichstetter is seeing fuel savings up to 15% in comparison to its conventional machine equivalent.
Family firm, Eichstetter GmbH, is the first in Europe to operate a Volvo EC380E Hybrid. A large crawler excavator, it delivers the same power and performance as its conventional equivalent, but with greater fuel efficiency and lower CO2 emissions.
And this is certainly something that Eichstetter is seeing at its gravel pit near Fürth in Germany, where the machine has been hard at work since Autumn 2022, excavating mountain gravel, the so-called tertiary gravel which was deposited 10-15 million years ago. The company has been measuring the performance of its new machine versus a conventional EC380E – and the results are impressive, with the hybrid technology delivering fuel savings up to 15%.
"The Volvo EC380E Hybrid is more economical", says Ludwig Eichstetter, co-managing director of Eichstetter GmbH. "It has about the same fuel consumption as our Volvo EC300E. But where the EC300E manages about 2,500 cubic meters a day, the Volvo EC380E Hybrid manages over 3,000!"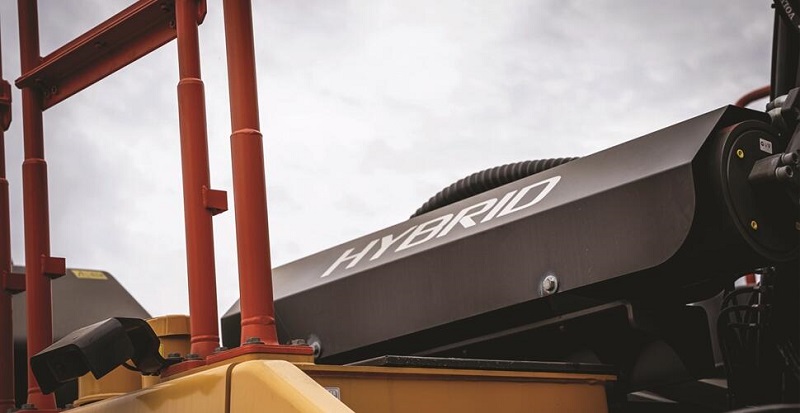 SIMPLE SOLUTION, BIG SAVINGS
Featuring unique hydraulic hybrid Volvo technology, the EC380E Hybrid harvests free energy from the boom down motion. This regular and powerful lowering movement pressurizes a hydraulic accumulator, which in turn uses this energy to drive the auxiliary hydraulic motor to support the engine system when needed. All this whilst delivering the same level of control and performance as a conventional EC380E, including the ability to operate in ECO and hybrid modes in parallel.
Depending on the type of application, Volvo CE's hybrid technology promises fuel savings of up to 17% as well as CO2 emission savings of around 15%. And this is something Eichstetter was determined to put to the test. The firm already had a conventional EC380E in its fleet, so comparing the two machines over a period of weeks was straightforward. The EC380E Hybrid delivered a fuel saving of around 10 to 15% depending on the use and operator handling the machine.
The new EC380E Hybrid fills the Volvo A25G quickly and efficiently – saving up to 15 percent fuel compared to its non-hybrid counterpart.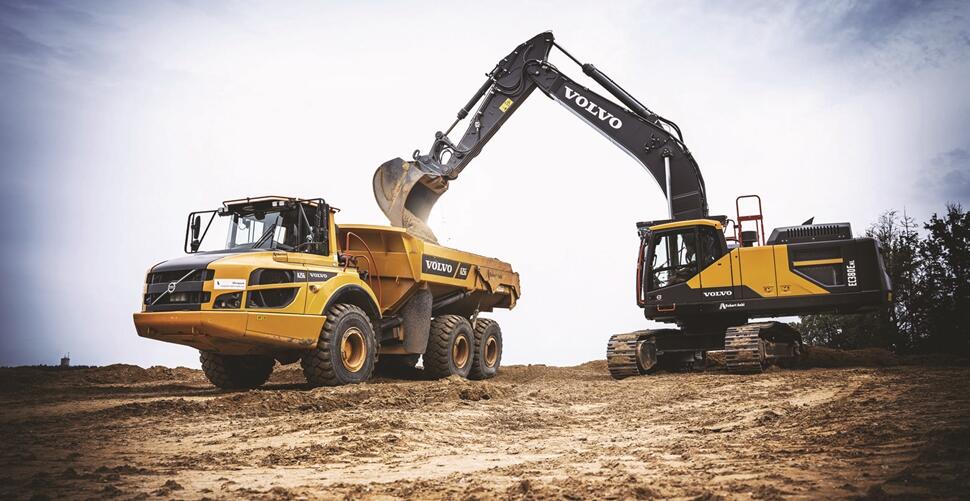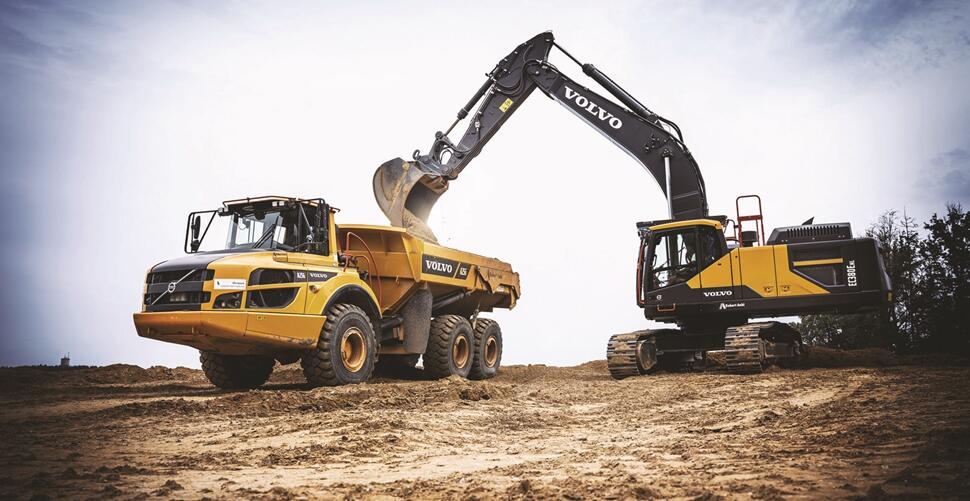 Ludwig Eichstetter says: "Fuel savings are higher when the machine is optimally positioned on the debris. Lowering and lifting must in the right proportion so that the energy gain is optimized. To fully exploit this potential, it also depends a lot on the driver. Driving the hybrid machine is a constant learning process."
Founded in 1938 as a transport company, Eichstetter GmbH is a family business specializing in sand and gravel mining, recycling, demolition and earth preparation. Today the firm is led by Helmut and Ludwig Eichstetter and employs 35.
THE MORE SUSTAINABLE CHOICE
Machines from Volvo CE have long been the equipment of choice for Eichstetter, who value their efficiency. The company operates eight Volvo wheel loaders with operating weights of between three and 45 tons, as well as four wheeled excavators – two Volvo EW160E's and two Volvo EW220E's – plus a Volvo EC300E crawler excavator. When the need for a larger crawler excavator became apparent, the firm turned to Volvo CE dealer, Robert Aebi GmbH, with whom they have been working for over 20 years.
As well as efficiency, the earthmoving professionals are committed to more environmentally friendly mining practises. As such, modern hybrid technology is attractive. The firm was interested in a Volvo EC300E Hybrid, but this was deemed too small for their requirements. Instead, a conventional EC380E was ordered with a removable counterweight to help with transportation.
When the new Volvo EC380E Hybrid was announced, however, in the summer of 2022, Eichstetter immediately placed an order and just a few weeks later, it was the proud owner of the first Volvo EC380E with hybrid option to be delivered in Europe.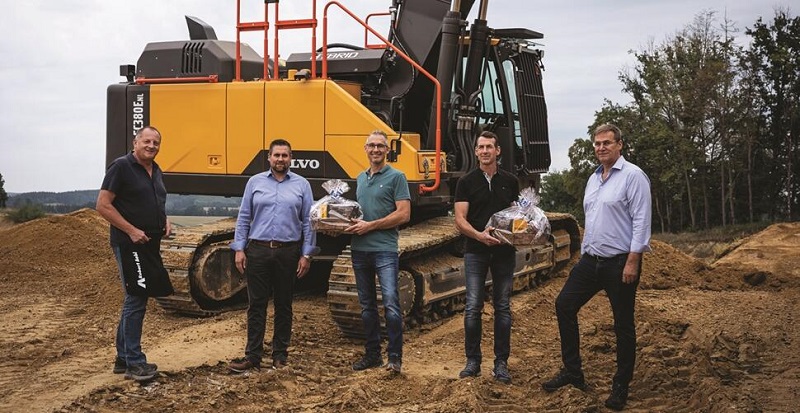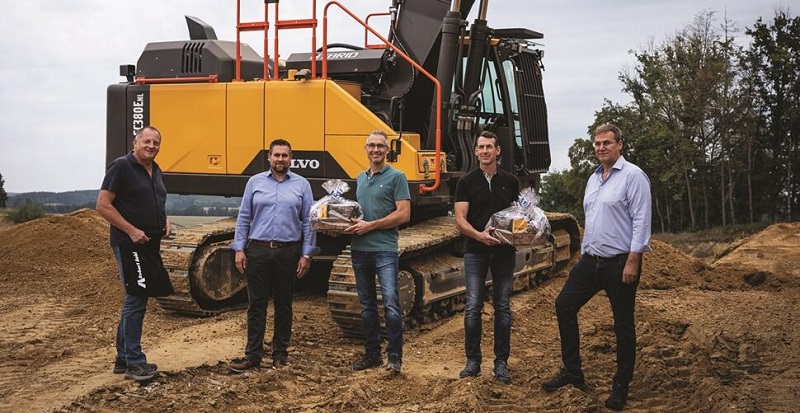 In just a few months, the EC380E Hybrid has proved its worth and the firm is extremely satisfied. They continue to document its fuel consumption in order to learn how to get the most out of their new machine.
Source: Volvo CE Press