The UK-based Construction Equipment Association (CEA) will have a strong presence at the forthcoming Conexpo Construction exhibition (Las Vegas 4th – 8th March 2014) with 18 UK companies exhibiting in the UK pavilion – Halls C1-C2. The UK Pavilion sold out in record time!
Many other CEA members are also exhibiting in other locations around the show including Caterpillar, Hyundai, JCB and Terex.
The UK presence at Conexpo includes equipment manufacturers, components suppliers and other service providers to the industry. According to the CEA, the UK construction equipment industry is worth US$ 13.5 billion per year and employs over 50,000 people.
Among other initiatives, the CEA will use Conexpo to promote the 2015 Plantworx construction equipment exhibition, which takes place at Bruntingthorpe Aerodrome in the UK 2nd – 4th June 2015.
The UK pavilion at Conexpo has been sponsored by UK Trade & Investment (UKTI), the government agency tasked with supporting UK companies in the global economy. It provides advice and practical support to UK companies, and also helps foreign entities to invest in the UK.
What visitors can expect to see in the UK Pavilion Halls C1 – C2.
Amber Valley LLP
Amber Valley Developments LLP is a specialist manufacturer of auto electrical safety equipment. Its range of products have been developed to suit the exact requirements of the company's many Original Equipment manufacturing and distribution customers throughout the world. Amber Valley design and manufacture bespoke auto electrical equipment and the design team is able to assist customers with the supply of specific and unusual products. The company's latest patented product Alarmalight (the ultimate alarm and light warning system) will be available to view at Conexpo 2014
Ashtree Vision & Safety Ltd
Ashtree Vision and Safety design and manufacture mirrors and mirror arms for industrial and commercial vehicles of all types. From its newly-enlarged factory in Bradford, UK, the company supply high quality products to many of the world's leading manufacturers of construction equipment, including Oshkosh, JCB, Komatsu and Liebherr.
Ashtree's sustained success in developing and increasing worldwide sales was rewarded in 2012 with a Queen's Award for Enterprise in the International Trade category.
ATP Industries Group Ltd
ATP is Europe's largest independent remanufacturer of transmissions, torque converters and machine electronics. The company has factories in Guangzhou (China), Ann Arbor, Mi (USA). In June 2013 ATP ATP were awarded the prestigious, Global, REMANUFACTURER OF THE YEAR AWARD.
Britax PMG Ltd
Britax PMG design and manufacture, one of the world's most comprehensive ranges of amber warning beacons, which are used extensively by operators of all types of construction machines, agricultural, recovery and commercial vehicles worldwide.
The extensive Britax beacon range has been extended by the addition of over twenty, competitively priced LED options.
The new LED beacon range will fully interchange with all current Britax styles, without the need for drilling additional mounting holes. The new range will be on display at Conexpo.
BSP International Foundations Ltd
BSP International Foundations is one of the world's foremost manufacturers of pile driving and Rapid dynamic compaction equipment. Visit BSP in the UK pavilion to discover the company's Hydraulic Hammer product ranges with rams from 2.5t to 40t. Rapid Impact Compaction (RIC) product ranges with rams from 5t to 12t.
CDE Global Ltd
Over the last 21 years CDE Global has grown to be recognized as the leading supplier of washing and classification equipment for quarries and mines on the global market. The company's areas of expertise include sand and aggregate washing, construction and demolition waste recycling, mining and specialist industrial sands as well as tailings management. CDE is currently delivering three washing projects per week across Europe, Russia, Middle East, Africa, Australia, North America and Latin America.
Construction Equipment Events Ltd/Plantworx
New UK Construction Equipment exhibition – Plantworx. The first event took place in May 2013 and will be every 2 years. Leading OEMs, attachments, component suppliers and service providers exhibiting include: – JCB, Finning (Caterpillar UK representatives), Terex, Amman, Liebherr Volvo, Atlas Copco, Bomag, Case, Doosan, Hatz, Hyundai, Kubota, Linde, Manitou, Merlo, New Holland, Wacker Neuson, and many others.
Datatag ID Ltd/CESAR
CESAR, the world's leading machine security and registration scheme powered by Datatag ID Ltd, acts as a powerful deterrent against theft and an invaluable aid in recovery. CESAR is the first sensible step to protect assets. CESAR works by giving each machine a unique and permanent identity using 'state of the art' security marking technology including tamper evident plates, RFID tags, DNA and Datadots. CESAR registered machines are four times less likely to be stolen and six times more likely to be recovered than unregistered machines.
Friction Marketing Co Ltd
FMC – Friction Marketing Company is a specialist manufacturer of Original Equipment friction disc and manufactures a wide range of clutch, brake, and transmission plates. FMC supplies friction plates with various friction materials like sinter, rubber, paper, cork or carbon materials.
Gate 7 Ltd
Gate 7 is a dynamic and innovative company specialising in the supply of vehicle branding, safety, warning and instructional decals to the Construction Equipment, Agricultural and Industrial Market. The company have developed long-term business partnerships with major clients in North America, Europe, and Asia.
Across manufacturing plants in the UK and USA; Gate 7 provide screen print and digital solutions to meet a wide range of requirements including rapid prototyping, design engineering, project management and research and development.
GKD Technik Ltd
GKD will be showing their SiteGuard proximity warning system for the first time in the USA. SiteGuard protects workers by warning the operator or driver of construction machinery when a pedestrian, or vehicle, enters the danger zone. With data-logging and Internet access to data SiteGuard provides safety management statistics to the contractor too. The GKD market leading road/rail and civil safety and envelope control systems will also be on show.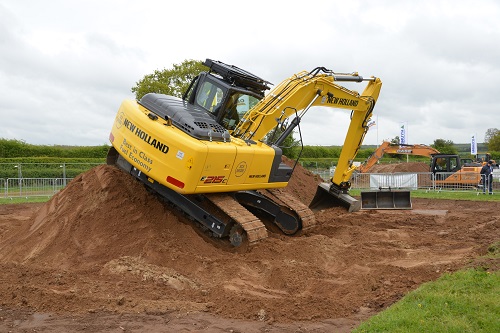 Interpart UK Ltd
Interpart supply replacement alternative parts for JCB machines. Its parts are sourced from high quality manufacturers that produce parts, equal to or exceed the O.E.M specifications. The company's commitment to continuous quality improvement is demonstrated by its ISO 9001:2008 accreditation.
Jet Materials Ltd
Jet provide a range of services and products to Civil Engineering and Education. Its main focus is Materials Testing Equipment, covering Soils, Concrete, Asphalt, Bitumen, Cement, Steel, Rock, Aggregates and general laboratory equipment. All Jet's equipment is compliant to EN, BS, ASTM or AASHTO standards. The company has supplied major materials laboratory projects into Africa, Middle East, Asia and Europe. They also provide the following services; Supply of Educational Engineering Equipment for colleges and universities, Design of site and permanent laboratories for construction testing, Supply of bespoke temporary laboratory buildings in steel or traditional materials, Complete Laboratory Test Sets with product codes and accessories to assist with specification and tendering, On-site commissioning and installation of laboratories by experienced engineers anywhere in the world, Supply of QA and Laboratory Materials Engineers and Technicians
Reconditioned Troxler Density Gauges.
Off Grid Energy
Grid-to-Go is a hybrid power solution that delivers silent, clean energy.  Grid-to-Go reduces reliance on conventional fossil fuel power generators by up to 80% with corresponding reductions in fuel consumption and CO2 emissions.  No noise, no exhaust just clean, silent power.  Ideal for events where noise and exhaust emissions are undesirable, construction sites where fuel economy and reducing CO2 emissions are important  – save money and cut emissions.

Nurock Mixers Ltd
Nurock Mixers founders have been involved in the design, manufacture and operation of batch on-site and volumetric concrete mixers since 1987. The company has developed what it says is – the most comprehensive volumetric concrete mixer on the market today and provide complete product and customer support. Nurock's mixers are in use in many countries around the world in the concrete, construction, civil engineering, rail, defence and oil industries.
Nylacast Ltd
Nylacast engineering polymers offer many advantages to the arduous environments faced within the Construction industry, including: Exceptional resistance to wear and abrasion, high impact strength, corrosion and chemical resistance, self-lubricating, eliminating routine and costly maintenance, lightweight – typically 1/7th the weight of steel. Furthermore enhanced performance is available by building on the well-known brands of Nylube, Oilon and Aquanyl, bringing together the experience of Nylacast engineers and chemists. Nylacast are able to tailor its materials to suit the customer's projects.
Off-Highway Research Ltd
Research reports and databases on international construction equipment markets. These cover the key markets of Western Europe, China and India, and are available to clients on a subscription basis, while a private client capability is offered through a customised facility.
In addition, a wide range of Multi-Client Studies are available on such markets as Indonesia, Thailand, Saudi Arabia, Korea, Japan and Turkey.
Ricardo UK Ltd
Ricardo is a global, UK FTSE listed engineering, niche manufacturing and strategy consultancy that successfully demonstrates a century of delivering value.  Its customers are served through a network that employs over 2300 consultant engineers across three continents and in 11 countries.  Ricardo work in partnership with the world's transportation manufacturers and their supply chains, energy and defence organisations, financial institutions and governments.
Source: CEA (Construction Equipment Association)