Klyuchischi LCC is using Volvo equipment to excavate sand and gravel from its hundred hectare quarry in Russia in extreme temperatures.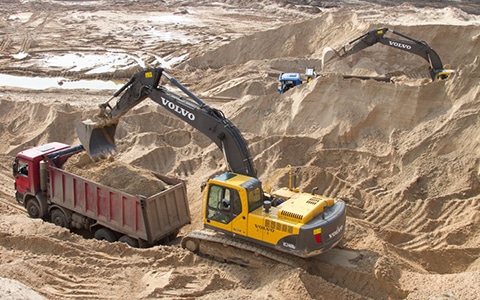 The gravel and sand industry plays an important role in Russia's construction sector, which is growing rapidly. Kstovo is a town in the Kstovsky District of Nizhny Novgorod Oblast, located on the right bank of the Volga River, 14 miles (22 km) southeast of Nizhny Novgorod. The region plunges to -35oC in the winter and reaches nearly 40oC in summer making any outdoor work certainly challenging.
Klyuchischi LCC was established in 2007 and has more than five years' experience in the production and dredging of sand and gravel. It specializes in producing building and construction materials used to develop the country's infrastructure and economy. The production of these materials on an industrial scale requires specialist equipment and machinery.
At the company's sand quarry in Kstovo, Volvo Construction Equipment (Volvo CE) machines are being used to excavate and load sand that will be used for road construction, general business or civil works (such as land reclamation) and the construction of drainage ditches in Russia. After such a successful experience with Volvo's automobile dealer in the region, the company decided to use Volvo Construction Equipment (Volvo CE) machines as well, including two Volvo EC290B-Prime crawler excavators, one EC240, EC250 and EC300 B-Prime excavators as well as a L180F-Series wheel loader. The excavators have an operating weight of 25 to 31 tonnes and engine power ranging from 138 to 153 kW.
Proving its worth
"Since we founded the company in 2007 we have worked with Volvo," says Oleg Venalevich Kolotygin, chief engineer at Klyuchischi. "We started with one Volvo machine – a EW160C-Series wheeled excavator – and used it non-stop for five years before we sold it, but it was still in perfect working order. During this time, the machine performed an incredible amount of work and proved how cost-effective and productive it was. It dug deep pits with ease and got to those hard to reach places you cannot reach using a tracked excavator."
"We chose Volvo excavators because they offer high performance and speed," adds Venalevich. "At the same time they have very efficient engines, which significantly reduce production costs. The most important feature for us is that the machines can be adapted to our climate and operating conditions."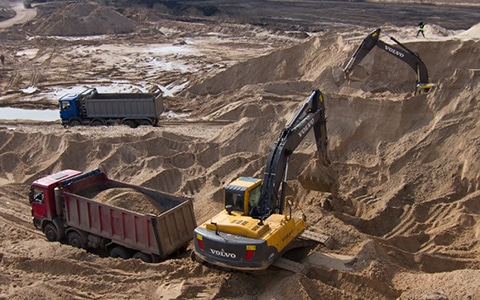 "The machines respond well to my actions and move well," says Ilya Kosterin, excavator operator. "Devices and controls are located conveniently and the ergonomic cabin and cockpit is comfortable to work in – important when you do long shifts. Due to the high speed loading capacity, the Volvo excavators are nearly twice as effective as other brands in the same class. An EC290B-Prime excavator moves about 4,000-6,000 cubic meters of sand a day as well as 3,000-4,000 cubic meters of clay and soil. The machines work 10-12 hours a day, seven days a week."
"The Volvo L180F-Series wheel loader is not only powerful but it's is very fast and maneuvers easily – even in confined spaces," adds Kosterin. "We receive reliable units and quality service from Volvo CE dealer, Ferronordic Machines. It's important to ensure a high-level service because a delay in repairs can cause a big drop in productivity."
The company has had a service contract with the dealer since 2011 to ensure machine efficiency. It also makes good use of CareTrack – Volvo's telematics system that comes as standard on most new models. CareTrack is an independent electronics unit, consisting of a control unit that receives and transfers data. Even the most minor faults are recorded, which is then sent to its dealer's central database to analyze. Since using CareTrack, the company's costs have been reduced and productivity has increased.
As well as developing its sand quarry and building new roads to create better infrastructure connections, the company plans to extract rubble in the Nizhny Novgorod region and will need more equipment for use on harder terrain.
"When we get a license to conduct quarrying blasting, we will need larger excavators with rock buckets and more powerful trucks," says Kolotygin. "Most likely we will use Volvos because talking from experience they are the best. We are completely satisfied with both the machines and quality of service."