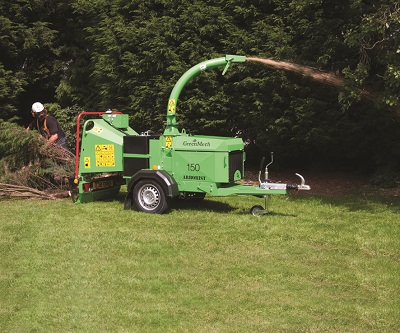 Over the last two decades, GreenMech has revolutionised the world of wood chippers and green waste shredders with innovations in design and technology. Within the ever expanding range of products, the company's Arborist and ArbTrak 150 wood chippers finds a niche in the hire market. Visitors to the Executive Hire Show will be able to view both designs on stand E40.
The Arborist 150 road tow machine has a chipping capacity of 150mm and is the most popular size of chipper for the general hire market. It is a diesel powered hydraulic machine designed to be cost effect with little sophistication and fits in at the lower end of the GreenMech range of road tow machines. Ideal for the hire market because of low maintenance, needing only general engine maintenance like greasing, but most importantly in the area of blade sharpening.
GreenMech's revolutionary Disc-Blade system comes into its own for longer blade life with less frequent sharpening requirements. Standard straight blade systems see sharpening every 20 or so hours, but the Disc-Blade design has the ability to turn them to a new sharp section before needing to be sharpened.
The Arborist 150 is a good 'all round' tow machine only matched by its tracked version, the ArbTrack 150 that becomes a 'go-anywhere' chipper that can be manoeuvred into tight spaces, like a back garden.
Arborist and ArbTrak 150 wood chippers have become the hire industry standard, finding application with contractors and local authorities, often on long term hire, through to golf clubs, leisure parks and even private individuals that find they have tree waste to dispose of.
GreenMech is a recognised brand, trusted by professionals who depend on machinery to get the job done – without fear of interruption.
Source: GreenMech