Now approaching its 30th year in business, Essex based Gregory Demolition have recently made a significant investment in LiuGong machinery, including excavators and a wheeled loader, which have been supplied by the Portsmouth based UK dealers for LiuGong equipment Construction Plant & Machinery Sales.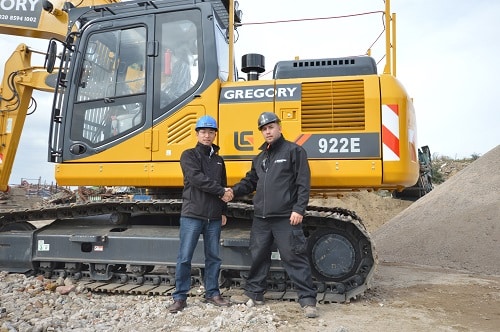 Having previously ran other manufacturers equipment, this order comes to fruition following an extensive evaluation period of the LiuGong machines alongside two competitors makes. The machines were assessed for fuel consumption, power and cost of ownership, during which time the LiuGong machines proved to be extremely efficient in all departments.
This order for 11 LiuGong machines consists of 4 x 922E's hydraulic excavators, which have an operating weight of 22,000kgs and are powered a Stage 3B emissions compliant Cummins engines offering a net power rating of 117kw (157hp), 4 x 925E hydraulic excavators, which have an operating weight of 25,500kgs, with power coming from a Stage 3B Cummins offering a net power rating of 129kw (173hp), 2 x 930E hydraulic excavators tipping the scales at 31,300kgs, with power once again coming from a Stage 3B Cummins engine with a net power output rating of 147kw (197hp). Completing this package of equipment is 1 x CLG856III wheeled loading shovel.

The new machines feature factory fitted modifications to meet the rigorous demands of the demolition industry. These modifications include: Heavy duty ram guards on the bucket cylinder, full FOPS (Falling Object Protection System) cab cage, side skirt impact protection, "boxing ring" fall from height protection, flashing beacons, including green seat belt light and rear view camera system.
Talking about the company's investment in LiuGong equipment, Gregory Demolitions Managing Director Dean Gregory said, "We looked at the LiuGong range of 22 tonne, 25 tonne and 30 tonne excavators and loading shovels back in January 2014. We also checked out 2 types of similar excavators for fuel, power and budget, finding the performance of the LiuGong's very satisfactory to our requirements. So far we have noticed lots of smiling faces from our operators and we are finding the performance and balance of the machines to be very good, we are hoping to continue with the brand going forward"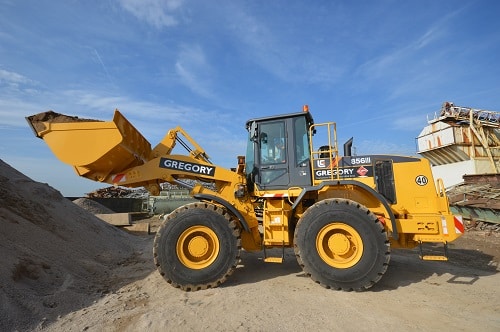 A number of the new LiuGong machines were immediately put to work in the company's recycling yard in Barking, Essex, adjacent to the River Thames, where the company, in partnership with Thames Recycling, is producing between 1000-1500 tonnes of recycled aggregates per week. The company is heading towards a target of producing up to 5000 tonnes of aggregates per week for their new concrete and aggregates partners in 2015.
The company estimate that the London construction market is in need of an strategy to supply somewhere in the region of 3 – 5 million tonnes of recycled material per year and armed with new LiuGong machines, Gregory Demolition aim to be at the forefront of that supply chain.
In over 25 years Gregory Demolition has progressed from a single excavator demolition company to a group of companies consisting of Demolition, Plant Hire, Heavy Haulage, Recycling, Asbestos Removal, Aviation and Building Development, working on a UK nationwide basis as well as consulting on a number of projects in countries as far and wide as USA and Eastern Europe.
Summarizing about the deal Dean Gregory said, "From what we have seen so far and the excellent support we receive from our local dealer CPMS, it's not a question of if, but when we will order more LiuGong machines".