Hyundai Construction Equipment Europe (HCEE) will launch six brand new machines at Bauma 2019 further expanding its product range and releasing its newest Stage V models. 15 machines in total will be on display on the company's 2,705 m² stand located in the open-air area FM.812A. There will also be a number of 'big' announcements about the company and its expansion. There will also be a dedicated technology zone on the Hyundai stand.
What to expect at Bauma 2019?
HCEE will present 15 products at Bauma, of which six European premieres. Both the new 1-tonne machine HX10 A and the 8,5 tonnes HX85A CR are long awaited additions to the compact excavator range.
The line-up also includes the release of the newest models of the Stage V compliant range excavators and wheel loaders: The HX85A CR, HX220A L, HX300A L and HL960A.
The new HX900 L, which is specifically designed for the demands of the European construction and quarry industries, will replace the R800LC-9. This 90-tonne machine has been developed using market-leading technology to deliver exceptional productivity. The HX900 L is the second largest Hyundai machine in the range sitting behind the gargantuan 120 tonnes R1200-9.
Construction Equipment Machine List
Hyundai also brings to Bauma 2019 its advances in new technology – which will include the new "Tiger Eye" design for the compact excavator range and the service enhancements. There are numerous technological updates for specific machines including EPIC (Electric Pump Independent Control), EPFC (Electric Positive Flow Control), Auto Safety Lock, Eco Guidance, MG (Machine Guidance)/ MC (Machine Control), IWM (Intelligent Work Mode), Radar and Remote Door Control.
All these technological improvements directly relate to improved fuel efficiency, higher productivity, enhanced safety, productivity or convenience.
Service enhancements include ECD (Engine Connected Diagnostics), MCD (Machine Connected Diagnostics), FOTA (Firmware over the Air), HCE-DT (HCE Diagnostics Tool) and monthly reporting via HiMate. They mainly contribute to a longer uptime of the machines and a better management. In addition, at Bauma Hyundai begins the roll-out of Stage V compliant diesel engines, with reduced exhaust emissions and improved fuel economy.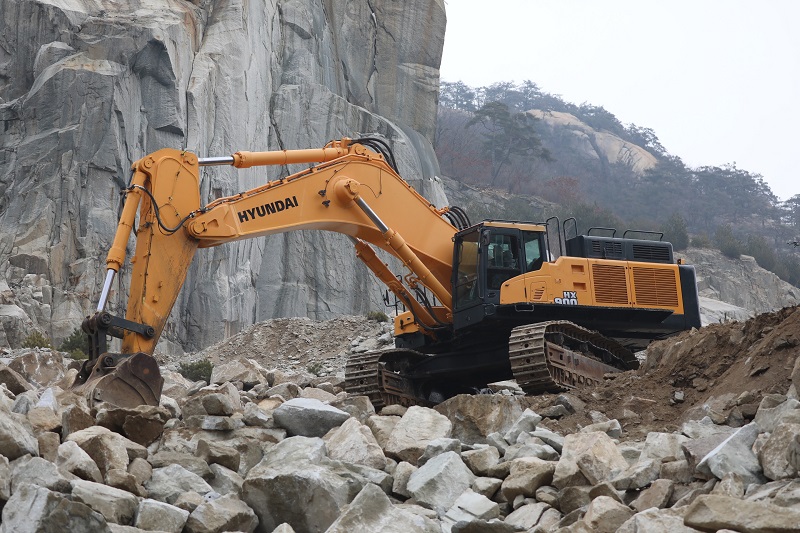 Bauma 2019 machine list:
HX10 A, mini excavator, NEW
R18-9, mini excavator
R25-9AK, mini excavator
HX85A CR (Stage V), compact excavator, NEW
HW140, wheeled excavator
HW180, wheeled excavator
HX145 LCR, crawler excavator, zero tail
HX235 LCR, crawler excavator, zero tail
HX220A L (stage V), crawler excavator, NEW, including EPFC, Auto Safety Lock, Eco Guidance and MG/MC
HX300A L (stage V), crawler excavator, NEW, including EPIC, Auto Safety Lock, Eco Guidance and MG/MC
HX900 L, crawler excavator, NEW
HL940, wheel loader
HL960 HD, wheel loader, Heavy Duty
HL960A (Stage V), wheel loader, NEW, Eco Guidance, IWM, Radar and Remote Door Control
HL975, wheel loader
Hyundai booth at Bauma 2019: Experience the Hyundai Effect
Visitors are welcome at the outdoor Hyundai pavilion FM.812A to discover the brand new corporate identity of Hyundai Construction Equipment. The new look and feel of the booth will help HCEE in establishing the brand stronger and increase the brand awareness. HCEE aims to be a great company to do business with. Staff members from Hyundai Construction Equipment Europe, Hyundai Headquarters Korea, product specialists and the European dealer network look forward to welcoming visitors with an interest in Hyundai's products. There is something interesting to see for every visitor. Highlights include the new 1 tonne mini excavator, the new Stage V products, the enormous HX900 L, a merchandising shop and a dedicated area to discover the latest technological advancements and visual entertainment. Hyundai customers are welcome in the hospitality areas.
About Bauma 2019
Commenting on the importance of Bauma, Jongho Chun, Managing Director of HCEE, said, "In 2019 we want to continue to excel in what we do. We want to be a great company to do business with. This year we continue focusing on growing our market share in a profitable way. We are continuously expanding and improving our European dealer network, investing in our product line-up and R&D, committing to invest in the employees in our organisation, earn our spot with the key accounts and continuously investigate partnerships and acquisitions. Bauma 2019 offers us a truly international platform to showcase the Hyundai Effect to our end-customers."
Hyundai Construction Equipment Europe can be found at Bauma in the open-air area FM.812A
Hyundai Construction Equipment Europe is a widely recognized leader in the European construction equipment market. Through highly advanced factory automation, a zero-tolerance quality control inspection system and innovative engineering we offer a wide range of construction equipment to satisfy the demands of our customers. We manufacture heavy equipment for our Construction Equipment business unit including hydraulic excavators, wheel loaders and skid steer loaders. Through our Material Handling business unit we offer a wide range of forklifts (including LPG, electric and diesel powered lift trucks) & warehouse equipment to satisfy customers' ever-growing demands. HCEE markets its products through a qualified network of over 140 dealers in more than 30 countries. For additional information, please visit http://www.hyundai.eu
Source:  Hyundai Construction Equipment Europe Press