Hyundai Construction Equipment Europe (HCEE) is returning to Plantworx (11-13 June East of England Arena, Peterborough) and will show eight machines, including two new models, on the company's 1,440 m² stand – which is located in the 'dig zone' area H15 – H16.
What to expect at Plantworx 2019 from HCEE?
With a 576 m² demo area, the HCEE stand offers an invaluable experience for everybody working in the construction sector. Plantworx will see the UK launch of the new HX220AL 22-tonne, crawler excavator with Stage V engine, which will be available for testing in the demo area alongside the R30Z-9AK, which is a three-tonne zero tail-swing compact excavator.
Visitors to the Hyundai stand will have plenty of opportunities to see and experience what makes Hyundai construction equipment machines a popular choice for operators, hirers and contractors. Dedicated Hyundai product specialists and the UK dealer teams will be on-hand to highlight the important machine differences and describe key features and new technologies.
Adjacent to the demo area, visitors will find the static area showcasing six additional machines: the brand new HX10A, which was first launched at Bauma Munich, the 13-tonne HX130LCR, the 14-tonne HX140LC, the 30-tonne HX300 L, the 14-tonne HW140 wheeled excavator and the HL955 wheeled loading shovel.
Hands on experience is key at Plantworx
Hands on experience is exactly what Plantworx is all about. Hyundai believe that the best way to find out why the brand continues to grow in popularity within the sector, is to get 'up close and personal' with their machines and meet with the team behind the brand. A vital part of the customer journey is the machine experience – and with this firmly in mind – Hyundai is inviting Plantworx visitors to put on their work boots, don their hard hat and enter the cabin of the South-Korean manufacturers 'world-class' machines. Hyundai report that the only way to know how Hyundai equipment will perform at a jobsite is to put it to work and experience the 'Hyundai Effect' first-hand.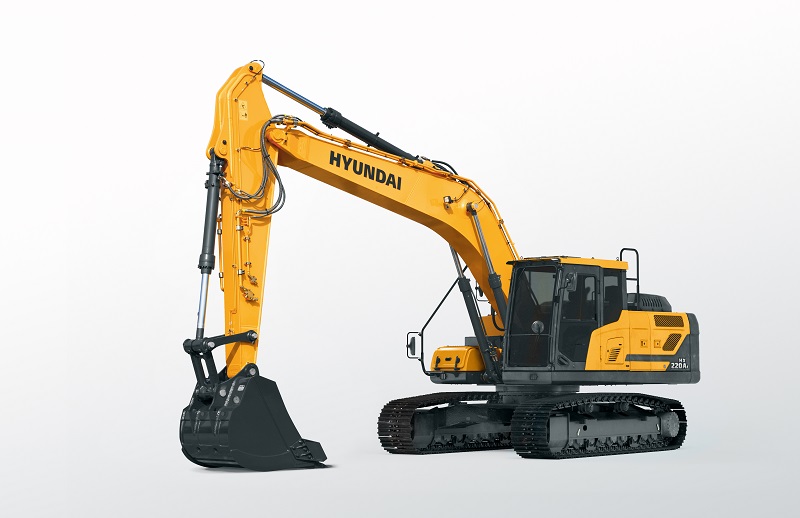 'Hyundai Effect' Focus
The general theme on the Hyundai stand at Plantworx is the 'Hyundai Effect, which the company say, is synonymous with the customer's experience when working with Hyundai, ranging from a top-notch machine and technology experience, to the complete peace of mind thanks to the wide dealer network, the great service provided and the strong spare parts availability throughout Europe. This theme was kicked off during Bauma 2019 and is being rolled out now to the UK's Plantworx exhibition.
The Hyundai New A-Series – More than simply stage V compliant
The Hyundai A-Series are machines that comply with the European stage V emission levels – and cover Hyundai Construction Equipment Europe's complete product range which includes, compact excavators, crawler excavators, wheeled excavators and wheel loaders.
Hyundai have not only fulfilled the European mandatory requirements – with the new Hyundai A-Series – but have exceeded expectations by offering its broad customer base maximum performance, enhanced productivity, additional safety features, improved uptime management, while at the same time the machines remain convenient and 'user friendly' for the operators.
Plantworx 2019 machine list (subject to change):
HX10A, 1 tonne compact excavator – Static Area – New Machine
R30Z-9AK, 3 tonne zero tail compact excavator, Demo Area
HX130LCR, 13 tonne crawler excavator, Static Area
HX140LC, 14 tonne crawler excavator, Static Area
HX220AL (Stage V), 22 tonne crawler excavator – Demo Area – New Machine
HX300L, 30 tonne crawler excavator, STATIC AREA
HW140, 14 tonne wheeled excavator, STATIC AREA
HL955, wheel loader – STATIC AREA
About Plantworx 2019
Commenting on the importance of Plantworx, Nicolas Rousseau, Senior Sales Manager for Construction Equipment Europe, said,
"It is no secret that the UK is one of our primary European markets. Visitors discover here what is new and innovative. Our demo area offers an invaluable experience for everybody involved in the construction equipment business. Plantworx 2019 offers us the ideal platform to showcase the Hyundai Effect to our end-customers."
Hyundai Construction Equipment Europe can be found at Plantworx in the open-air area H15 (static area) – H16 (demo area)

Source: Hyundai Construction Equipment Europe News