Hyundai's latest addition to the Robex excavator range, the R430LC-9A, has an operating weight of 42,600kg. This machine slots in between the existing R380LC-9A and the R480LC-9A, offering customers an even greater choice with this new weight class. An ideal machine for bulk earthmoving, large civil engineering and quarrying work, this new machine is fitted with the latest Tier 4 interim engine technology, which meets the latest emissions standards.
At the heart of the R430LC-9A is the low emission and low noise, Cummins QSL9 Tier 4 Interim/Stage IIIB engine, which offers a rated power output of 310hp (231kw). This engine features the Xtra-High Pressure Injection (XPI) fuel system, which delivers a constant stream of pressurized fuel across all engine rpm speeds, providing cleaner combustion and improved engine response. This engine is designed to provide the lowest cost of operation in its class, offering customers the most economical and quiet operating machine with exceptional power and performance. Hyundai say that the EGR engine is 'hassle-free' and Adblue free!
Cleaner & Greener
Hyundai -9A series excavators are engineered to be extremely fuel efficient with a proven 5% fuel savings in comparison to previous models. New innovations like the variable speed remote fan, two-stage auto decel system and the new economy mode help to conserve fuel and reduce the impact on the environment.
Like existing models in the -9A series, the R430LC-9A features Hyundai's Computer Aided Power Optimization (CAPO) system. Using this system, the operator can set their own preferences for boom or swing priority, power mode selection, including three working modes, P (Power), S (Standard) and E (Economy), and optional work tool settings at the touch of a button, to suit the task in hand. Optimum precision has been achieved in the redesigning of the hydraulic system. Improved pump flow control reduces flow when controls are not being used to minimize fuel consumption. Thanks to improved hydraulic valves, precision-designed variable piston pumps, fine-touch pilot controls, and enhanced travel functions, the operator has super fine control of the machine during all operations.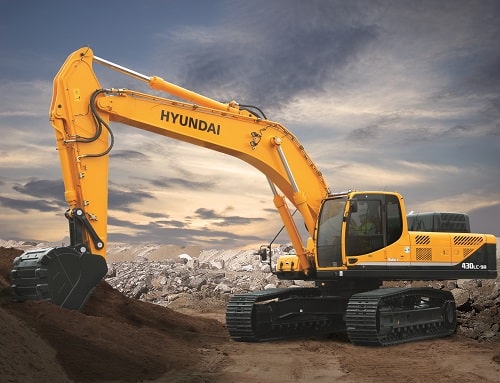 Increased Operator Comfort
The R430LC-9A features the legendary Hyundai -9A cab, which has been well received by operators around the world. Cab comfort doesn't get much better than this, starting with the fully adjustable suspension seat and armrests which can accommodate operators of all sizes. New joystick consoles are adjustable in height at the push of a button, ensuring they are always in the right position for the operator and ensuring less fatigue during long working days. The fully automatic high capacity air-conditioning system maintains a comfortable working environment throughout the day. Other cab amenities include a transparent polycarbonate glass sun roof, with integrated easy to control sun visor, and an advanced audio system with USB player, AM/FM stereo and MP3 capabilities, plus remotely located controls, that make it so much easier for the operator to control. In addition, operators can talk using a built-in Bluetooth hands-free mobile phone system.
Better Visibility
The advanced new in cab monitor features a 7 inch wide LCD colour screen, which features a touch screen facility in addition to the toggle switch, which allows the operator to select his personal machine preferences, including the aforementioned work modes, self-diagnostics, maintenance check lists and start-up machine security codes. In addition, this screen is also used to select and view the rear view camera, further enhancing the machines excellent all round visibility. Video functions are also available, enabling the operator to view footage via the USB port.
Easier to Manage & Better Performance

Hyundai -9A series excavators (12t and above) also provide a smart key system, with anti-theft transponder, as standard. This allows the operator to start the engine by the push of a starter button, without inserting a key in the ignition.
These new machines also feature Hyundai's HI-MATE telematics remote management system, which provides operators and dealer service personnel direct access to vital service and diagnostic information on the machine from any computer with internet access.
Users can pinpoint machine location using digital mapping and set machine work boundaries, reducing the need for multiple service calls. HI-MATE saves time and money for the owner and dealer by promoting preventative maintenance and reducing machine downtime.
Operational Excellence
Increased maintenance intervals and a 2-year standard warranty ensure a maximum operation guarantee. The new R430LC-9A not only offers superb value for money, but is also an excellent long-term investment.
The Hyundai R430LC-9A will make its UK debut at the ScotPlant exhibition on the Young Plant & Equipment Sales stand from the 25th – 26th April at the Ingliston showground, Edinburgh.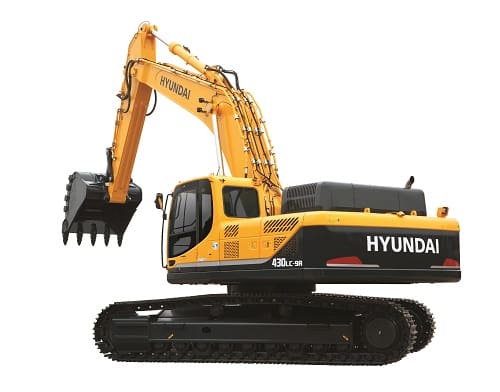 Brief Specifications for the Hyundai R430LC-9A Excavator:
Operating weight: 42,600kg
Bucket breakout force: 20,411kg
Max dig depth: 6.85 metres
Engine horsepower: 310 hp
Bucket capacity: 2.49 – 2.75 cubic yards
Source: Hyundai Heavy Industries Europe nv (HHIE)