Andy Parnham has been selling construction equipment since 1979. He joined Ernest Doe as a 16-year old workshop apprentice in 1974 on the construction side of the business. Straight out of the workshop Andy applied for an Ernest Doe demonstrator role – but was not successful. This was followed by the unfortunate death of one of Doe's long-term salesman – leaving a sales position vacant for East London and the surrounding areas – Andy applied for the job at the tender age of 21, which in those days was considered young for a construction machinery salesman, he got the job. Andy was given a Ford Escort as a company car and it was at this time that his epic career as a salesman with Ernest Doe began.
Ernest Doe was then selling agricultural machinery, and on the construction side Thwaites dumpers and Ford Backhoe loaders – it was Andy's job to sell as many Ford 'diggers' as he was able! Andy said, "I sold the Backhoes to mainly owner drivers back in those days – I knew a lot of people that just owned and operated a machine. So, I did a lot of evening work in order to speak to these operators when they had finished work – this was long before the days of the mobile phone! I worked most evenings right up until I was 39 – then I decided that mobile phones had taken over therefore I didn't have to work every night!"
Ford pulled out of the excavator market and in the early 1980's Ernest Doe went on to sell Hymac excavators. When Hymac ceased production, this left Doe without a range of construction machinery to sell. The company researched the market in detail and Hyundai caught their eye. In 1990, Ernest Doe's managing director, Colin Doe, travelled to South Korea and visited the factory to meet the Hyundai design teams. Whilst there Colin struck a deal to supply Hyundai excavators into the UK – and Ernest Doe became the very first Hyundai construction equipment dealer in the UK. To begin with there were only two models to sell the Robex 200LC and the Robex 280LC.
Andy's first customer for Hyundai was Robert Pegram in 1991. Robert was a local contractor involved in golf course construction, he bought what Andy describes as two 'white cab' Hyundai's, a R200LC and a R280LC. Robert remains a loyal Doe customer and good friend to this day with a substantial fleet of modern Hyundai machines.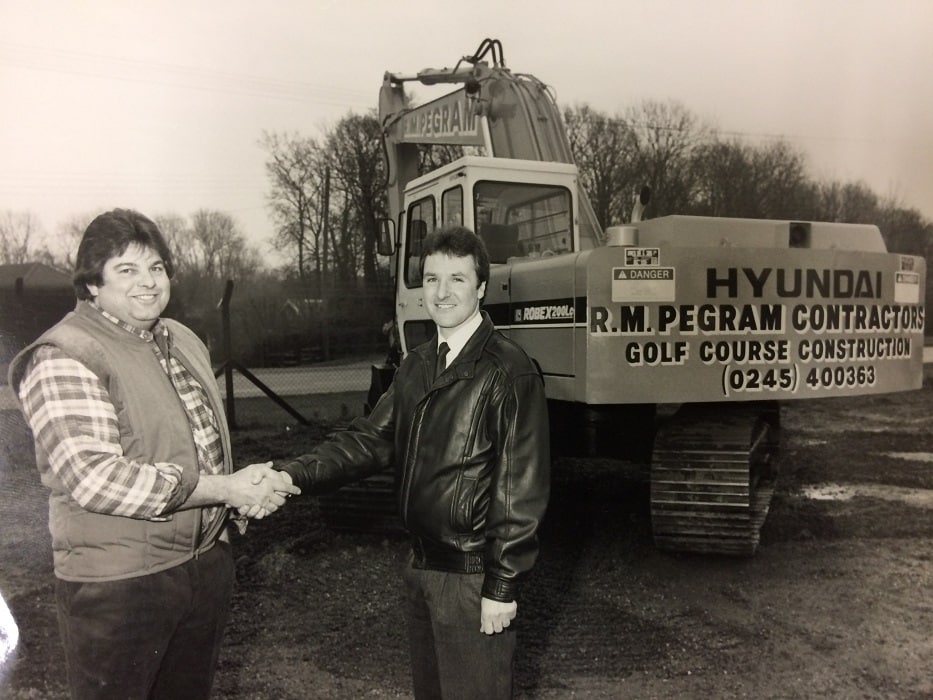 Andy reported, "There have been so many customers! Others I can mention alongside Robert Pegram is Steve Wormell owner of Wormell Plant, Rose Builders who have been a very nice company to do business with and C J Bardwell another good friend of mine – I could go on and on."
Andy added, "You sort of have a nucleus of I would say 350 customers that are regular – which sounds a lot – but when you've been doing this job since 1989 you are going to build up a few. So out of that 350 – there's probably only 100 that are really big – the others buy one's and two's which is still really good business. Over the years I have sold over 2100 new and used Hyundai machines."
Hyundai and Ernest Doe believe that Andy Parnham is the longest standing Hyundai Construction Machinery 'salesman' in Europe and quite possibly the world! Andy said, "I have been selling these machines since 1990 and I am still selling them in 2018 – I don't believe that there's many Hyundai salesman in the world that has achieved this."
When Andy first began selling the Hyundai brand customers had no experience of these Korean built machines. "Hyundai was a 'value for money' product when it first came to market in the UK." Reported Andy "I believe the customers got the confidence to buy the brand partly because they had known me and Ernest Doe & Sons for a long time and we had a good reputation in the industry – and they knew we wouldn't take on a brand we didn't trust in. This gave them the confidence to spend money on a product they knew very little about."
The Hyundai product range at that time was very limited and Ernest Doe didn't have a great deal of models to sell only 20-tonne excavators and 28-tonne excavators – which were not big volume sales. "In the early days it was quite slow because they were not a volume size machine," reported Andy, "but once we got to 1993 the 13-tonne excavator become available and they really gathered momentum – and not long after that we had the five-tonne excavator – it was then that Hyundai really took off and we were away."
Andy continued, "The quality with Hyundai has continually got better so as the different models came out from the original 'white cab' models and through the many dash models – each model was an improvement on the last – and certainly in the last ten-years Hyundai have become synonymous with quality. It was when we got to the HX range in 2016 that Hyundai really hit the big time in the UK – and the machines were as good as the leading manufacturers models, you could pitch the HX range against anyone's machine no doubt about it. And the operatorsreally like them which is very important as some operators have a big say in which machine is purchased. So yes – the HX range was a game-changer for us."
Andy's decision to retire at 60-years old came from having the busiest 2-3 years he had ever experienced at his time with Doe, selling 2-300 machines a year (not just the Hyundai brand), and he questioned whether he could continue successfully at this fast pace? "It sounds pretty daft to ask, 'can I keep up the pace' when I am only 60 and a relatively fit man," said Andy "but mine is a monster of a job and I thought I am not going to do it justice – so I decided it was the right time to hand over the reins and enjoy retirement – riding my motorbike and travelling with my wife Jane in our motorhome! This isn't the sort of job you can do part time – I couldn't do a three or a four-day week. Customers would just wait for me to be there, so I would still be doing five days in three or five days in four – so that notion was really a non-starter."
Andy is also planning on becoming a motorcycle trainer and revisiting his love of horse-riding and ski-ing – but not at the same time!
In conclusion to Andy Parnham's 44-year career at Ernest Doe, he said, "I will be sad to leave – this company has been my life – coming here as a young lad and being taken on back in the days when Mr Ernest Doe was in charge. One of the really important reasons for me and why I have been here for so very long has been our managing director Mr Colin Doe. Colin is the best boss you could have – absolutely no doubt. I have tremendous respect for the man. Ernest Doe & Sons is a very special place and I have grown up with it."
Andy's position has been now been filled and is split into two roles – as the job really has grown too big for one person. Newcomer, Nigel Booley is taking over Andy's sales area for external sales and Scott Hull has been promoted from within the company to look after depot generated sales.
Andy officially retires on the 29th March this year – four days before his 60th birthday. To celebrate his long career at Ernest Doe – Andy has invited many of his customers to a 3-day leaving party at the forthcoming Doe Show, 6-8 February 2018 at the Ulting depot in Essex