Five-year-old Corby youngster Charlie Parkes is the embodiment of a young digger enthusiast, so much so that his mother Laura is constantly looking to give him his next digger fix. For his recent 5th birthday she contacted the team behind the Hyundai Facebook page asking if Hyundai could send him a birthday card. The Hyundai UK team said that they could do better than that and promptly spoke to Northamptonshire based Hyundai dealer, Willowbrook Plant Sales, to see what could be organised.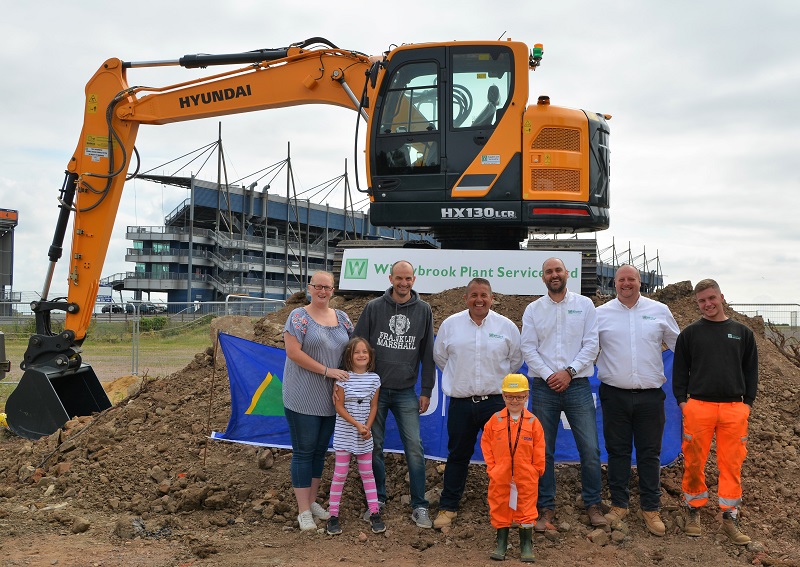 Charlie has faced many challenges in his short life, his parents were told at 30 weeks pregnant that he may not walk or talk due to an abnormality showing on scans in his brain, he was eventually born at 37 weeks and was not breathing, which saw him spending his earliest days in the neonatal intensive care unit. Then basically spent the first three-years of his life in and out of hospital. Charlie will be under hospital treatment for life.
Charlie is also on the pathway to an autistic spectrum, attachment disorder and ADHD diagnosis – this is where his obsession with diggers and tractors has come from.
According to medical specialists, children on the spectrum often become obsessive over particular subjects and Charlie's specialist subject is certainly construction and agricultural machinery.
Having received the call from Hyundai and the Willowbrook team, headed by Andy Greensmith, Drew Bishop and Tony Wilcox, the Parkes family took a trip to Willowbrook Plant Sales in their home town of Corby at the Rockingham Speedway venue, to celebrate Charlie's birthday!
The Willowbrook team went above and beyond the call of duty to make it a very special day for the Parkes family and even more so for Charlie who was grinning from ear to ear all day!
But before he could get hands on with the machines the Willowbrook guys presented Charlie with some orange Hi-Viz Hyundai overalls, a hard hat, and that all important lanyard ID badge with Charlie Parkes Digger Driver typed on it. By this time Charlie's excitement levels were reaching fever pitch, so it was time to venture out into the holding yard to check out some of the machines from Willowbrook's portfolio of machines.
First up was a look at the new 13-tonne class HX130LCR which is the replacement for the outgoing R125LCR and features the 55kw engine with no AdBlue requirement. This was followed by some seat time in the 22 tonne class Hyundai HX220L.

The entourage were then all taken out the back to Willowbrook's dedicated demo dig plot which is located in the shadow of the Rockingham Speedway stadium corner stand. It was here that the Willowbrook boys had put in a massive effort in preparing the plot for some digger based fun and games.
Included in the 'digger birthday extravaganza was a 'hook a duck' style challenge – under strict supervision from Andy and Tony the Charlie and his sister Chloe, took turns to see how many ducks they could pluck out the water with a magnet attached to the machine.
A Hyundai HX140L was also set up to shoot footballs into a football net. Tony Wilcox was in the seat for this challenge and Charlie and Chloe each had a turn at sitting in the machine while Tony slewed the machine to hammer the ball into the net!
Nobody was keeping a score and at the end of the day it was all about making it a great day out for a young lad who has overcome so much already in his short life and who is quite clearly very passionate about the plant and machinery.
Charlie struggles hugely with anxiety and can become dysregulated quite quickly, so routine is very important to him. Diggers and machinery are now very much part of family life for mum Laura, dad Steve and Charlies older sister Chloe now, his interaction with the diggers helps to keep him as settled as possible.
Laura said, "Charlie won't wear anything unless it has a digger or a tractor on it and he won't eat unless its off his digger plate, people must think we are completely mad! I would have never imagined that I'd know as much as I do about all this stuff now, but its proven to be a way in to his little world so we embrace it".
Asked about his future proud mum Laura said, "I have absolutely no doubt that he will go on to work in the industry, he has already made some fab connections and contacts and had some very special experiences, for which we are super grateful for as there really is nothing else that he engages so well with or that holds his interest so well".

Source: Hyundai Construction Equipment Europe Press