Braintree, Essex based, Kingwell Holdings, headed up by founder and Managing Director, Justin Kingwell, have become renowned as a highly specialized forestry and site clearance firm, having worked on a wide variety of large contracts across the UK.
The company runs some impressive specialized kit including AHWI tracked mulchers. In terms of excavators the company has run a number of different makes over the years including Kobelco, Doosan and Hitachi, but in more recent times they have turned to Hyundai the first of which was simply a chance purchase, Justin takes up the story, "I was on the lookout for a 20 tonne Kobelco machine back in 2007, but at the time the dealer was not going to be able to deliver for a long time, by pure chance I drove past Ernest Doe's depot in Ulting Essex and I noticed they had some Hyundai 20-tonners parked in their yard, I called in and bought it on the spot, we like them and that's the reason we have stuck with the brand to this day."
One of the latest additions to the fleet is a custom built 26-tonne Hyundai HX260HW which was supplied by dealers Molson Group. This impressive machine is powered by a Stage 4 Final emissions compliant Cummins QSB6.7 engine which offers a power output rating of 142kw / 190hp. The HW (High Walker) is specifically designed for forestry work and features a heavy duty raised undercarriage with additional track guards, it also has a raised turret which leaves more gap between the undercarriage and upper-structure. A full FOPS cab guard has been fitted and Justin also specified a short dipper for increased breakout force, a bucket ram guard is also fitted.
The HX260HW has joined two other Hyundai excavators in the Kingwell fleet a heavily modified R210-9 and an older R210-7A. the Dash 7 model is the oldest machine on the fleet, but it's highly regarded by Justin and his team having clocked up over 10,000 hours on the meter, in fact Justin describes it as their most reliable machine ever!
But it's the new HX260HW which really steals the show these days and its built-in technology is very impressive, especially in terms of safety with its AAVM (Around View Monitoring System) Justin said, "The all-around camera system is brilliant, a very good safety tool which our operators are really seeing the benefits in. Due to the machines high build your visibility to ground level can be restricted, which means ground crew can sneak up on you quite easily. But thanks to the AAVM camera view which is displayed on the monitor, the operator can instantly see if people are entering your work area, so it offers great peace of mind to the operator."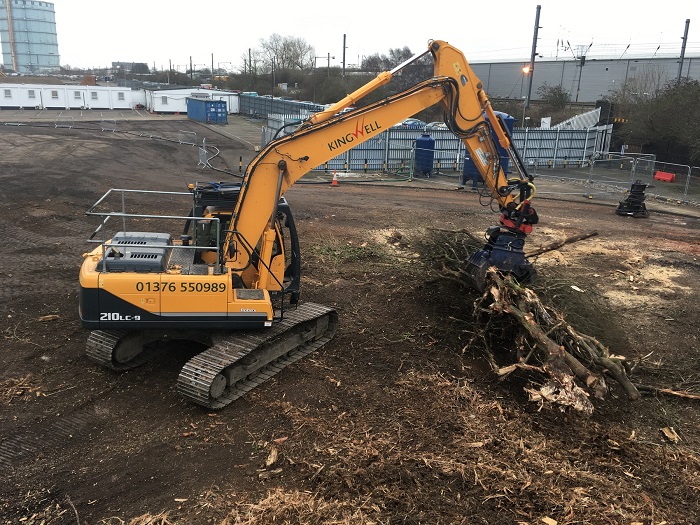 This machine was specially built at the manufacturers South Korean factory, with some additional UK specific modifications, conducted by Molson in Bristol, to suit the needs of Kingwell Holdings and the work they do. According to Justin it is capable of lifting incredibly heavy attachments, whilst still remaining very stable through its full working arc, it's also very fast and powerful with it and without doubt the fastest machine they have ever run for pulling out stumps.
The machine excelled itself on a site clearance project with a tight deadline last year on the Deepcut Link Road project in Surrey, where it tree sheared and stacked large pine trees, and then de-stumped the site ahead of the company's AHWI mulchers in record time.
When they purchased their first Hyundai Dash 7 machine they did all the modifications in-house, but having worked with Molson for additional machines they now know what Justin's requirements are, Justin said, "We spec the machines now and Molson put everything together for us in one package, so it's all covered under warranty, which suits us much better, I just cannot fault the service we get from them."
Having spent somewhere in the region of £300K on Hyundai kit and an additional £40k on modifications it's probably safe to say that they are big fans of the brand.
During his 26 years in the industry Justin has worked for many major contractors but some time ago decided to take his business in a different direction – which for Kingwell Holdings is far more reliable and lucrative.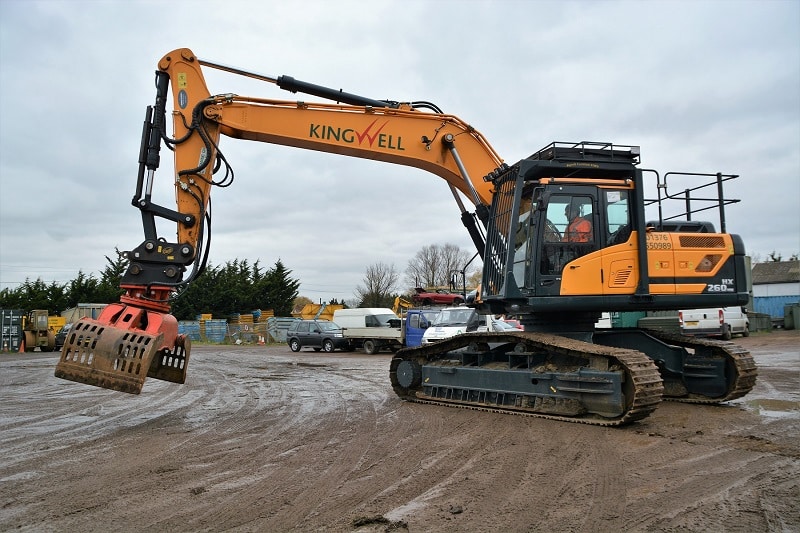 Justin is now more focussed on working for smaller companies including tree surgeons, small contractors, housing developers and rail companies to name a few, simply hiring out their specialised kit on an operated basis, Justin said, "We do it really differently now, we build on our relationships with hundreds of smaller customers and advise them how to tackle the jobs, like a consultancy really, the customer will tell us how big an area is and we will tell them exactly how many days it will take us to clear the site for them, it works really well and by helping our customers it helps to generate more work for all parties concerned."
Summarizing Justin said, "Tree clearance is now a thing of the past really, because so many are now doing it, for very little money, the real money is in the stump processing and other difficult works, and it's in this sector that we aim to become even more specialised than we already are."
Source: Hyundai Press