Hyundai Heavy Industries has nearly completed converting its entire range of 1.5 to16 tonne load capacity diesel forklifts to Stage IIIB engines. The new machines have an eye-catching new design with dynamic lines and all of the new products were launched at last week's CeMAT exhibition in Hannover, Germany.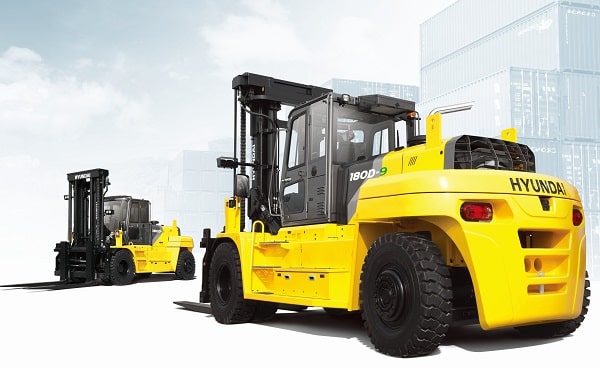 Now, Kubota diesel engines will be used on all forklifts with load capacities of 1.5 to 7 tonne. The midrange of 11-16 tonne forklifts will be powered by Cummins engines. The 18 tonne 180D-9 forklift with a Stage IV engine made its debut at last week's CeMAT show. This machine is equipped with the latest MTU engine from the Mercedes-Benz range.
An auto-shifting torque converter transmission is now standard on all forklifts from 3.5 to 25 tonne. It replaces the previous manual-shift transmission in the 3.5 to 5 tonne range. Speed and acceleration can now be individually adjusted to suit the operator's needs.
The latest development to be fitted to the forklifts is a new device which prevents switching direction of travel from forward to reverse motion when at full speed (up to 5 tonne vehicles), this provides effective protection for transmissions, axles and final drives. Also new is a warning device for 'transmission slip' which alerts the driver if the clutch is slipping.
The new design of all forklift trucks from Hyundai focus heavily on the driver for maximum comfort and safety for instance there's more space, 360-degree visibility, visibility of the forks/load, noise and vibration emissions, operation, and of course performance. The Grammer seat and sensitive hydraulic lever (fourth control circuit as standard) improve the driver's comfort even more. Mini-tips with an integrated switch for changing direction will also be available in the near future. The machines come as standard with a forward/reverse switch, including a horn in the lifting lever. Available as an option is automatic vertical positioning of the mast when pressing the button in the tilt lever. New cabins feature significantly larger windows, improved noise insulation and a bigger roof window for a better view of the load at high lift heights – all these new features were launched at CeMAT.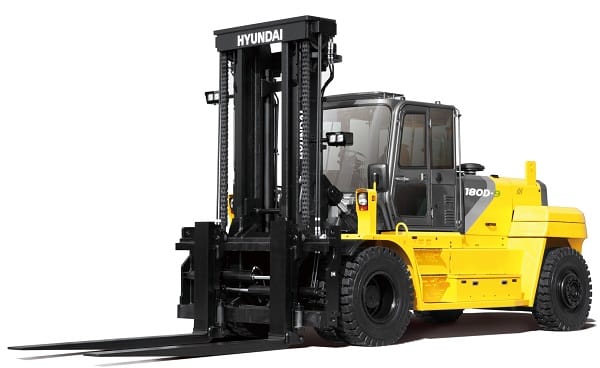 Representatives of the new HHI-9 Forklift Truck Series are the four 35D-9A, 40D-9A, 45D-9A and 50Da-9A type trucks for loads of 3500-5000 kg at 600 mm LSP. All units are powered by the 70 kW Kubota V3800 four-cylinder engine.
These forklifts are based on a single chassis with a 2,000 mm wheelbase and have the new torque converter transmission with two forward and two reverse gears. The canopy was elevated to give the driver an even greater sense of space, while a low canopy has been retained to facilitate the loading of containers.
The improved colour LCD screen informs the driver of speed, temperatures of operating fluids, fluid levels and the condition of the drivetrain. Error codes are also displayed. Service technicians can now perform all device-specific settings using the display without having to resort to an external programming tool, which in turn makes troubleshooting easier and shortens repair times, thereby reducing costs and of course, downtime!
With the extension of the standard warranty to 2-years/3000 hours (whichever comes first), Hyundai continues to live up to its motto: "We care for you."
Source: Hyundai Heavy Industries Europe (HHIE)