Hyundai Heavy Industries Europe (HHIE), a widely recognized leader in the European construction equipment and forklift market, held a groundbreaking ceremony last week, for its new headquarters in Tessenderlo, Belgium.
The new HQ complex comprises a new, three-story, 5,400 square metres office building, a 13,000 square metres warehouse, a European training facility, an event hall and a showroom. The construction works are scheduled for completion by the end of 2016 and represent an investment of 30 million euros. Infrabo, a well-known Belgian architecture and design firm with extensive experience in the b2b industry, designed the new building.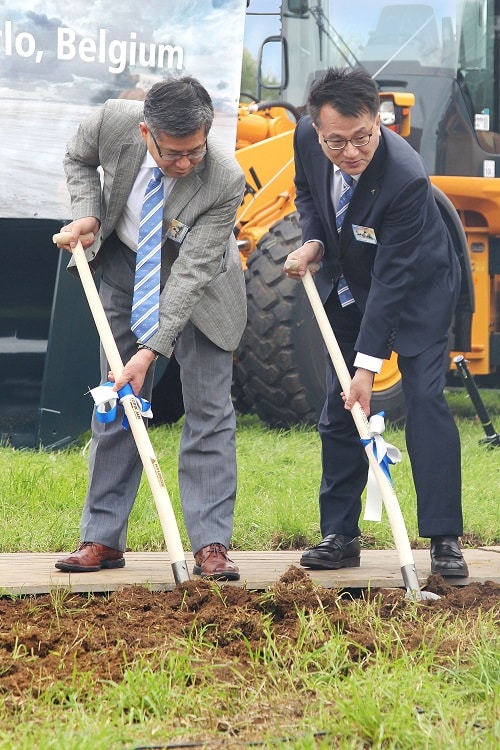 Mr S.G. Rhee, COO of Construction Equipment Division of Hyundai Heavy Industries (HHI), and Mr J.C. Jung, Managing Director of Hyundai Heavy Industries Europe (HHIE), welcomed VIP guests from the Belgian government, representatives from the local community and national and international press for the ceremony. Mr S.G. Rhee said,
"We're very happy to embark on our construction work. And we appreciate the community support for our endeavour and look forward to producing a state-of-the-art building. Our solid investment in this region to grow our facility is a condition for increasing our success in Europe."
"The new facility is an excellent step forward for our European division. On the 81,000 square metres new land we can double the capacity of our machine parts supply, welcome our customers and intensify the commercial and technical training of our dealer network. The premises are ideally located alongside the E313 highway offering good accessibility. It all proves that HHIE is a dynamic and growing company. This investment will create additional jobs in the region."
Mr J.C. Jung added.