Land Engineering Services (LES), based in West Yorkshire, is a mining, earthmoving and remediation company that operates throughout the UK. The company won the tender in 2012 to 'clear' a contaminated colliery in Scotland. LES invested in five Hyundai machines purchased from Derbyshire based Hyundai dealer, EP Industries, to help complete the task…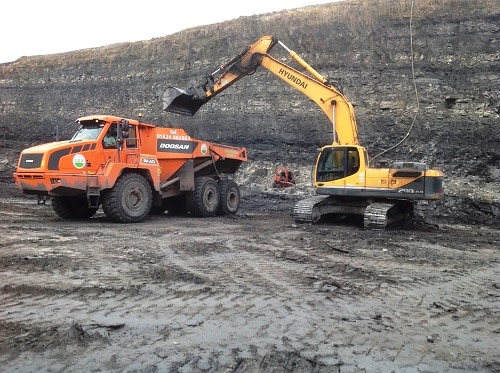 The former Comrie colliery site is recognised as the largest area of post-industrial dereliction in West Fife. When Land Engineering Services (LES) began working on the site 3.5-years ago it was a combination of contaminated land, large areas of hard standing, associated with the former colliery pit head area, and a 40 metre high burning colliery waste tip (bing) – in excess of 100 hectares of countryside were unfit for any conventional countryside use.
The project, which is likely to be completed later this year, has involved the extraction of 680,000 tonnes of coal (when completed) through the working of 52 hectares of the coal resource. LES has used the revenue from the extraction for the treatment of spontaneous combustion on the ex-colliery spoil tip, reprofiling and the removal of dereliction on the bing.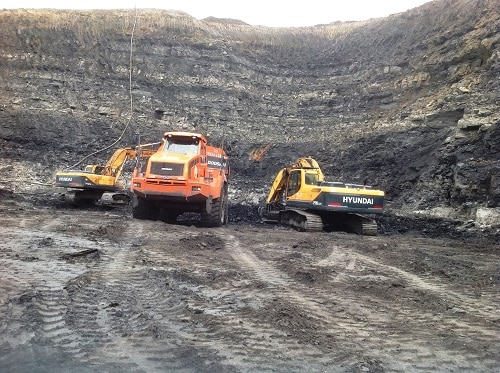 The revenue has also been utilised on other LES run projects including the treatment of contamination in Bickram Wood and the former Rexco smokeless fuel plant. And last but by no means least the creation of a new wetland habitat for great newts on the north of the site.
To complete this demanding project LES invested some £4.5 million in new plant which included excavators, dozers and articulated dump trucks (ADT's) to extract the remaining coal reserves and deal with the reclamation phase of the scheme.
Alongside four 50t Bell ADT's, LES purchased five Hyundai machines which comprise two 23 tonne wheel loaders – the HL770-9's which operate at the coal stockpiling yard.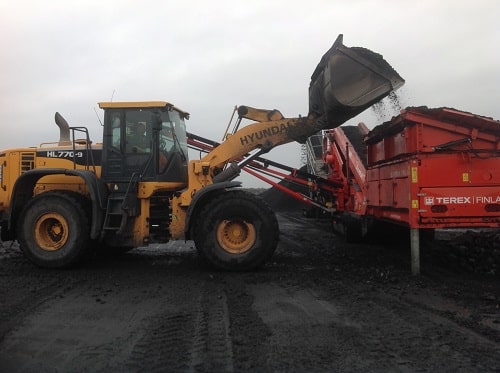 The loaders are capable of loading 28-tonnes of coal into the road trucks in five or six passes.
Also an 83- tonne Hyundai excavator – the R800-7A, which was the very first of this model to be delivered to a UK customer. The Hyundai R800-7A is powered by a 510hp Cummins QSX15 engine and is fitted with a standard 4.53cu.m bucket. Achieving a 110% fill factor – it loads the ADT's in four big passes and has them on their way to the tip in just 1minute 40 seconds!
Also working onsite is a R290 – 9 (the only one of its kind in the UK) which excavates the mineral with its specially manufactured coal shovel which was manufactured by Allied equipment and fitted by Hyundai dealer EP Industries.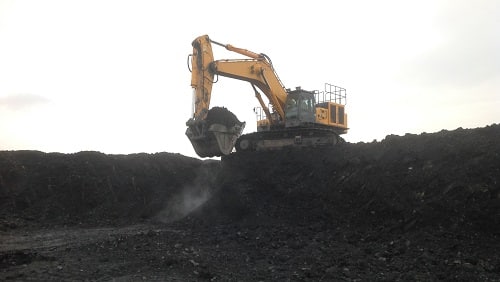 The Hyundai machines have clocked up 40,000 hours between them – the R800-7A has almost 8000 hours on the clock alone – and all the machines are still going strong! Iain Devine, LES managing director said, "The Hyundai's are like 'workhorses' – they are reliable and we have had no issues in the years they have been working onsite. The service and back-up from EP Industries has been excellent. We have experienced 98% uptime with the Hyundai's – which is quite an achievement for any hardworking machine."
Iain added, "These machines are moving 4-5000 tonnes of coal and have dug out over 70,000 cubic metres of overburden per week, which is the rock and soil that lies above a coal seam, and they just keep on going! The machines have a good pace on them too and the operators like the machines."
Iain also liked the long warranty on the machines when he bought them and the machines offered a quality product for a very good price. He said, "We will be trading them in at the end of this project and will be investing in Hyundai machines again."