Infra Oman 2013 which will be held from 30 September – 02 October 2013, is organized by Al Nimr Expo in co-operation with the Ministry of Transport and Communications and the Ministry of Commerce & Industry. The exhibition is also supported by Euro-Mediterranean Association for Cooperation & Development e.V. (EMA), German Industry & Commerce Office (AHK), German Near & Middle East Association (NUMOV), Industrial Innovation Centre (IIC), Ministry of Foreign Affairs of Japan, Oman Tourism Development Company SAOC (OMRAN), Public Establishment for Industrial Estates (PEIE), Singapore Business Federation (SBF), Spanish Economic & Trade Office, Middle East Facility Management Association (MEFMA), UK Trade & Investment (UKTI), Concrete Sawing & Drilling Association (CSDA), Embassy of the United States of America, International Private Water Association (IPWA) and Vietnam Association of Construction Contractors (VACC).
As infrastructure investments continue to grow, Infra Oman 2013 is your direct gateway to the opportunities in this sector, enabling your company to play a prominent role in the country's development. By bringing together all leading companies in the industry, ministry officials, CEOs and other senior managers, Infra Oman will serve as an ideal platform for networking with key decision makers, expanding your business contacts and strengthening your presence in Oman's vibrant construction market.
To cater to these above requirements, the exhibition will focus on Construction Requirements, Green & Future Buildings, Heavy Equipment & Technologies, Hotel & Tourism Projects, Industrial Free Zones, Industrial Manufacturing, Power & Water Technologies, Renewable Energy & Environment, Tools & Equipment's, Transportation & Logistics, Infrastructure Projects – Roads, Airports, Railways & Ports – Build & Supply and other Development Projects.
Salim Omar Al Hashmi, CEO, Al Nimr Expo said, "Infra Oman is the ideal platform for all contractors and developers to meet, thus giving them an opportunity to present their projects and achievements and source their requirements. Infra Oman has grown significantly since its debut in 2011, thus establishing itself as the Middle East's leading infrastructure and industrial projects exhibition."
Melwin D'Cunha, Managing Director of Al Nimr Expo, said,: "The event is also meant to provide local and international companies the opportunity to introduce a range of their products, equipment, technologies and services to their target clients – the decision makers and top officials of companies in Oman's vibrant building and construction industry."
The Diamond Sponsors for Infra Oman 2013 are Consolidated Contractors Company Oman LLC (CCC), Galfar Engineering & Contracting SAOG, Hamon & Iram Machinery (Iran), Hill & Smith Limited, Larsen & Toubro (Oman) LLC, Rimal Al Sarooj Al Mothahida LLC, RMD Kwikform Oman LLC, Sezai Turkes Feyzi Akkaya [STFA] Construction Group, Strabag Oman LLC and Wolf Group of Companies; Platinum Sponsors are Al Ansari Trading Enterprise LLC, Al Nahdha Overseas LLC, Al Siyabi Trading (Otani Tyres), Al-Hashemi & Al-Rawas Trad. & Cont. Co., Allied Business Corporation (Jehan Green Walls), Convrgnt Engineering & Construction LLC, Diamond Wealth Trading LLC, Doka Muscat LLC, Khimji Ramdas LLC, Oman Arab Bank, Oman Telecommunications Company (Omantel), Vanderlande Industries BV and Wagon Pars Co.; Gold Sponsors are Al Wataniyah United Engg. & Contracting Co. LLC, Amiantit Oman Co. LLC, Electroman LLC, Gorica Vehicles & Co. LLC, Hamriyah Free Zone Authority, Hewlett Construction LLC, Jotun Paints Co. LLC, Leighton Middle East LLC, Khalid Bin Ahmed & Sons LLC, Muscat Overseas Group – JCB Dancing Diggers, Nass Group LLC, Oman Oil Marketing Company SAOG, PERI LLC, Sarooj Construction Company LLC, Shadeed Iron and Steel Sohar, Stanley Black & Decker and Target LLC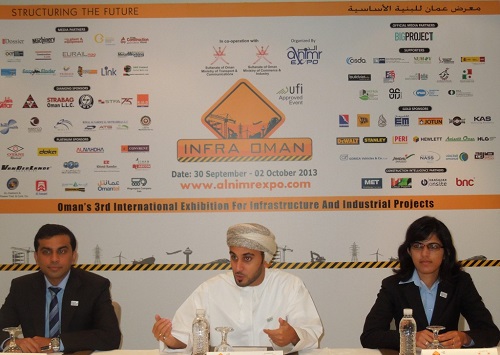 A special highlight of Infra Oman will be the Japanese Pavilion featuring more than 20 companies related to the Industry. The Pavilion will also showcase the traditional Japanese Tea Ceremony at the show. Infra Oman will include country pavilions from Egypt, Germany, Iran, Italy, Turkey, UAE and UK.
Infra Oman is the first and only exhibition in Oman to be BPA audited. The exhibition is also enlisted as a UFI member by the Global Association of the Exhibition Industry (UFI), a well-recognized representative body of the international trade fair sector.
Al Nimr Expo is a well-established exhibition organizing company in Oman, comprising of an enthusiastic team of young, experienced and dynamic professionals, who have the passion and requisite skills to organize high profile events for prestigious exhibitors and clientele. Al Nimr conducts high quality and high-profile B2B trade fairs, country specific shows, corporate events, conferences, event management and festivals.
To get more information about Infra Oman 2013, please visit www.alnimrexpo.com/infraoman. To reserve your stand in the exhibition, please contact Jenitha Martin, Project Director, at tel. no. +968 24700656, mobile no. +968 94041616, or e-mail info@alnimrexpo.com