As indicated by the results of PMR's latest report, entitled "Construction sector in Kazakhstan 2014. Development forecasts for 2015-2020", the construction industry in Kazakhstan is projected to accelerate its annual expansion pace to 4.2% in 2014, up from 3.5% growth seen a year ago. During the first half of 2014, the Kazakh construction industry also showed great promise, with growth fuelled mostly by civil engineering construction activity.
The oil and gas and mining industries are the fundamental drivers of Kazakhstan's extraordinary growth. In 2013, these were responsible for half of the country's budget revenues.


Nevertheless, Kazakh officials have accepted that economic development based overwhelmingly on factor endowment is unsustainable and have launched a number of programmes in order to try to reduce the country's dependence on the oil and gas and mining industries. The most notable initiative is the State Programme of Accelerated Industrial and Innovative Development, which was launched in 2010 and outlines Kazakhstan's commitment to diversify and modernise its economy. The key targets to be achieved as part of the first phase of the programme are: the gross value added of the non-mineral resources subgroup by 2014 must be increased by at least 39.5% in real terms in comparison with the 2008 figure, the gross value added of manufacturing in 2014 should be 43.6% more in real terms than the figure achieved in 2008, a gradual increase in the amount accounted for by manufacturing as a proportion of GDP from 11.5% in 2008 to more than 12.5% in 2014.
However, all of these targets are unlikely to be achieved in 2014, mostly because economic growth this year will fall short of expectations and the development of non-mineral resource businesses will be delayed. In 2014, the Kazakh economy is likely to grow by only about 4%, whereas the government predicted a 6% increase for this year. However, with an average GDP growth rate of 5.4% between 2009 and 2013, the Kazakh economy performed much better than its Russian, Belarusian and Ukrainian counterparts, which recorded on average the change of 1.1%, 3.2% and -1%, respectively.
In the World Economic Forum's 2014-2015 Global Competitiveness Report, Kazakhstan was in the 62nd place among 144 countries in terms of the quality of overall infrastructure (69th in 2009). In terms of the quality of roads, the country was in the 113th place (116th in 2009); in terms of the quality of air transport infrastructure, it is in the 85th place; and in terms of the quality of port infrastructure – in the 123rd. Only in terms of the quality of railway infrastructure was it placed in a higher position: 28th.
To address the issue of deficient transport infrastructure, Kazakhstan has launched several large scale state-funded transport infrastructure development programmes over the past decade. One of these is the State Programme for the Development and Integration of Transport Infrastructure until 2020. The total budget of the programme, which is to be implemented between 2014 and 2020 is estimated to be KZT 5,220bn (€21bn), with most of the funding to be channelled into road and railway development projects.
In recent years the performance of the non-residential construction sector has been less impressive that the dynamics seen in civil engineering construction. According to Kazstat, the total area of new non-residential buildings activated in Kazakhstan came to almost 3.5 million m² in 2013, 7.5% less than the performance recorded a year earlier. The total area of shopping and entertainment centres put into use across the country in 2013 was 134,400 m², of which 126,800 m² was delivered in Almaty.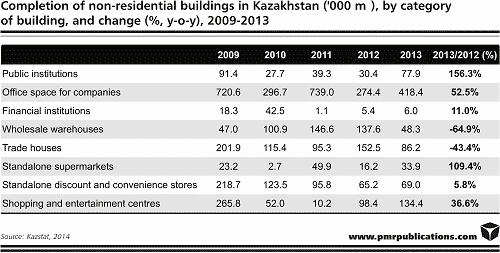 Shopping centre construction is one of the non-residential construction segments with huge potential to be capitalised in the future. According to PMR, Kazakhstan has less than 60 m² of GLA per 1,000 inhabitants in shopping centres with at least two anchor tenants and 10,000 m² of GLA. The more dynamic development of upmarket shopping centres outside Almaty and Astana has been hindered by the limited number of large cities, significantly lower purchasing power, unsatisfactory transport infrastructure, the weak presence of modern retail chains and the population's propensity for open-air market shopping. There are only three cities with over 500,000 residents in Kazakhstan: Almaty, Astana and Shymkent.
Although Shymkent is the third most populous city (672,000 people) in the country and the key city in the South Kazakhstan Province, it has only three upmarket shopping centres: Mega (15,000 m² of GLA), Bayan Sulu (10,400 m²) and Firkan City, with a total leasable area of around 11,000 m². There are two more popular retail schemes in Shymkent, Hyper House and Al-Farabi, but these have slightly less than 10,000 m² of leasable area, narrow corridors and a large number of small retail points belonging to individual entrepreneurs.
The total floor area of residential properties activated in Kazakhstan in 2013 came to 6.8 million m², which is 1.5% more than that of 2012 but still short of the result achieved in 2008 (although the margin is less than 1%). The uptrend in housing space completion is very likely to continue in 2014, as 18% more space was activated across the country in the first half of the year than in H1 2013.
According to PMR, there is a considerable potential for many more residential projects in Kazakhstan. The average per capita housing space in Kazakhstan expanded to only about 20 m² in 2013, with 22.4 m² in urban areas and 17 m² in the countryside. These levels are well below those seen in the developed countries. However, the still limited household incomes and deficient mortgage market are hindering more vibrant exploitation of this potential.