After years of nonchalant monarchy and civil strife, 'The Daughter of Himalaya' is now directing her economy to real prosperity. Cumulative efforts in various sectors have helped Nepal to cope with the needs of new millennium. These efforts are also translated in the construction sector. More construction projects are considered than ever.
One of biggest projects taken by the Nepali Government is 'Kathmandu – Kulekhani – Hetauda Tunnel (KKHT) Highway project' which has total length of 58 kilometer. This 4-lane express modern highway has 3 tunnels (approx 4.5 kilometer in total). The project officially started in 2012 and expected to be completed by December, 2016. This project is developed by Nepal Purwadhar Bikash Company Ltd (NPBCL) under the '4P' concepts (public, private, people partnership model). Concession period has been estimated is 30 years with additional 5 years provision. This is the highest budgeted road construction project in Nepal with estimated cost (calculated in 2012) of 34.87 billion Nepali Rupees.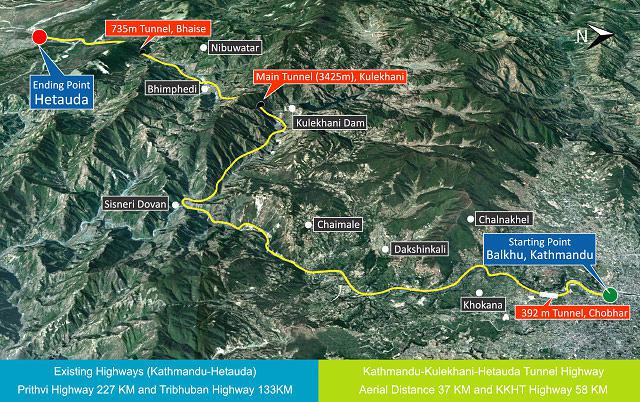 Image Source:Courtesy Gelal Research Group
The starting point of this highway is Balkhu, Kathmandu and it will reach western town Hetauda, Makawanpur. This highway will give easy access to western part of the country and countless valleys. During an official presentation, NPBCL claimed that this highway will decrease the travel time between two end points from six hours to one hour. That will also decrease the travel time of imported goods from India. As Nepal's trade policy is heavily dependent on India, this new route will open more business and trade scopes in Nepal which will help to boost up her economy.

Kathmandu – Kulekhani – Hetauda Tunnel Highway
Video Source: Youtube "Puran Pandey"
Author: Abdullah Al Arafat
A civil engineer from Bangladesh. Mr. Arafat has worked for notable Bangladeshi civil engineering companies for more than 7 years. Now, he is pursuing higher studies in Canada. He has keen interests in new forms of structural and geotechnical designs and researches.