Mississauga, ON-  The big iron was gleaming and the floors of the International Centre were jam-packed, as the sold out National Heavy Equipment Show rolled into Toronto on April 18-19, 2013.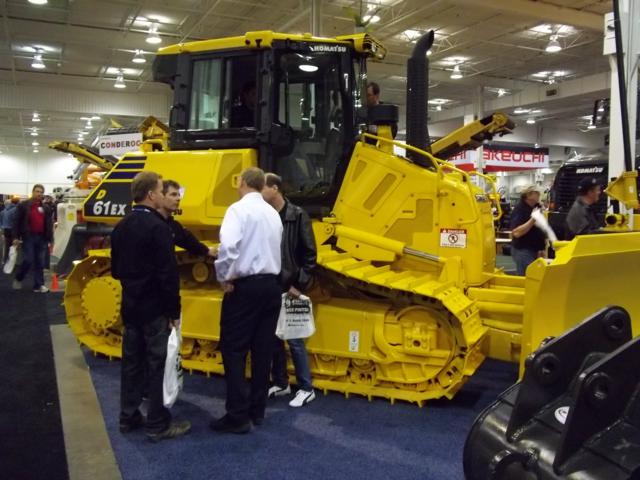 Over 12 thousand visitors came through the doors of this massive event and they were not left disappointed. Many remarked about the size and diversity of the heavy equipment being showcased. The aisles were packed even though the show encompassed the largest floor space ever which included almost 7.5 acres of exhibit space! Over 300 exhibitors participated in this biennial event, up 25% over the last show, some from as far away as Austria.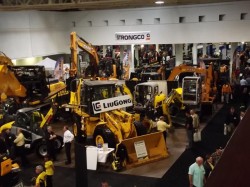 All the major manufacturers and brands were well represented with impressive displays featuring the latest, most innovative machinery and products on the market to date. Exhibitors reported excellent traffic and many sales and solid leads to follow up on in the months to come. Major construction projects are in the works during the next several years and the buyers were definitely at this event.
Aggregates and Roadbuilding Magazine was proud to sponsor the Gravel Pit again in Hall 5 and also produced the high caliber show guide.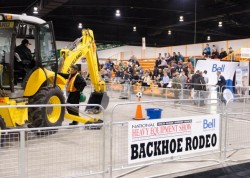 The Bell Push-to-Talk Backhoe Rodeo filled the bleachers once again with some of the best backhoe operators in the area taking the controls and doing the seemingly impossible with these machines. Thank you to Case, Volvo and New Holland for the use of their equipment for the rodeo. We would like to congratulate Octavio Miranda, the winner of the 2013 NHES Backhoe Rodeo. Octavio has won every rodeo except one since 1996, so he is definitely a force to contend with. Octavio's final time on the three machine circuit was 1:13. Second place was Joe Trecapelli with a time of 1:17 and in third place was Eric Cousins with a time of 1:26. We would like to thank David Fiddler and Most Excellent Productions for managing this exciting feature.
Thank you to the following organizations for their continued support of this event: Aggregates and Roadbuilding Magazine, the CAED, OHMPA.
We now look towards 2015. Stay tuned for updates about our next National Heavy Equipment Show and we wish all of our visitors and exhibitors continued success until then.

Source: NHES