LiuGong's 766A midsize backhoe was shown on M&T expo 2012 in Brazil.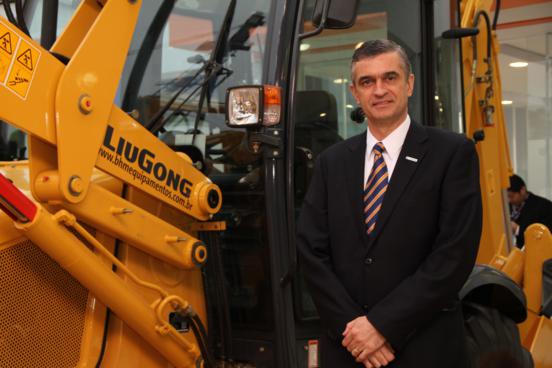 LiuGong's new 766A model backhoe features a rugged frame that provides plenty of stability in tough working conditions. A Tier 3 Perkins engine delivers 93 net horsepower to the Italian-manufactured 4-wheel drive, 4-speed power shuttle Carraro transmission and provides travel speeds up to 23.6 miles per hour. LiuGong's 766A backhoe has a rear axle differential lock system and multiple wet-disc brakes. Four-wheel drive automatically engages when the service brake is applied.
With a maximum dig depth of 14 feet 6 inches and a bucket digging force of 13,083 pounds, LiuGong's new 766A backhoe displays excellent capabilities for utility and commercial construction applications. The 766A backhoe's loading height is 11 feet 6 inches and comes equipped with a 24-inch wide, .27 cubic yard bucket. Operators will appreciate the ergonomically designed mechanical loader backhoe controls.
The 766A backhoe's parallel tool carrier configuration loader has a 1.3 cubic yard general purpose loader bucket with bolt-on reverse cutting edge. The loader's 12,207 pounds of breakout force cuts aggressively into ground materials and is strong enough to provide a lift capacity of 6,969 pounds. Front and rear auxiliary hydraulics come standard.
Daily servicing on LiuGong's 766A backhoe is simple with the forward tilting engine hood. The backhoe's engine and hydraulic system's radiators are located in the front of the machine for easier service and maintenance.
LiuGong's 766A standard ROPS/FOPS cab sits on silicon-viscous mounts to reduce operator fatigue and offers a tiltable front steering console. The fully adjustable air suspension backhoe seat rotates 180 degrees for the operator's comfort while performing loading and backhoe tasks. The 766A backhoe comes standard with an enclosed cab configuration with heavy duty air conditioning which routes air through 12 outlets for increased operator comfort, along with defroster and heater and AM/FM radio. Maximum visibility in the 766A enclosed cab is provided by all-around glass windows with minimal size posts. Windows in the doors and on each side of the operator can be opened and the upper rear window swings up and locks for better visibility. LiuGong also offers an optional open ROPS/FOPS cab. Both cab options benefit from the low, sloping hood that allows good visibility of the front tires and loader bucket.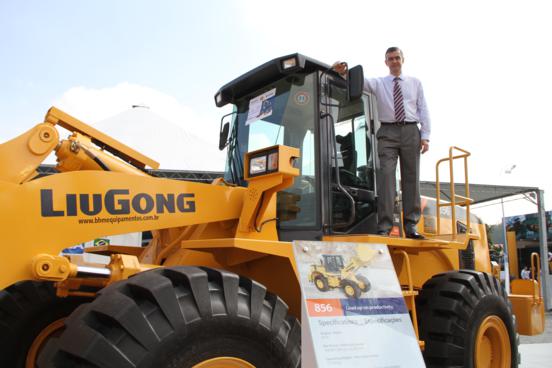 Other options for the 766A include:
4-in-1 loader bucket
Telescopic dipperstick
Front quick coupler
Various backhoe buckets
Model: 766A Backhoe
Operating Weight: 17,637 lbs.
Rated Power (Net): 93 horsepower
Max Dig Depth 14' 6"
EPA Engine Compliant: Tier 3
Source: M&T Expo News Room