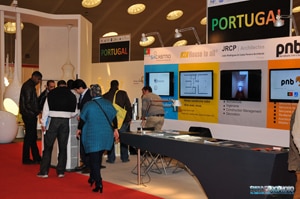 With the fifth largest economy in Africa, a thriving tourism industry and a growing focus on solar energy, Morocco is a busy place. There's been huge growth in the local construction sector over the past few years that shows no sign of slowing down. The government is running a major drive to modernise the housing stock as well as to improve and expand transport and energy infrastructure, so there's no shortage of opportunities. The main showcase for the Moroccan construction market is MaBuild, and the fourth event will be running in Casablanca this October. If you're interested in working in Morocco this is an expo you can't afford to miss.
The last MaBuild attracted over a hundred exhibitors from Europe and the Middle East; this year's event looks like expanding on that, and the products and services on offer will cover the full spectrum of what you need to run a successful project in Morocco. Product categories, as with most expos, include everything from hand tools and fasteners to heavy plant. One interesting thing about MaBuild is that, because so many projects in the country involve tourism, some more specialised offerings will also be on display. Catering and kitchen equipment, pools and even gym equipment are among the products you can expect to see. Look for locally sourced raw materials as well – Moroccan mines produce some high quality stone and finishing materials.
As regular expo visitors know, a huge part of the value of these events is the opportunity to meet and network with fellow professionals and local experts. That's especially true in emerging, rapidly developing markets like Morocco. The business culture in North Africa can take some getting used to for European and North American contractors, and while Morocco has an open economy you'll still want to find out about the best ways to bid for and manage contracts. MaBuild gives you the change to meet local businesses, investors and decision makers. There's also a match making service, so you can decide who you particularly want to meet and set it up before you arrive.
MaBuild 2015 will take place from 15-18 October in Casablanca's CICEC exhibition centre. Morocco's leading event venue, CICEC offers all the amenities you'll need during your visit. There's a good choice of hotels in the surrounding area and easy access both to the city centre and Mohammed V International Airport. Make sure to take some extra time to explore Casablanca after the event. Entry to MaBuild is free, and registration will soon be available on the event website.