Montecarlo Construction Limited (MCL) is removing over 66 million cubic meters of overburden at an open-cast quarry in Singrauli.




Singrauli is a town in the East Indian state of Madhya Pradesh – part of an area that is emerging as India's energy capital. India itself is already the third largest producer of coal in the world and demand is expected to increase to more than 750 million tonnes per annum by 2015. Used mostly for domestic consumption, the sector is driven by India's increasing gap between power supply and demand, fuelled by the country's economic growth.
Montecarlo Construction Limited (MCL) – headquartered in Ahmedabad in the neighboring state of Gujarat – is removing more than 650,000 cubic meters of overburden material over a five year contract at the NCL Singrauli coal quarry. The coal is primarily used as fuel by five power plant customers in the region.
The overburden removal contract tendered by Northern Coal Fields India – a Government of India enterprise – was won by MCL and is worth INR 459 million (USD 76.5million). MCL is one of the largest private sector construction companies in India, specializing in large scale civil construction and energy networks. The company was established in 1995 and, with increasing business activities and globalization of the infrastructure industry, it became a public limited company in 2006.
In addition to top soil and rock, the overburden is caused by general coal mining operations, a waste product consisting of coarse rock fragments and fine coal particles.
Volvo clears up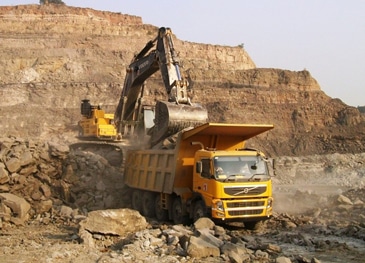 The Singrauli quarry produces four million tonnes of coal every year, which in turn generates a large quantity of waste material that needs to be moved or removed from the site. In order to do this, the company uses a fleet of Volvo Constriction Equipment (Volvo CE) machines, including five EC480 D-Series and three EC700 B-Series crawler excavators, as well as 41 Volvo on highway tipper trucks. For its next lignite (brown coal) project in Mata-no-Madh, Kutchh, contracted by Gujarat Mineral Development Corporation Ltd, the company has ordered a further 20 EC480 D-Series excavators.
"Today Montecarlo is experiencing rapid growth and needs strong and reliable machinery to conduct its duties and operations," says Mr. Mrunal Patel, joint managing director and founding chairman of MCL. "The machines are imperative to drive progress and deliver targets on time. After careful evaluation of the options, we decided to buy Volvo construction equipment and trucks because they are reliable, efficient and we can count on them."
Mr. Mrunal Patel is supported by his father and chairman, Shri Kanubhai M. Patel, who founded the company, as well as Mr. Brijesh Patel – his elder brother and joint managing director. Mrunal is responsible for the company's mining, power transmission and distribution network, whereas Brijesh handles the road, irrigation and building projects.
Volvo dealer, Alpha Technical Services Pvt Ltd., supports the company and holds a ready supply of spare parts at Singrauli to ensure any maintenance or service work is carried out quickly and efficiently. The machines were supplied to MCL by Volvo dealer, West India Equipment.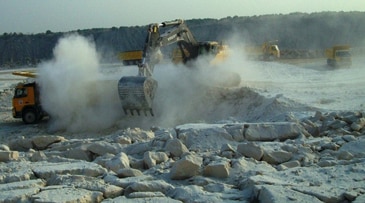 On average, the machines have clocked up about 10,000 hours each so far, working six days a week for 10 hours a day, but will sometimes work two shifts within 20 hours. The project began in 2013 and will take three years to complete.
"We chose Volvo machines because they use less fuel compared to other brands and the company has good financing options," says Aytac Akturk, managing partner and general manager at DETECH. "The machines feature easy-to-use controls, the cabins are very comfortable and the dealership responds quickly to our requirements."
After completed elevation work on the Sheikh Zayeed Road, the next stage will be to excavate large quantities of soil for the canal's structure.
Once the project is completed, the canal will enhance accessibly to the most prestigious new and old districts of Dubai and create numerous development opportunities on the waterfront. It will also improve water quality in the Dubai Creek and create (yet another) bustling tourist attraction.
Source: Volvo CE News