Manitowoc Cranes will have a sizeable presence at Intermat 2018 in Paris, France, showcasing two new tower cranes alongside a wide range of comprehensive support services.
On display at the show will be two great examples of Potain's cutting-edge technological advancements: the Hup self-erecting crane range and an MDT 389, the largest of its CCS topless top-slewing tower cranes.
Potain will take the opportunity to celebrate its 90th anniversary.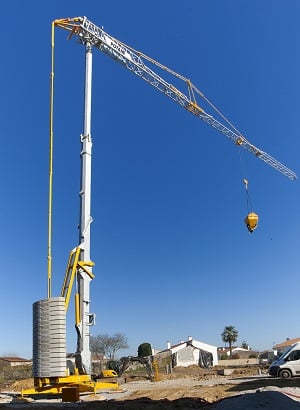 Manitowoc will once again participate in one of the world's biggest infrastructure and construction tradeshows when the company brings an array of new cranes and technologies to Intermat 2018 in Paris, France.
It's fitting that Potain tower cranes will take center stage at the show. The event coincides with Potain's 90th anniversary — a perfect time to both look back at the company's history and look forward with its new generation of tower cranes. The company will showcase the Hup self-erecting crane range and the MDT 389 tower crane at the show, both of which possess some of the most cutting-edge innovations on the market.
"Intermat 2018 is well positioned to address Manitowoc's key markets, such as France and North Africa. Potain is a leader in the French lifting market and its presence at Intermat is a key priority for the company," said Jean-Noel Daguin, senior vice president of tower cranes at Manitowoc.
"2017 has seen an uptick in construction and infrastructure activity in Europe, so we have selected a pair of cranes that we feel can best serve this region in terms of speed, efficiency and versatility, and also when working on urban job sites," he continued. "We are also featuring solutions that we can provide to stakeholders of the Grand Paris Project, which will accelerate the transformation of Paris ahead of the 2024 Olympic Games."
Potain cranes on stage
The Hup self-erecting crane range, which includes the Hup 32-27 and Hup 40-30, contains some of Potain's most remarkable models of recent years. Having been out for just over a year, the cranes' versatility and ease-of-use have already made them an international hit. The cranes have a maximum capacity of 4 t and a rear-slewing radius of only 2.25 m, enabling them to be positioned closer to buildings — a major benefit when working in tight urban areas or job sites with restricted working quarters.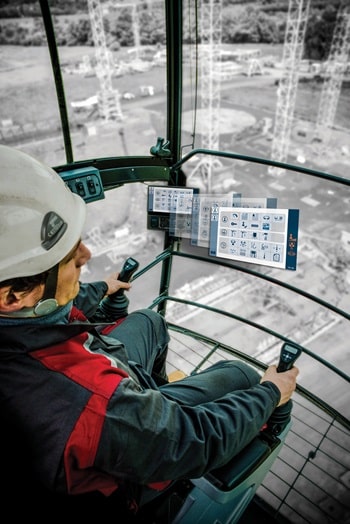 Despite being taller than the Igo 36, one of its predecessor models, the Hup cranes occupy the same footprint, making them ideal for space-restricted job sites. Three raised positions of the luffing jib, at 10°, 20° or 30°, in addition to horizontal, provide unprecedented options for a self-erecting crane. With two height options for their telescopic masts and an exclusive new radio remote control with Potain's Smart Set Up software, operators can maximize their efficiency to levels previously unseen.
The MDT 389 is the largest topless crane from the Potain lineup to feature the company's Crane Control System (CCS), which is also available on all Potain top slewing tower cranes and Grove mobile cranes. This user-friendly operating system offers owners the highest levels of comfort, flexibility and ergonomic control, and it reduces installation time compared to previous models. The system provides unequalled maintenance features, particularly when using Manitowoc's CraneSTAR Diag tool, a telematics and maintenance system accessible via CCS. The MDT CCS Topless concept enables complex, multi-crane installations, and the assembly, erection, transport and maintenance phases are shorter than previous generations of tower cranes. All of these features lead to a better return on investment for crane owners, and CCS has been proven to increase efficiency on the job site.
There are two versions of the Potain MDT 389, one with a 12 t maximum capacity and the other with a 16 t maximum capacity. Both have up to 75 m of jib available, and the 12 t version can lift 3.4 t at its jib end, while the 16 t version can handle 3.3 t.
It's notable that both of the tower cranes that will be shown were developed with significant customer input and participation. The cranes reflect the technologies and features that the lifting market needs most and they were developed with much more velocity to market than previous generations of cranes.
"Our aim is to produce cranes that will help their owners improve their returns on capital investments, and these two Potain cranes have a number of best-in-class features that will enable our customers to win and complete more jobs than ever before," Daguin explained. "The two cranes we will have on display at Intermat reflect true innovation over their predecessors and prove their value from transport to tear down."
Unrivaled Manitowoc services
Alongside Manitowoc's products at Intermat 2018, the company will highlight its comprehensive support services at the show, including Manitowoc Crane Care (which runs the gamut of spare parts, guaranties, aftersales services, on-line support and technical training programs). The company will also highlight its EnCORE programs, Manitowoc's crane rebuilding and refurbishing services that provide premium cranes to the used-crane market with exclusive manufacturer guaranties. Manitowoc Finance will also be represented, which helps companies finance their crane purchases in methods more beneficial to Manitowoc customers than traditional bank loans. Finally, the Lift Solutions program will be represented, which offers engineering services to contractors for the design of customized cranes for complex job sites.
"Intermat 2018 is an opportunity for us in so many different ways," Daguin said. "From showing off our array of groundbreaking cranes and technologies to our plethora of support services, attendees can expect to learn a great deal about Manitowoc and its offerings. There is no better place to celebrate Potain's 90th birthday than in France, in the same country where it all began for this great tower crane brand."
Source: https://www.manitowoccranes.com/