Earthmoving attachments manufacturer, Miller UK have announced that they will be celebrating their 40th birthday and showcasing their latest product innovations at Hillhead 2018.
Miller UK will reveal its best in class next generation, revolutionary hydraulic compact quick couplers suitable for excavators from 1 to 7 tonne as part of their 40th anniversary celebrations when they return to Hillhead, the UK's biggest quarry and construction equipment trade show next month. Visitors to Miller's dedicated stand, W21 will also have the opportunity browse the full Miller product range, including their latest PowerLatch tilt coupler, quarry spec buckets and watch live product demonstrations of the new Miller GTS compact quick coupler.
Barry Robison, Miller UK's marketing manager said, "We strongly believe that coupler technology has a key role to play in improving the operator experience; making on-site operations safer, more convenient and capable of withstanding the most challenging working environments. The brand new Miller GTS range is the lowest, lightest and safest compact quick coupler in the market place. Offering 1T -7T excavators the widest multiple range of pick-ups for any attachment within the same class all from the comfort and security of the cab.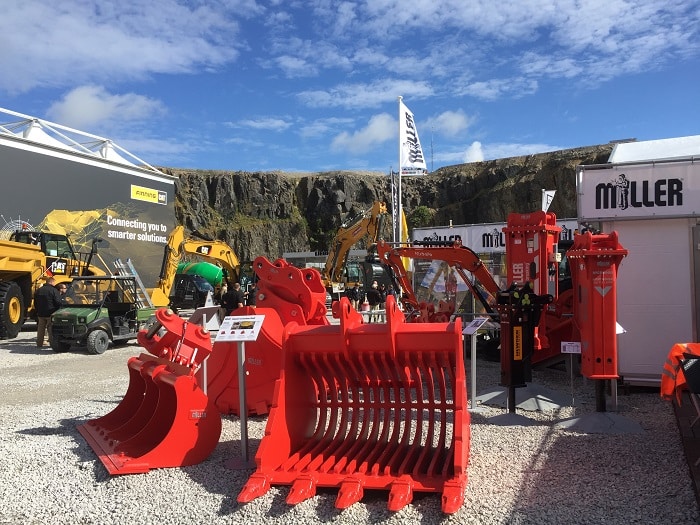 As well as demonstrating their latest compact innovations, Miller will also have a full range of PowerLatch tilts on display. Barry Robison, Miller UK's marketing manager added, "The PowerLatch tilting quick coupler from Miller is ideal for those customers who would benefit from having an additional 180 degree tilt function and versatility for all of their attachments, rather than having to invest in sets of dedicated attachments. With its slim line ram-free design, the PowerLatch tilting quick coupler from Miller is perfect for use with the narrowest of attachments without the operator having to worry about damaging expensive external rams during regular groundworks. We are looking forward to displaying the full range of the Miller PowerLatch tilt couplers at Hillhead and validating how it offers the bulk of functionalities customers seek of a tilt rotator with the flexibility of utilising existing attachments at a fraction of the investment costs."
Sales and marketing director at Miller UK, Brendan Quill said, "It's a monumental year for Miller celebrating 40 years of constant evolution of innovative, ground breaking attachment solutions. Hillhead has always been an important show for Miller over the past 40 years and Hillhead is the perfect opportunity to celebrate our 40th anniversary with new and existing customers. We look forward to building even stronger partnerships for the next 40 years."
Source: MILLER Press