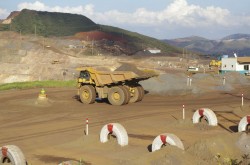 The opportunities around the Pedra de Ferro Project Share Fair are supported by UK Trade & Investment (UKTI) in association with The Eurasian Natural Resources Corporation (ENRC) and their local operating company in Brazil, Bamin. The Information Share Fair briefing will take place at the Henry Ford Centre in Loughborough on Wednesday the
11th July 2012
and will bring together all interested parties in the project to explore the opportunities on offer and showcase UK expertise in relevant sectors.
Eurasian Natural Resources Corporation (ENRC) have asked UKTI to assist them in identifying UK companies that can help them achieve first production by the end of 2015 from their $5 billion Pedra de Ferro mining project in Brazil.
Once again, the UKTI has appointed the CEA, to recruit UK companies to attend this unique event.
The top decision makers from all key aspects of the project will be in attendance which includes mine facility; onshore and offshore port terminal; rail; water pipeline; and storage.
The Share Fair will give participating companies a unique opportunity to understand the scale and scope of the project get specific questions answered and identify further steps to help you engage with this valuable opportunity.
In addition to the mine massive infrastructure developments are required to support the development and get the ore produced to a new port for export.
The project will
create some 8,000 direct and indirect jobs.
Nick Ground, the CEA's President
, has recently returned from a very successful CEA run trade mission to Brazil. He said, "The recent trade mission confirmed that Brazil should be high on the list of any UK company wishing to expand through export.
Visits, including those to mining company Bamin and contractor Odebrecht showed the huge potential in Brazil for all sectors not just for construction equipment. There is a great appetite for technology and efficiency and sustainability in an economy that is growing strongly even without the added demands of the World Cup and Olympics. Don't delay."
Multi-sector equipment and expertise is required for:
Mine development
Mine infrastructure construction
Extraction (drilling and stripping)
Loading and Transportation
Processing (crushing, milling and floatation)
Shipping
Roadbuilding
150 kilometre industrial water supply pipeline system – pumps, pipes and valves, plus
industrial water filtering.
Waste water storage and processing
150 kilometre industrial water supply pipeline system
Transport Infrastructure, Logistics, Rail
New port development
Offshore Shipping Terminal and Container Terminal
Port / Materials Handling
3 km conveyor system
Environmental monitoring
Education, Training and Skills

Visit the project web site: www.bamin.com.br/index_ing.php
Full details can be found on the UKTI website http://www.ukti.gov.uk/pt_pt/export/event/305400.html?null
To register your interest in attending the Share Fair, please e-mail Joanna Oliver MBE – [email protected]
For further detailed information on the Mine project and sponsorship opportunities contact John Strang at UKTI – John Strang , [email protected]

Source: CEA News Room