Despite major investment in recent years, much of Russia's power infrastructure is in a state of disrepair. Modernisation and expansion of the country's power-generating capabilities and grid have become an urgent priority. Coupled with this, demand is rising rapidly and is expected to increase by nearly 30% by 2020, and by more than 50% by 2030. Such is the extent of the problem that more than $25bn will need to be invested in the sector every year over the next two decades if the future demand for electricity is to be met.
The Russian power sector is plagued by several problems, notably the high degree of deterioration of generating and distribution assets, and high transmission losses. Most of the power stations in Russia were built back in the 1960s and 1970s, and have a very low efficiency ratio – typically 33-35%. The average age of equipment used in Russia's power plants is 32 years, with oldest equipment typically found in hydro power stations while newer (relatively) equipment tends to be in nuclear power plants. In the case of thermal power plants, the peak commissioning levels were between 1959 and 1988, when three-quarters of all currently operational capacity was implemented. The average age of grid equipment is forty years. The age of the country's power infrastructure and lack of modernisation has resulted in transmission losses having increased by 50% since 1991.
The average wear and tear levels of power sector infrastructure are currently around 65%, depending on the type of infrastructure. Least worn out (at 50%) is the national power grid, while generating assets (65-70%), and the distribution network (up to 70%) are in worse condition.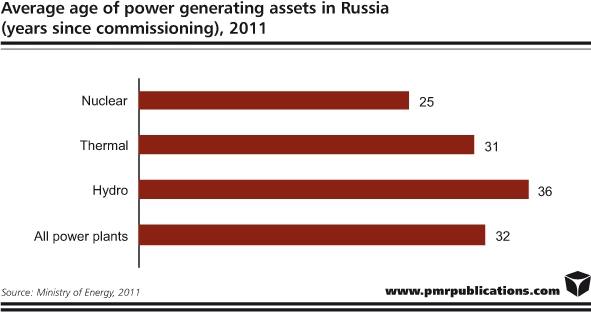 Aware of these challenges, ten years ago the Russian government initiated a comprehensive reform of the power sector. The aim of the reform was to find ways to attract and prop up investment in the modernisation and revamping of the country's decrepit power infrastructure. The most important stage in these reformatory efforts was the dismantling of the RAO UES, Russia's state-owned power holding and previously in control of approximately 70% of Russia's installed electric capacity, 96% of its high-voltage grid and over 70% of its transmission lines. The electric power holding ceased to exist while six wholesale generation companies, fourteen territorial generation companies, RusHydro hydroelectricity company, Energy System of the East, and Inter RAO continue to operate as independent organisations. All of the country's power generating companies were then encouraged to commit to large-scale investments in the modernisation and expansion of their assets. The most important scheme being used to guarantee that the high capital expenditure required for bringing new generation capacity to the market provides a return on investment is the use of so-called capacity supply agreements (CSAs). Such agreements offer the energy companies involved a guaranteed rate of return on the electricity that they produce at their new generation facilities for a period of at least ten years. Those companies that have signed CSAs are obliged to embark on investments in a number of fossil fuel-fired plants with a combined generating capacity of more than 23 GW between 2010 and 2017.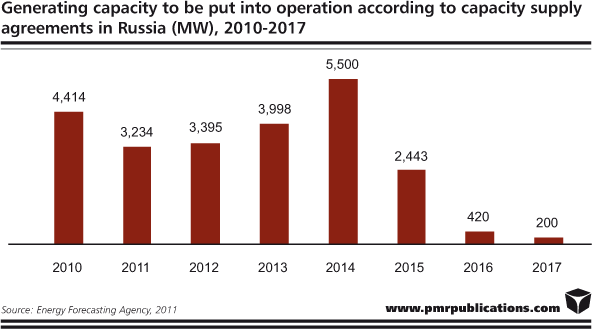 This new capacity to be brought to the market by 2017 is, however, just a fraction of what is needed to satisfy the expected increase in demand and replace decommissioned assets. For this reason, the government has ordered the development of the Power Sector Modernisation through to 2020 Programme. The Programme, which is still being completed by the Ministry of Energy, is believed to outline plans for a total investment of RUB 11.2tr ($370bn) in the power sector by 2020. Of this, RUB 4tr ($133bn) is to be used on the modernisation of thermal power plants, RUB 2.5tr ($83bn) on nuclear, hydro and renewable power stations, RUB 2tr ($67bn) on the development of the unified national power grid, and RUB 2.7tr ($90bn) on the distribution network. The Programme is said to include plans for more than 27 GW of capacity to be taken out of operation by 2020, including 23.3 GW in the form of thermal power plants and 3.75 GW in the form of nuclear power plants. In terms of new capacity, a total of 82.4 GW is to be commissioned, including 61.5 GW in thermal power plants, 9.9 GW in nuclear power plants, 7.9 GW in hydro power plants, and 3 GW in power stations utilising renewable sources of energy.
This press release is based on information contained in the latest PMR report entitled "Power sector construction in Russia 2012 – Development forecasts and planned investments".