Essex based Nasco Load Indicators is the brainchild of Managing Director Neil Smith who has over 30 years of experience in the business. The company which has developed a 'one stop shop' approach has been supplying plant safety and productivity systems for the past 20-years and in recent times have added several different products and services to its portfolio.
One of their latest product additions of which they are the UK distributors for, is the French manufactured iDig 2D machine guidance systems. The iDig 2D is a very competitively priced system available for excavators from 1 tonne upwards and with a price tag of just £7k supplied and fitted offers a considerable saving on other more well-known brands. This new system will be demonstrated on the company's stand at Plantworx (11-13 June 2019, East of England Arena, Peterborough) fitted to a Sany SY26U demonstration machine on stands NB12A and NB12B.
These units have a number of unique features, for starters they take less than two hours to install and calibrate first time around, they are also transferrable between machines in just five-minutes, by simply unplugging from a 12v power source and feature a 100 machine and bucket memory. They are also completely wireless, featuring sensors that are solar powered. Most recently iDig have also added dozer blade guidance, ideal for grading off larger areas with the blade.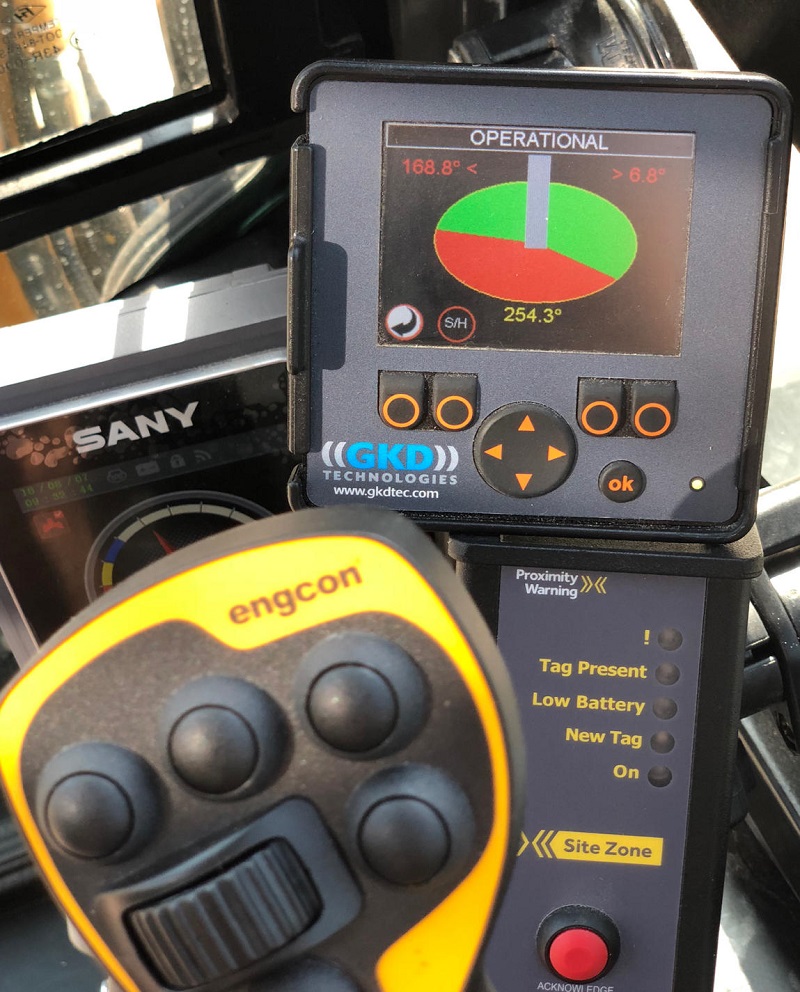 The wireless solar powered sensors are fitted to the boom, dipper and tipping link and on this example on the tiltrotator itself thanks to a bespoke made bracket which allows the sensors to be set at 45o angles to each other.
The sensors will last up to 100 hours without a charge, but during hours of daylight they are charging all the time anyway. The touch screen pad in the cab is extremely intuitive to use and certain to appeal to today's play station generation of operators coming through.
In addition, in the cab you get a traffic light style system which gives you a visual indication of being on or off grade (too high or too low) by means of green and red LED's.
The system even knows if your machine has a standard mono boom, TAB boom or tiltrotator as it counts the number of sensors present on each machine it is used on!
At Plantworx, Nasco will also be demonstrating GKD Technologies 2RCi height and slew restrictor on the Sany machine. GKD will also be exhibiting on stand N5.
Nasco Load Indicators Sales Engineer Glenn Wise said, "This GKD entry level system is very simple to use and gives the operator not only a visual warning, but also an audible warning too that provides feedback that the machine is working safely. Once you have set your parameters into the system, it will only allow you to work within that pre-determined working area, once you exceed that area the machine will stop working. One of the nice things about this set up is that the screen is relatively small and very un-obtrusive".
Neil Smith added, "Since adding them to our range nearly all of our existing customers have embraced the GKD products and we have welcomed new customers due to the reliability and ease of use that GKD systems bring".
Nasco Load Indicators are also an appointed Engcon service provider, carrying out the complete package of sales, installation and support working directly for Engcon UK. An example of which can be seen at Plantworx, fitted on the Sany demo machine in the form of an Engcon EC204. Engcon will also be exhibiting at Plantworx on stands H20 and H21.
The Sany SY26U zero tailswing mini excavator itself has been supplied thanks to an agreement with the UK importers of Sany construction equipment TDL Equipment. TDL will also be exhibiting on stands H28 & H29.
Tipping the scales at 2,755kgs the Sany SY26U takes its power from the popular eco-friendly Tier 4 final 3-cylinder Yanmar 3TNV80F diesel engine which offers a power output rating of 14.6kw @2,400 rpm.
Nasco Load Indicators will be at Plantworx on Stand NB12A and NB12B.

Source: Nasco Load Indicators and Plantworx Press