Following the successful launch in April in Italy, the Energy Saving Grand Prix 2011 has travelled to Germany and France, reaching the United Kingdom in July. The first heats of the UK Grand Prix took place in Oxford on the 21st and 22nd, followed by a second event in Leeds on the 28th and 29th.
The popular competition attracted equipment operators and construction businesses interested in finding out more about New Holland Construction's newest models and, in particular, the first machines featuring the brand's Tier 4 interim SCR technology. Both events followed a similar format, with a stationary product display, an area set up for visitors to test drive some of the new models with the assistance of New Holland demonstrators, and the Grand Prix competition.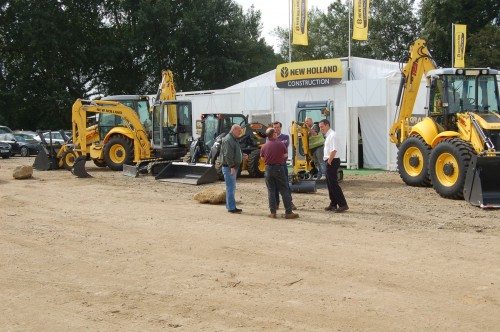 Participants to the competition were set two exercises to test their skills against the clock. The operators had to demonstrate their control and precision work under time pressure with a B110B backhoe loader and an E50B SR mini excavator by completing tasks such as placing footballs in a bucket, operating their machines in tight spaces. The four participants Tom O'Shea, Jonathan O'Shea, Chris O'Shea from European Plant Services in Leeds, and Stuart Yuill from Earnest Doe, who successfully completed the exercises in the fastest times qualified for the finals, which will take place in Turin, Italy on the 7th & 8th of October 2011.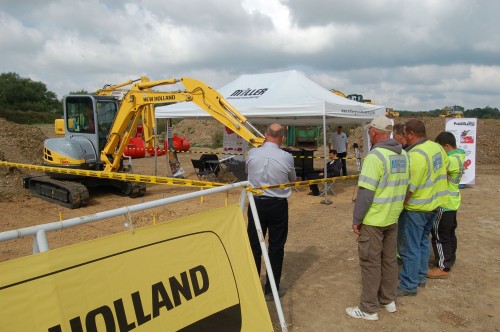 The focus of this year's edition of the Grand Prix is on productivity and fuel efficiency, as showcased by the products on display: The new B110B backhoe loaders, which feature a highly reactive, standard variable volume hydraulic pump, deliver higher productivity and up to 10% fuel savings. The W190C wheel loader, with New Holland's Tier 4 interim SCR technology and a host of productivity boosting features, delivers performance with bigger payloads, faster cycle times and reduces fuel consumption by up to 10%. The E265C crawler excavator, featuring a new high efficiency hydraulic system and SCR technology, delivers up to 10% increase in productivity and up to 10% lower fuel consumption in ECO mode. The new L225 skid steer loader and C232 compact track loader, with the patented vertical lift Super Boom®, also bristle with performance-boosting features.
"The Grand Prix events are a great platform to showcase our latest technologies and features," commented Scott Freeman Business Director of New Holland Construction, at the event. "They also provide our customers with the opportunity to find out about the benefits of these developments by speaking to our demonstrators and test driving the new models."
For more information please visit: www.newhollandgrandprix.com
Source: New Holland Construction News Room