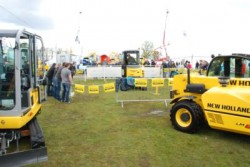 The UK Grand Prix 2012 concluded with the second and last heat, which took place at the ScotPlant show and attracted 60 contestants. The competition tested the control and precision work of participants under time pressure with an E50B SR mini excavator. A number of tubes were positioned around the machine and a pin placed on a stand. The task consisted in picking up the pin from the stand with the bucket, place it in each of the tubes in no particular order, and replace it on the stand – all this in the shortest possible time. Ewan Irvine of Graham Irvine and Partners completed the test in the fastest time, 1 minute 20 seconds. The runner up, James Leeming of TJS Northern Ltd, took just one second longer to finish.
The first heat took place in February, during the DOE Show, also attracted many participants, who completed the same test. The winner was Dan Law of G & S Contractors with 1 minute 39 seconds, while Andre Proctor of Andrew Proctor Groundwork Ltd qualified second with 1 minute 45 seconds.
"We are very pleased with the continued popularity of the Grand Prix competitions," commented Scott Freeman Business Director of New Holland Construction, at the event. "This year's edition has given us the opportunity to highlight the exceptional performance our mini excavators are capable of. With their Smart Hydraulic System and ultra short radius, they enable operators to work with amazing precision in the smallest spaces."
The winners of the two UK heats have qualified for the Grand Prix 2012 finals, which will take place in Turin, Italy later in the year.

Source:  New Holland News Room