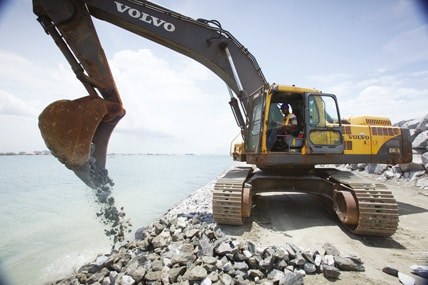 About 50 Volvo machines are being used in Nigeria to work on the Eko Atlantic Project – the biggest land reclamation project in the world.
Lagos is the largest city in Africa and lies on the Gulf of Guinea coast. It's the second fastest-growing city in Africa and the seventh in the world. The city is a metropolitan area that originated on islands separated by creeks and is protected from the Atlantic Ocean by long sand dunes such as Bar Beach, which stretches 62 miles (100km) both east and west.
In the cobalt blue waters of the Atlantic Ocean, just off the coast of Lagos, a new city is being constructed from the seabed, in what has become the biggest land reclamation project in the world.
The Eko Atlantic Project was launched in 2003 when the Nigerian government embarked on a solution to tackle the coastal erosion that was threatening the residents of Victoria Island – a suburb of Lagos. The answer was a sizeable barrier built to protect the coastline – a relatively simple project that turned into something much, much more ambitious. Developers decided to undo the damage the rising tides had caused and embarked on an extensive plan to reclaim 4 miles2 (10 km2) of land from the ocean. When complete, Eko Atlantic (also known as Eko Atlantic City) will attract 400,000 residents and 250,000 daily commuters into an area roughly the size of Manhattan. The new city will become the financial center of Nigeria, which is appropriate as investment for the multibillion-dollar project is being provided solely by private investors.
Beside the seaside
Four years into the project, 140 million tonnes of sand has been dredged from the sea to provide the foundations for the new city, while 700,000 tonnes of rock has been transported to help build the five-mile (eight-kilometer) long wall to form a barrier to the sea. Despite the progress already made it will be several more years until enough sand has been reclaimed for the entire site and another generation before the project is fully complete. That said, the first buildings on the land that has already been reclaimed will start opening from next year.
Working conditions in Lagos have proved difficult at times. The temperature can reach above 40oC and in the wet season, torrential rain can reduce all visibility. Salt sprays off the sea when the waves lash against the rocks and dust and sand in hot temperatures can also cause difficulties for operators.
Sturdy seaside machinery
To ensure that the harsh conditions don't affect progress, Eko Atlantic is using a fleet of 50 machines from Volvos Construction Equipment (Volvo CE), making it by far the biggest supplier of machines at the project. There are different models of Volvo excavator digging trenches for drainage and sewage, haulers moving rocks and sand and motor graders maintaining the haul roads.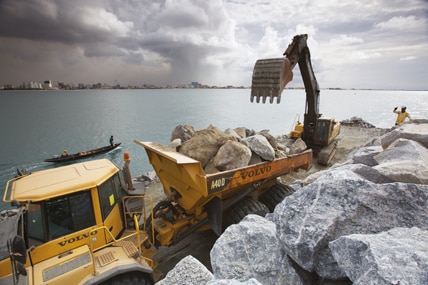 "The work can be tough," says Monday Johnson, operator of a Volvo EC460BLC excavator. "But the Volvo machines can cope. Inside the cab it's cool and though the ground can be uneven, the machine is very well-balanced. I've never had a problem as this machine has worked day in and day out for the past two years and hasn't failed."
Johnson has worked for Eko Atlantic for two years and clocked more than 5,000 hours, helping to construct the granite protective barrier that locals have named 'The Great Wall of Lagos'.
"The EC460BLC excavator works in a challenging area," says George Tawk, the group plant manager at Eko Atlantic. "You have to deal with rocks, sand, salty water and salt filled air. All these things can damage the machine but with good support and a thorough maintenance schedule, the machine has managed the conditions well. The EC460BLC is a fantastic machine – it's smooth and agile and works quickly and efficiently. In Africa you need a customized, tropicalized engine that can handle the heat and the weather – and lucky for us Volvo offers these engines."
The machines have been supplied by Volvo's dealer in Nigeria, ATC-Nigeria, who is providing onsite support. "Believe me, you can use the best machine in the world in Africa, but if you don't have support then it doesn't matter," adds Tawk. "You need a dealer and a company that stands by you when you need them and gets you the parts and the machines that you need – even in the most remote places. Volvo and ATC-Nigeria give us that."
The reclamation project is providing work and housing for the locals and will benefit generations to come.
Source: Volvo CE