One Call Hire like to live up to their name by providing the customer with a plant hire solution and they are well placed to maintain this objective with over 3,000 machines in the hire fleet, national coverage with 23 depot locations in all the major population centres and 40 years of expertise.
The hire fleet consists of modern machinery and incorporates the latest technology for improved reliability and customer acceptability plus the significant advantage of fuel savings from the latest engine efficiency developments. The roll call of equipment ranges from excavators, dumpers, generators, powered access and telehandlers to name a selection from the extensive line up.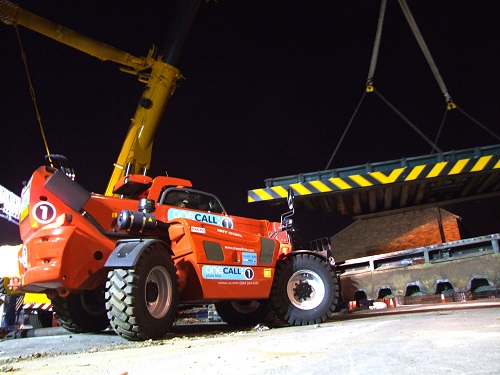 The investment in machinery is always focused on sourcing the best available and the confirmation of a recent order for 30 new Manitou MT625 telehandlers from Manitou dealer Mawsley Machinery which follows on from the initial order for 20 which was placed earlier in the year. Total spend on capital equipment in 2013 by One Call has reached £34 million and with firm and irrevocable orders placed for future business currently in excess of £25 million. Customer acceptance is critical to justify any expenditure and the Manitou MT625 has 'site appeal' with an impressive lift height of 6 metre and a maximum load capacity of 2500kg. The cab is easy to get into and the JSM control is operator friendly for enhanced productivity and efficiency.
Whatever the application whether it is road works, utilities or railway station upgrades the MT625 is flexible enough to cope with the required workload and the compact dimensions ensure very few areas are off limits.
One Call have also invested in Manitou MHT10120 heavy lift machines for specialist hires including machinery installation, Port and Dock authorities, Petro chemical plants to name but a few. The load capacity of 12,000kg allows the MHT10120 to tackle the heavy lift requirements with ease providing another material handling solution to the One Call customer. The Manitou MHT is part of the One Call Extra division which has the capability to offer 'non-core' hire solutions and retain all the business elements 'in house'.
One Call's head office in Enfield, Middlesex is due for a new purpose built office block to underline the company's growth and the £1.6 million project is due for completion in the autumn of 2015.
It is a long way from the early days when the company was formed in 1990, having evolved from the family business, P.J. Fitzpatrick. Today the company still retains the family connection with chairman, John Fitzpatrick and Joint Managing Directors Anthony and Martin Fitzpatrick. An understanding of the marketplace and its needs have served One Call well over the years particularly where the business conditions have been challenging, equipping the hire fleet with the best available machinery such as the Manitou MT625 and MHT10120 is testimony to the company's strategy.
Source: MANITOU UK Limited