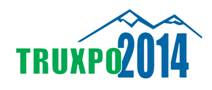 The Pacific Heavy Equipment Show (PHES), previously held in Chilliwack, will co-locate with TRUXPO 2014, taking place September 19 & 20 at TRADEX in Abbotsford. TRUXPO 2014 will encompass the entire TRADEX complex plus 80,000 square feet of outdoor exhibits, while PHES will be an outdoor and tented event encompassing an additional three acres of static and Demo exhibits in the Tradex North Parking lot — Two Great Shows, One Great Location!
TRUXPO, Western Canada's largest trucking and logistics show, is off to a strong start with 70% of available booth space sold after the Booth Space Lottery! "We are very pleased with the 2014 Booth Space Lottery, with all the major players back and some exciting additions to the Exhibitor list," said Mark Cusack, National Show Manager, "With such a strong start, we are optimistic we will sell out by April for the 2014 edition!"
The Pacific Heavy Equipment Show will be the venue for equipment owners, operators and purchasers representing general construction, trucking, public works, utilities, aggregates production, road building and maintenance from across western Canada to see, demo and purchase equipment and services.



"We are excited about co-locating these two industry events in one large venue. It is a well-known fact that the heavy equipment and trucking industries have a great deal to do with one another. Whether you are talking about a small vocational operation or large forestry contractor, you will find trucks, trailers and heavy equipment. This is exactly what we will deliver in September," said Cusack, "The cross-over in audience and exhibitors is the recipe to make this show a Huge Success!"
The TRUXPO Committee, JGS Events Inc. & Master Promotions Ltd. are very excited for this super event happening in the booming BC Market! Amongst all of the Western Provinces, British Columbia is forecasting strong employment growth through to 2021.
This will be your one-stop industry event for those in the heavy equipment and trucking industries to check out the latest rigs, the newest equipment and all the parts, services and accessories to get the job done!
For booth space information, contact Mark Cusack at [email protected] or 1-888-454-7469.
For full event information, visit: www.PacificEquipmentShow.ca
Source: Pacific Equipment Show